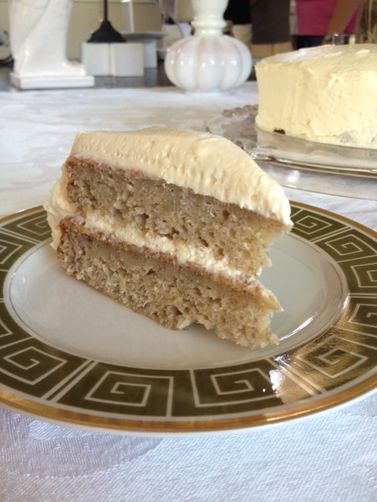 Author Notes: I got a little obsessed with the perfect banana cake - it started when our banana plants decided to give us several hands of bananas all at once, we eating and drinking bananas in every possible configuration. Including cake. I wanted a lighter than usual cake (banana cakes tend to be very dense and moist in my experience) and a lighter than usual cream cheese icing, and I wanted to have hints of honey and vanilla. I searched the net, I baked a couple cakes, I asked the hotline ( http://food52.com/hotline/21934-in-search-of-the-perfect-banana-cake ) and then I just plain pestered Hardlikearmour a lot because she's awesome. I think I finally got it. ** the photo is actually an earlier iteration that was a bit denser - the one I got right was set upon and eaten before I could get a shot ** - aargersi
Serves a two layer cake
The Banana Cake
2

cups ripe mashed banana (3-4 depending on their size)

3

cups AP flour

2

teaspoons baking powder

1

teaspoon baking soda

1/2

teaspoon salt

2

eggs (separated)

1/4

teaspoon cream of tartar

1 1/4

cup sugar

2

teaspoons vanilla (I used Tahitian)

1/4

cup vegetable oil

1/2

cup buttermilk
Heat the oven to 350. Butter or spray two 9" cake tins, line with parchment rounds and butter or spray those too (I spray - it's so easy!)
Whisk all dry ingredients except sugar together. Use a large bowl - everything is going to end up in there.
Beat the egg yolks, oil and 1 C sugar together. Then beat in the banana.
Beat the egg whites, cream of tartar and 1/4 sugar until soft peaks form.
Alternately mix the buttermilk and dry ingredients into the egg yolk and sugar, I did 2 rounds of each. Now fold in the egg whites.
Pour into the pans and bake until they are golden and a tester comes out clean - 30-35 minutes. Cool for a few minutes then turn out onto a rack and cool completely.
Cream and Cream Icing
8

ounces cream cheese - room temp

4

tablespoons unsalted butter - room temp

1

teaspoon vanilla

1

cup powdered sugar

2

tablespoons very floral honey (I used Yucatecan)

1

cup heavy cream
Whip the cream until it has stiff peaks. Beat the cream cheese and butter together, then add the sugar, vanilla and honey - beat on low until the sugar is mixed in to avoid a sugar cloud, then beat on med-high until it is smooth and whipped. Fold in the whipped cream. Chill the icing for 15-20 minutes, then use it to frost your banana cake.
NOTE: Next time I may add a layer of sliced banana between the two cake layers under the icing.
Jump to

Comments

(

0

)