Cauliflower Banana Bundt Cake with Cinnamon Icing
4
Save
If you like it, save it!
Save and organize all of the stuff you love in one place.
Got it!
If you like something…
Click the heart, it's called favoriting. Favorite the stuff you like.
Got it!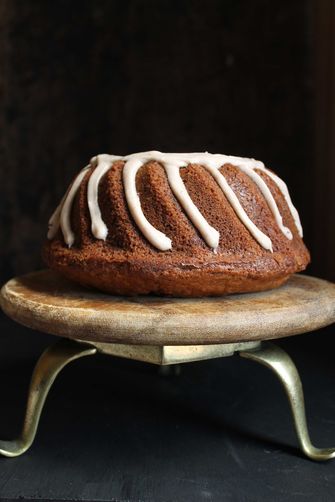 Author Notes: Cauliflower cake? Yes, indeed. The flavor of cauliflower pairs well with almond, nutmeg, walnut and even chocolate - so cake isn't really such a stretch. The cauli flavor fades into the background in this cake and leaves nutrients, moistness and texture. - Kate | Veggie Desserts
Serves 12
Cake
7

ounces cauliflower

1

cup mashed banana

3

cups all-purpose flour

2

teaspoons baking powder

1

teaspoon baking soda

1/2

teaspoon salt

1.5

teaspoons ground cinnamon

1

teaspoon ground nutmeg

1

teaspoon ground ginger

3/4

cups butter, softened

1

cup sugar

2

eggs

2

teaspoons vanilla

3/4

cups buttermilk
Preheat oven to 350F. Grease a bundt pan well with butter or non-stick cooking spray.
Steam or simmer the cauliflower for a few minutes until soft, drain well, allow to cool slightly and puree (easiest with a handheld stick blender). Stir in the mashed bananas and combine. Set aside.
Sift the flour, baking soda, baking powder, salt, cinnamon, nutmeg and ginger together in a bowl.
In a stand mixer, or with an electric whisk, cream the butter and sugar together for a few minutes until light and creamy. Add the eggs, one at a time, and beat in each one for a minute or so. Add the vanilla and beat.
By hand, or with the mixer on low, gently stir in 1/3 of the flour mixture. Add the buttermilk and combine. Stir in another 1/3 of flour mixture, add the banana/cauliflower mixture, stir, then add the remaining flour and combine.
Pour into the prepared pan and then rap the pan on the counter to remove bubbles and level the surface. Bake for 60 minutes or until an inserted skewer comes out clean. If the cake is getting too dark before it is cooked, cover with foil. Allow the cake to cool in the pan for 10 minutes and then gently turn out onto a wire rack to cool completely before icing.
Cinnamon Icing
1.5

cups powdered icing sugar

1

teaspoon ground cinnamon

4

tablespoons heavy cream

warm water
Sift the icing sugar and cinnamon into the double cream and whisk until smooth, adding enough warm water to thin to desired consistency. Drizzle over the completely cooled bundt cake and serve.
Jump to

Comments

(

4

)