Chocolate Coconut Matzo Crack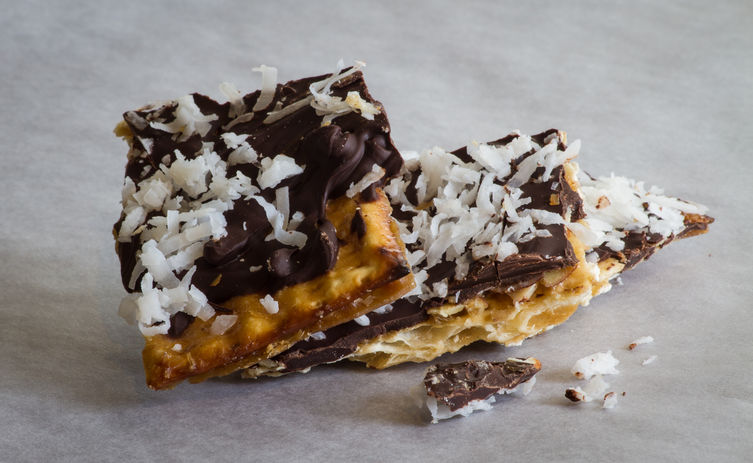 Author Notes: What happens when you cross a lowly matzo with a chocolate macaroon? Chocolate Coconut Matzo Crack! Yes, crack! As in crackly like toffee, and highly addictive chocolate caramel nut crackers, adapted from Deb Perlman's genius Smitten Kitchen, a recipe she modified from David Lebovitz Matzah Crunch who handed it down like Moses at Sinai from Marcy Goldman's original Trademark, Most Requested, Absolutely Magnificent Caramel Matzoh Crunch. (I've just a added the coconut and a hint of cinnamon.) A super Passover confection and a snap to make.







Spread matzah evenly over the surface of the cookie sheet. In a saucepan, melt the butter and brown sugar together, and stir it over medium heat until it begins to bubble for and thicken. Remove from heat, add salt and vanilla, and then quickly pour it over the matzah and spread evenly. Top with nuts.

Bake the caramel-covered crackers for 15 minutes, careful not to burn. Remove from oven and immediately cover with chocolate chips. Let stand, until chips melt, then spread them evenly across the caramel. Let cool, break toffee pieces apart and yum. - Vivian Henoch
Serves a sweet tooth!
4 to 6

sheets of matzo

1

cup unsalted butter or Passover margarine

1

cup firmly packed light brown sugar

1

teaspoon vanilla extract

1 1/2

cup semi or bittersweet chocolate chips

1/2

cup toasted chopped nuts of your choice

1

cup sweetened coconut

1

teaspoon cinnamon

1/2

teaspoon salt, red pepper flakes to taste
Preheat the oven to 350°F. Line a large cookie sheet with foil, then cover with parchment paper.
Spread matzo evenly over the surface of the cookie sheet. In a saucepan, melt the butter and brown sugar together, and stir it over medium heat until it begins to bubble for and thicken.
Remove from heat, add salt, vanilla and cinnamon, and then quickly pour it over the matzah and spread evenly. Top with nuts.
Bake the caramel-covered crackers for 15 minutes, careful not to burn. Remove from oven and immediately cover with chocolate chips. Let stand, until chips melt, then spread them evenly across the caramel. Top with coconut. Let cool, break toffee pieces apart and yum.
Jump to

Comments

(

0

)