Persian Chicken Stew in Walnut and Pomegranate Sauce (Fesenjan)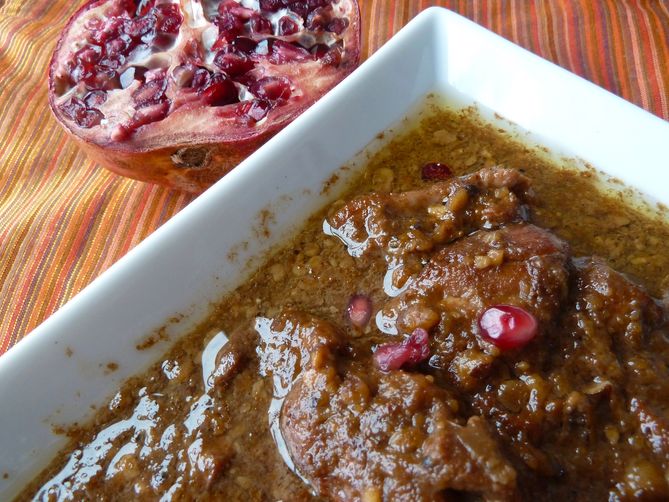 Author Notes: This dish combines the creamy richness of the slow-cooked ground walnut sauce with a sour-sweet undercurrent of pomegranate molasses. It's savored on special occasions. I enjoyed it so much from Persian restaurants or homemade with love by Persian friends, I had to learn how to make it myself. This recipe is adapted from http://www.whats4eats.com/poultry/fesenjan-recipe with additional suggestions from a Persian friend. I like to make it on Nowruz, the Persian New Year, which is celebrated on the first day of Spring on the Persian calendar. - Beautiful, Memorable Food
Serves 8
1/4

cup canola oil

2

pounds chicken thighs, cut into 2 to 3 inch pieces

1

large onion, sliced thinly

2

cups shelled walnuts, ground in food processor or if you want to be traditional, with a mortar and pestle

1.5

cups chicken stock

2/3

cups pomegranate molasses

1/2

teaspoon ground cardamom

1

tablespoon salt

ground black pepper, to taste

fresh pomegranate arils, for garnish (optional)
Heat oil in a large, heavy bottomed pot and add chicken. A Dutch oven works well for this. Cook until browned on both sides. Then remove browned chicken and reserve on a plate.
Next, add the sliced onions to the pot and sauté until translucent. Stir in the ground walnuts and stock and return the previously browned chicken to the pot. Stir well, bring to a boil, then reduce heat to low, cover and simmer for 20-30 minutes.
Stir in the pomegranate juice, cardamom, salt and pepper. Simmer for another hour until the chicken is tender, the sauce is slightly thickened and the walnuts begin to release their oil. (It will look oily, but remember this is healthful, plant-based oil!) Adjust seasoning to taste and simmer for 10 more minutes. Stir so that oil is incorporated into the sauce, and serve over basmati rice. Garnish with pomegranate arils. Notes: Pomegranate molasses, sometimes called pomegranate syrup, is available in most Middle Eastern markets. It has the color and consistency of molasses but is simply reduced pomegranate juice, without added sugar. If it is unavailable, you can substitute 2 cups of fresh pomegranate juice, and use only 1/2 cup of stock.
Jump to

Comments

(

1

)