Basic Yeast Donuts (with Many Variations)
53
Save
If you like it, save it!
Save and organize all of the stuff you love in one place.
Got it!
If you like something…
Click the heart, it's called favoriting. Favorite the stuff you like.
Got it!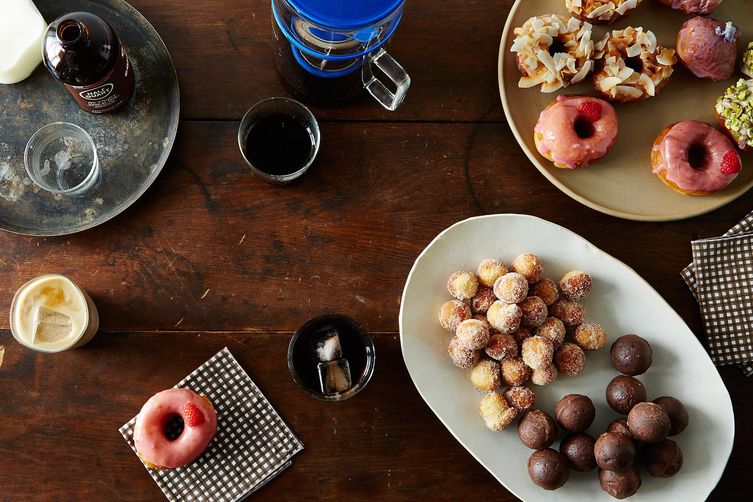 Author Notes: This recipe is a version of one passed down from my great-great grandma. Thanks to an old beaten-up recipe card, these donuts are a family legacy. - erinmcdowell
Makes 2 dozen large or 4 dozen mini
1 1/2

cups whole milk

1/3

cup water

4

tablespoons butter

25

ounces all-purpose flour

1

pinch nutmeg

1

pinch cinnamon

1

teaspoon salt

1/4

cup sugar

1

tablespoon active dry yeast

2

eggs

Vegetable oil, for frying
In a small pot, heat the milk, water, and butter until the butter has melted and the mixture is warm. Remove from heat and allow to cool slightly.
Mix the flour, nutmeg, cinnamon, salt, sugar, and yeast to the bowl of a mixer (or a large bowl if mixing by hand). Add the warm milk mixture, and mix to combine. Add the eggs, scraping the bowl well. Turn the mixer up to medium speed, and, using a dough hook, mix until the dough begins to pull away from the edges. If mixing by hand, knead until it easily pulls away from the sides of the bowl while as you knead (it will still be quite sticky).
Transfer the finished dough to a well-oiled container and cover. Allow it to rise until doubled in size, about 1 hour. Alternatively, you could refrigerate the dough overnight so that it's ready to make in the morning -- but you may need to punch the dough down once or twice during that period to prevent it from over-fermenting.
To shape the doughnuts, roll half of the dough out on a lightly floured surface to about 1/2 inch thick. Use a doughnut cutter to cut doughnuts (alternatively you can use two circle cutters (or even the rim of a drinking glass + the rim of a shot glass) to shape the doughnuts). I also like to cut the doughnuts into squares (about 2 in x 2 in) using a pizza cutter - this is especially great for filled doughnuts.
Heat the oil to about 360° F. (You can use a candy/fryer thermometer, but I just do a test with one of the donut holes or a scrap piece of dough: If it rises rapidly to the surface, the oil is ready. If the donuts begin to brown too quickly, the oil is too hot).
Fry the doughnuts, turning them halfway through cooking, until they're golden brown on each side. Drain on absorbent paper towels. Finish as desired. (You can glaze the donuts by dunking them, or by pouring the glaze over donuts on a rack).
Some finishing options:
-Powdered: Toss in powdered sugar or cinnamon sugar.
-Glazed: Mix 3/4 cup powdered sugar, 3 to 4 tablespoons heavy cream or milk (enough to make a runny glaze), and 1/2 teaspoon vanilla (optional).
-Chocolate-glazed: Mix 3/4 cup powdered sugar, 2 tablespoons dark cocoa powder, and 4 to 5 tablespoons milk or cream.
-Chocolate-coated: Dip doughnuts in tempered chocolate thinned with 1 to 2 tablespoons vegetable oil.
-Raspberry-glazed: Mix 1 cup powdered sugar and 1/4 cup raspberry purée. Garnish the donuts with raspberry halves.
-Violet-glazed: Mix 1 cup powdered sugar, 1/4 cup cream or milk, and 1 teaspoon violet extract. Garnish with candied violets.
-Pistachio: Glaze donuts with basic glaze, then press in chopped toasted pistachios.
-Coconut: Glaze with coconut glaze (1 cup powdered sugar, 1/4 cup coconut milk, and 1/2 teaspoon vanilla), and press in toasted coconut flakes.
Jump to

Comments

(

3

)