71
Save
If you like it, save it!
Save and organize all of the stuff you love in one place.
Got it!
If you like something…
Click the heart, it's called favoriting. Favorite the stuff you like.
Got it!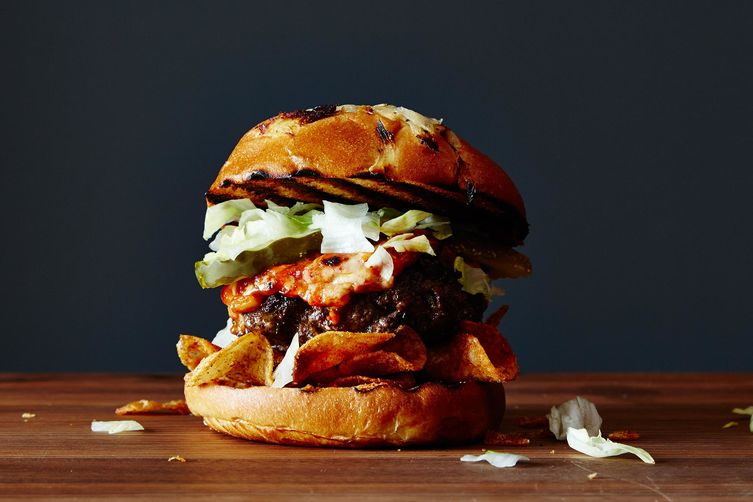 Author Notes: It's almost Super Bowl time so I thought this would be appropriate -- here in Texas we take football and tailgating PRETTY seriously. I developed this burger at the start of college football season a couple years ago as a way to combine some tailgate favorites: burgers, barbecue, chips...you will need either a cold beer or a Texas tea to wash this bad boy down! - aargersi
Food52 Review: My goodness, there is a lot going on between these two burger buns, and I am officially a fan. The barbecue sauce-onion-cheddar cheese mixture is brilliant, and is a technique I will use time and again. Pickled jalapeños add a little heat (not a lot), while the chips add a nice sweet crunch that goes perfectly with the smoky homemade BBQ sauce. Great burger for game day or a summer afternoon. - figgypudding
Serves 6
2

pounds ground chuck

1

cup nacho-style pickled jalapeños, chopped

1

teaspoon kosher salt

1

teaspoon black pepper

1

teaspoon chili powder

1 1/2

cups barbecue sauce (either use your favorite, or use my recipe at the end of instructions)

2

cups shredded smoked sharp cheddar cheese

1/2

cup diced sweet onion (I use Texas 1015, naturally)

Hamburger dill pickles

BBQ potato chips (kettle style is best)

Chopped iceberg lettuce (we are going for crunch, not vitamins, here!)

6

onion hamburger buns
Heat your grill to medium high. Brush the grill with oil to prevent sticking.
To make the patties, combine the chuck, jalapeños, salt, pepper, and chili powder in a large bowl, handling it as little as possible. Shape into 6 patties to fit the bun size. Loosely cover with plastic wrap and set aside.
Prepare the BBQ cheese: Mix the barbecue sauce, cheese, and onions and set it aside. Do not refrigerate (you will be using it shortly and you don't want it to be really cold).
Place the patties on the grill rack and cook, turning once, until they're cooked to your preference, 5 to 7 minutes on each side for medium. In the last 3 minutes of grilling, carefully place equal amounts of the BBQ cheese on each patty. Place the buns, cut side-down, on the outer edges of the rack to toast lightly during the last 2 minutes of grilling.
To assemble the burgers, place an equal layer of BBQ kettle chips on each bottom bun. Add a cheese-topped patty on top, followed by a layer of pickles, and an equal amount of lettuce. Add the bun tops and serve with an ice-cold beer or a big ole' tea.
if you are so inclined, here's my BBQ sauce recipe. Simply mix all the ingredients together. 1/2 cup ketchup 2 tablespoons Dijon mustard 2 to 3 dashes hot sauce (Louisiana style or Tabasco) 4 to 5 drops liquid smoke 1 tablespoon chili powder 1 tablespoon Worcestershire sauce 1 tablespoon blackstrap molasses
Note: Here's how I form my patties. Grab a softball-sized handful of meat, and gently form it into a ball. Then -- have you ever watched anyone make tortillas by hand? I sort of do that back and forth hand-to-hand bit for a few tosses, then I pat-pat-pat the meat into a flat disc while corralling the edges with my thumb to keep them smooth and uniform. Make a small thumb-sized indentation in the middle of the patty. That way you get a nice patty without overhandling the meat. That is, if you don't drop it.
Tags: barbecue, barbecue, burgers, spicy, tailgate