Baked Israeli Chicken in Sherried Citrus Juice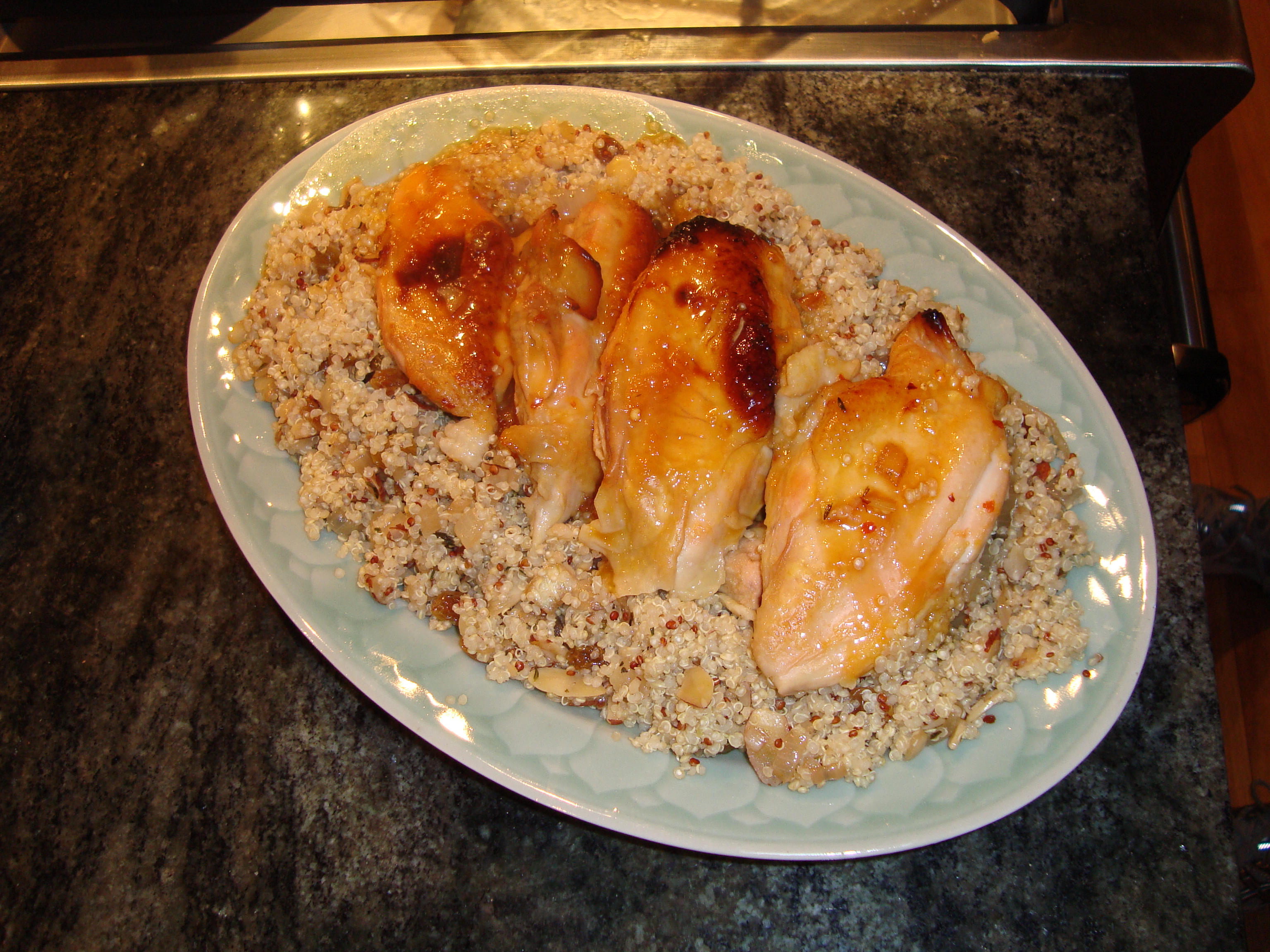 Author Notes: I have eliminated the preserved kumquats that are listed as an ingredient in the original recipe, and added other citrus components plus port or dry sherry to add a zesty, tangy flavor. This dish is easy to prepare, and you can change up the ratios of citrus you use to get the flavor you prefer. To reduce the cost of this dish, eliminate the sherry. It will still be delicious! - Bevi
Serves 4 portions
2

Chicken Breasts (skins left on), split

1

Pink or White Grapefruit

4

Oranges that are juicy

1

Lemon

1/4

cup Honey

1/2

teaspoon Crushed Red Pepper Flakes

1/4

cup Dry Sherry (Optional)
Juice all the citrus and pour into a mixing bowl.
Add the honey to the citrus juices; mix well with a whisk to incorporate all the honey into the juice.
Add the crushed red pepper to the honey and citrus marinade.
Place the chicken breasts skin side down into a 9" x 13" baking dish. Pour the citrus marinade over the chicken, and refrigerate for 1 or 2 hours.
Place the breasts in their marinade in a preheated 375-degree oven.
Baste one or twice. After 20 minutes, turn the breasts over so the skin side is facing up.
Continue to baste several times; after another 20 minutes, the skins should be nicely browned. At this point, remove from oven and place the chicken breasts on a platter. Cover with aluminum foil to keep warm.
Pour the hot marinade in a saute pan over high heat. Add the sherry if you choose. Bring to a boil, reduce the heat, and cover.
Check the sauce and stir occasionally. The sauce should reduce to a syrupy consistency.
Plate the chicken on a bed of Israeli couscous, regular couscous, or quinoa. Pour half the sauce over the chicken, and serve the remainder of the sauce on the side.
Jump to

Comments

(

4

)
Tags: Easy, fresh, Israeli, savory, serves a crowd