Three Onion Chowder with Parsleyed Oyster Crackers
399
Save
If you like it, save it!
Save and organize all of the stuff you love in one place.
Got it!
If you like something…
Click the heart, it's called favoriting. Favorite the stuff you like.
Got it!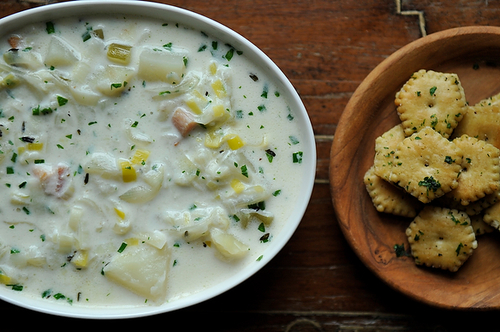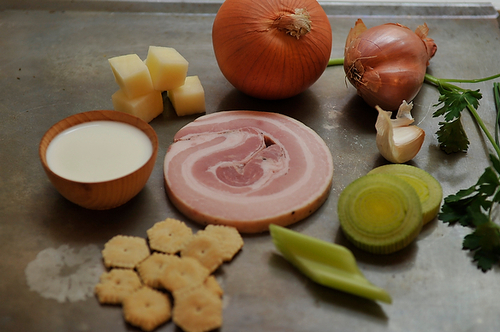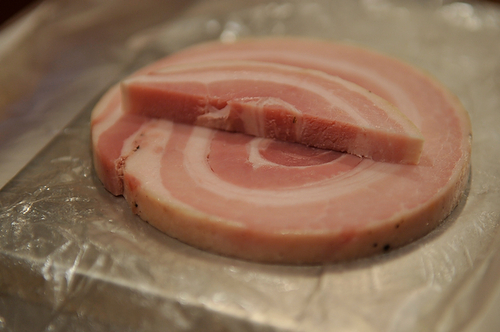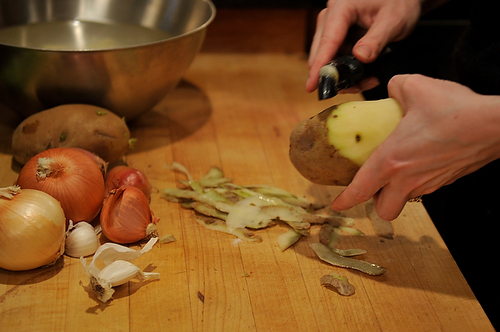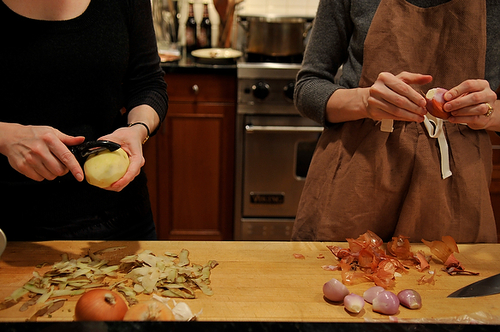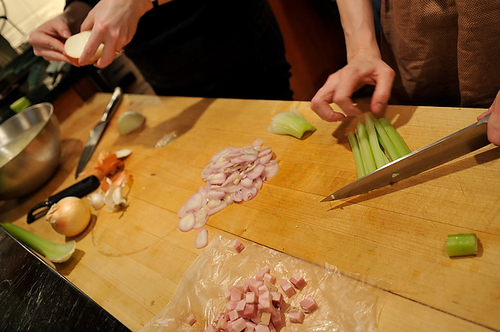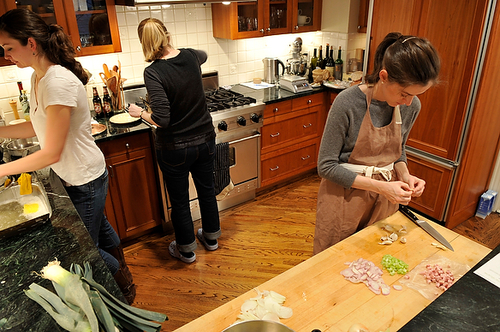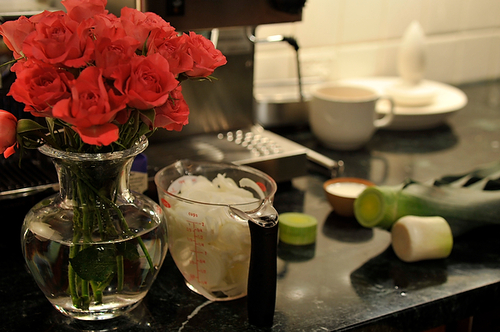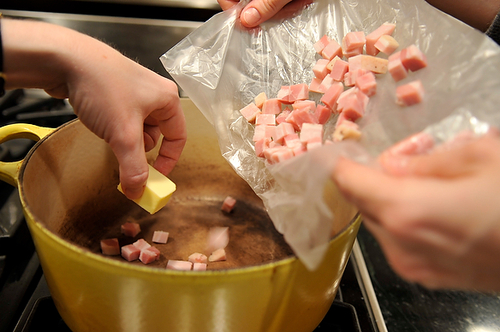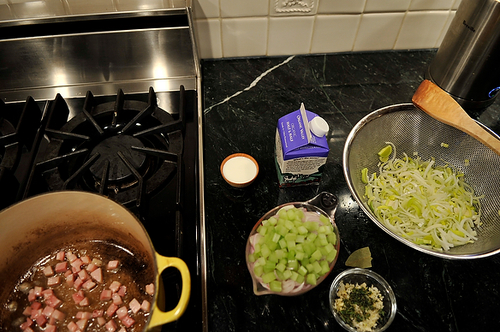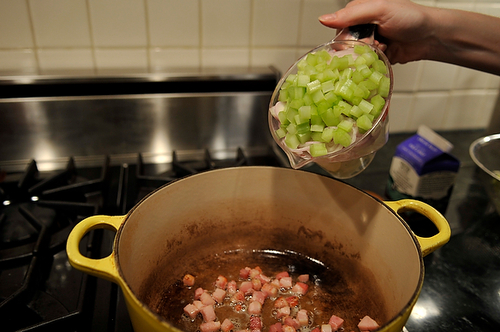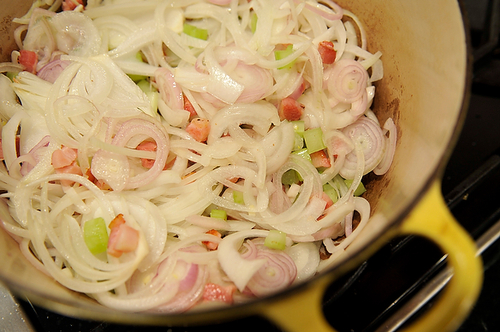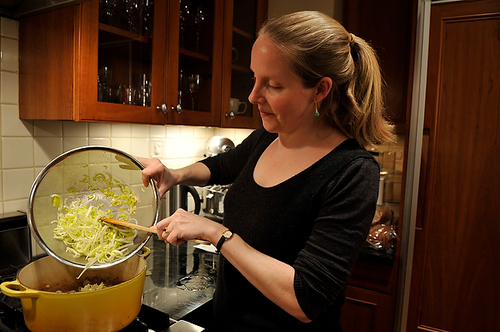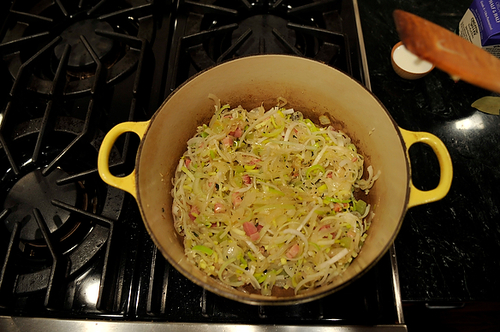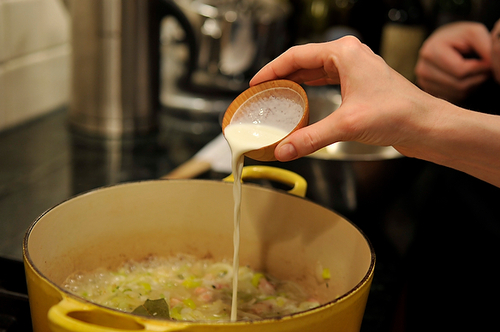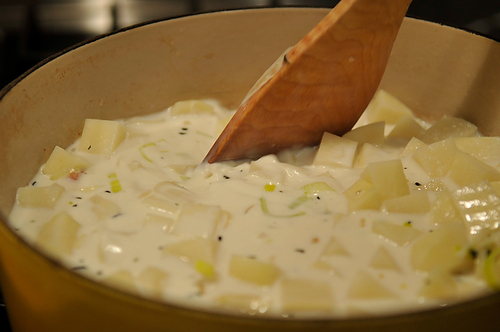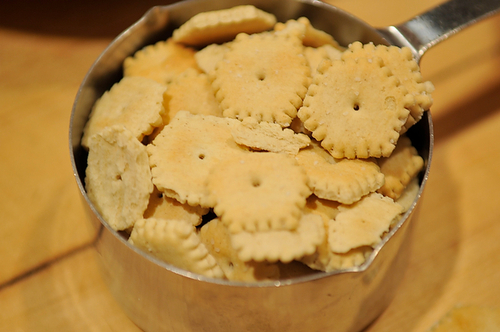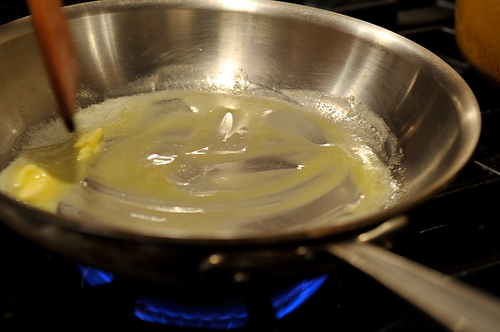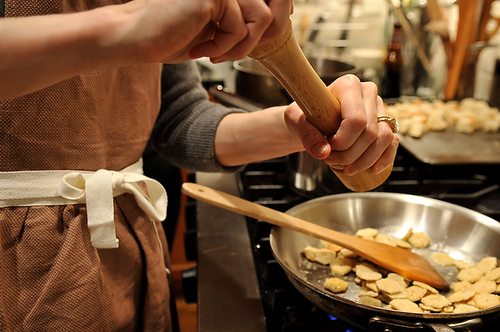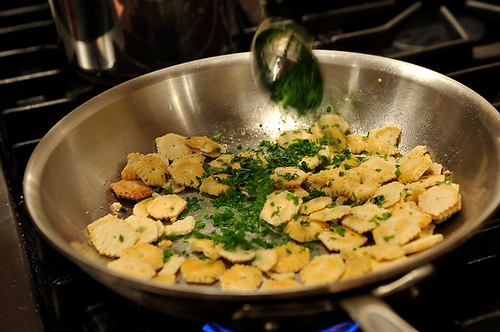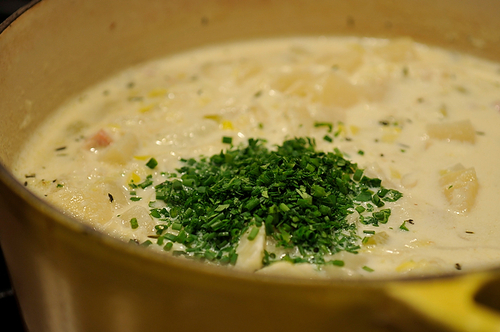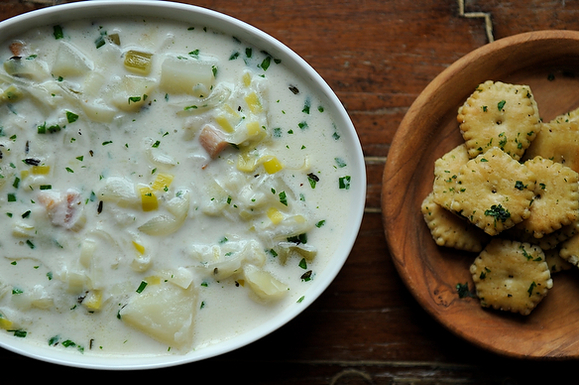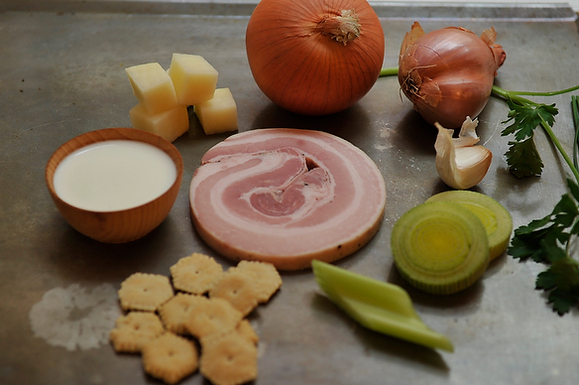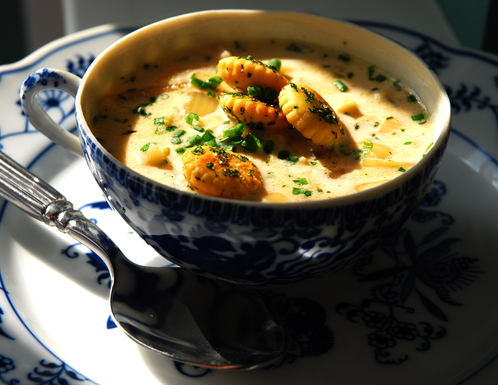 Author Notes: I really like chowders and really like French onion soup. I don't like pasty chowders so I didn't thicken it except for the starch released from the potatoes. One tip I learned from Jasper White's 50 Chowders is to let the chowder rest covered for thirty minutes. It is really does make a difference by allowing the flavors to come together. - thirschfeld - thirschfeld
Food52 Review: We'd argue that if you include the chives and garlic, this is really a five onion soup, but we're not going to quibble with thirschfeld who clearly knows how to make a great chowder. In additon to all the onions, the soup is flush with herbs -- thyme, parsley and bay leaf. Chowders can easily be leaden but here the pancetta and half and half are used with restraint. The best part of the recipe -- next to the parsleyed oyster crackers, which you'll find yourself dropping into everything you can think of -- is the cooking technique: once the chowder is assembled, you bring it to a boil, then shut off the heat, cover the pot and let it sit for 30 minutes. Magically, the potatoes cook through and all the flavors align. - A&M - A&M
Serves 4 to 6
For the Soup:
3

ounces pancetta, 1/4 inch dice

2

cups yellow onion, peeled and julienned

2

leeks, rinsed, white parts only, sliced into half moons

4

shallots, peeled and sliced

1/3

cup celery, 1/4 inch dice

1 1/2

tablespoons fresh garlic, minced

1

teaspoon fresh thyme, minced

1

bay leaf

2

cups chicken stock

2

cups half and half

3

russet potatoes, peeled and cut into 1/2 dice

1

tablespoon Italian parsley, minced

1

tablespoon fresh chives, chopped

Kosher salt and fresh ground pepper
In a 3 quart Dutch oven or sauce pan add the butter and pancetta and place it over medium heat to render the pancetta. Once some of the fat has been released add the onions, shallot and celery. Saute until they are just becoming golden. You don't want them to brown too much or the soup will be brown. Add the leeks, garlic and thyme. Cook until the leeks are just becoming soft. Add the bay leaf and chicken stock. Bring it to a boil and add the half and half and the potatoes. Bring the soup back to a boil and then immediately turn off the heat and cover the pot. Allow it to rest for at least thirty minutes.
Parsleyed Oyster Crackers
1

tablespoon unsalted butter

1

cup oyster crackers

1

tablespoon Italian parsley, minced

Fine sea salt and fresh ground pepper
Heat a small saute pan over medium high heat. Add the butter and once it has stopped bubbling but is not brown, add the oyster crackers and toss the crackers to coat with the butter. Season with salt and pepper. Stir in the parsley and toss the crackers gently in order to coat all the crackers with the parsley. Pour out onto a baking sheet and let cool.
To finish the soup reheat it but don't let it boil. Taste a potato to check and see if it is done and adjust the seasoning if necessary. If the potatoes are not done then cook over low heat for 15 minutes. Stir in the parsley and chives and then ladle into cups or bowls. Top with a few oyster crackers and serve.
Jump to

Comments

(

36

)
Tags: can be made ahead, rich