Bacon Wrapped Chicken with Meyer Lemon and Sage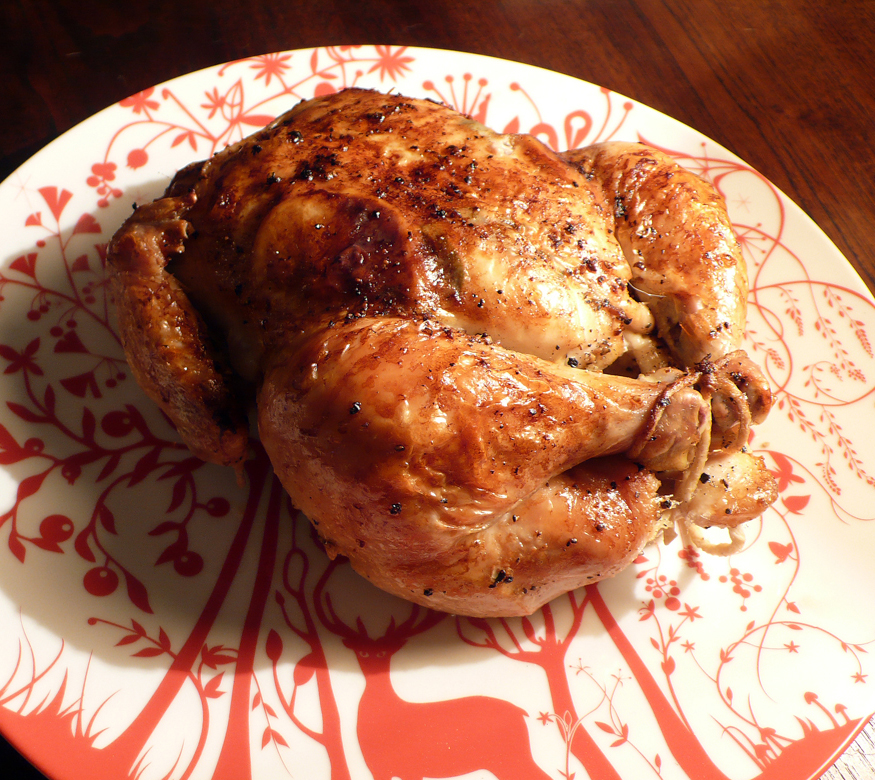 Author Notes: This recipe is ridiculously rich, decadent, moist and succulent. Everyone always goes wild for it. The bacon flavor permeates through the meat to the bone. It's beautiful with smashed purple potatoes and a simple salad of mache with olive oil an sea salt. And let us not forget a bold glass of Margeaux. The remnants create a beautiful stock. - F for Food
Serves 4
1

small chicken (3 1/2 lbs), washed and dried

2

Meyer lemons

6-8

strips thick cut bacon

6-8

sage leaves

1

small bunch of fresh thyme

1

shallot, thinly sliced

4

garlic cloves, peeled and halved

2

tablespoons butter

2

cups beef broth

1

tablespoon flour

Salt & pepper
1. About an hour ahead, remove the chicken from the refrigerator and bring to room temperature.
2. Heat the oven to 425 degrees. Slice 2 of the lemons paper thin with a knife or a mandoline. With your fingers, carefully loosen the skin from the meat on the bird. Gently insert 5 or 6 lemon slices, sage leaves, thyme and butter between the skin and the meat. Put any unused slices and the ends of the lemon and 2 cloves of garlic into the cavity. Rub salt over the chicken.
3. Cut the remaining lemon into wedges and scatter in the bottom of a shallow baking pan with the shallot and remaining garlic. Place the chicken on top of the vegetableness. Pour the beef broth over the bird, and season with a few grinds of black pepper. Blanket chicken with strips of bacon.
4. Roast chicken in the oven for about 45 minutes or until bacon on top is crisp and cooked. Remove bacon, baste chicken with broth, and lower the heat to 350 degrees and roast for about 30 minutes longer, or until the meat is firm, the skin is golden and the juices run clear (a thermometer placed into the thickest part of the bird will register 165 degrees); the lemon will have started to caramelize.
5. Move chicken to a serving platter and let rest 15 minutes.
6. Whisk flour into baking dish to create a gravy with the remaining broth with lemons and garlic.
7. Slice chicken, drizzle with gravy and serve!