12
Save
If you like it, save it!
Save and organize all of the stuff you love in one place.
Got it!
If you like something…
Click the heart, it's called favoriting. Favorite the stuff you like.
Got it!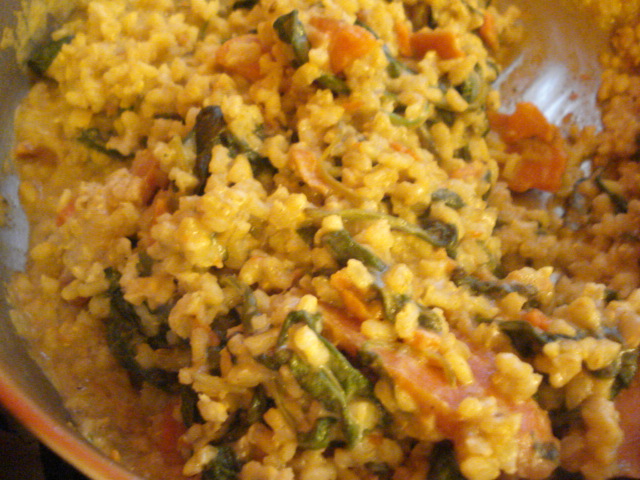 Author Notes: I started making this at work because our regular menu did not fit everyone's dietary needs. There was one person who was vegan and lactose intolerant and she was the first to try my recipe. I make it at home a lot now, but I start with chicken thighs and use the oil they produce to start the risotto along with the olive oil. I finish the chicken in the oven and serve the risotto as a side instead of the entree. - jada nachette´
Serves 4
8

cups veggie broth

4

tablespoons olive oil

1

onion diced

3

garlic cloves minced

2

carrots sliced/diced

2

tablespoons curry powder

salt and white pepper

2-4

thai chiles

2

cups arborio rice

4

cups spinach

1

can coconut milk
heat the broth in a separate saucepan and keep warm over low heat
Heat olive oil in a pan over medium heat. Add carrots and diced onion until translucent. Next add garlic and curry powder until fragrant. Add the risotto and stir for @ 2 minutes. Season with salt and pepper and add the chiles.
Now add the broth, a cup at a time, stirring it until each cup is absorbed. Continue cooking and stirring. I taste the risotto around the time I add the 6th cup of broth. You don't want it to be mushy and you want to make sure there's enough salt and pepper.
Once the risotto is the done, creamy and firm, remove from heat. Here's when you want to add the spinach so it wilts. Stir until incorporated, then add 1/2 can coconut milk stir and add the rest if needed.
Tags: curry, Risotto, spicy, yummy