Lamb Loin Chops with Lemon Mint Salsa Verde and Flageolets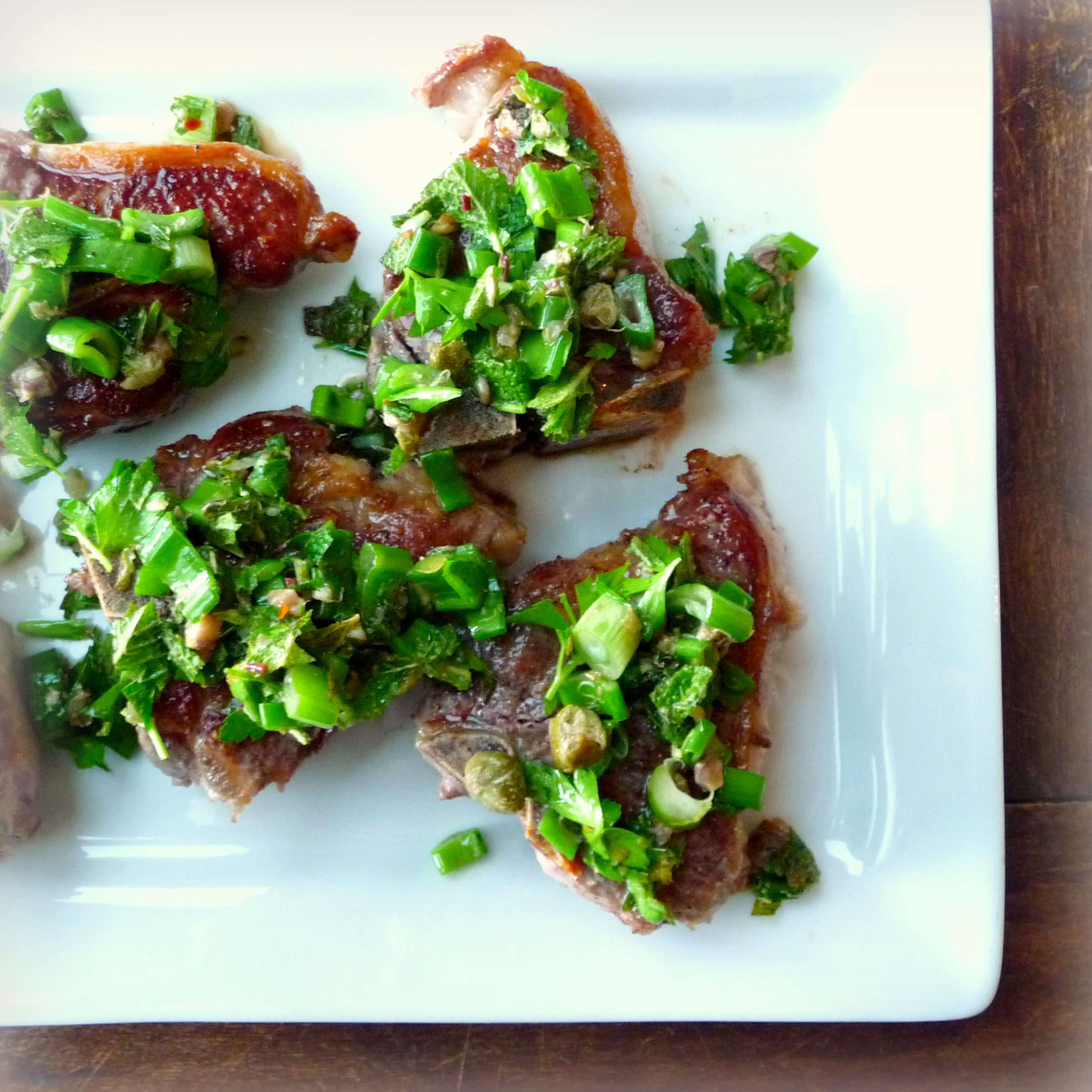 Author Notes: This recipe is quick and easy to prepare with big flavorful results. Succulent lamb loin chops are pan-grilled, then topped with a fresh salsa verde bursting with lemon zest and mint. Crushed red pepper, capers and anchovies add extra depth and a nice kick. The lamb is delicious simply with the salsa, or, for a complete dish, serve over flageolet beans. The mellow earthiness of the beans is a nice foil to the brightness of the salsa. - TasteFood
Serves 4
For the lamb and salsa verde
8

lamb loin chops

4-5

tablespoons extra-virgin olive oil, divided

salt

freshly ground black pepper

1

cup chopped fresh mint leaves

1/2

cup chopped Italian parsley leaves

3

spring onions, green parts only, finely sliced

3

anchovy filets, rinsed and minced

1

garlic clove, minced

1

tablespoon capers, rinsed, chopped

2

teaspoons finely grated lemon zest

1/4

teaspoon crushed red pepper flakes

1

tablespoon freshly squeezed lemon juice

Flageolet beans - optional (recipe below)
Arrange lamb in one layer in a deep dish or pan. Coat with 2 tablespoons olive oil. Sprinkle on all sides with salt and pepper. Let rest at room temperature while you prepare the Salsa Verde.
Combine mint, parsley, green onions, anchovies, garlic, capers, lemon zest and crushed red pepper in a bowl. Gently toss to blend well.
Mix 2 tablespoons olive oil, lemon juice, 1/2 teaspoon salt and 1/2 teaspoon pepper together in a small bowl. Pour over the salsa. Toss to combine.
Heat a cast iron grill pan or a skillet with 1 tablespoon olive oil over medium-high heat. Add lamb in one layer. Brown on both sides, turning once, about 6 minutes for medium rare. Remove from pan. If serving with flageolet beans, spoon beans into center of plate. Arrange lamb over beans. Top with Lemon Mint Salsa Verde.
For the flageolets
2

cups flageolet beans, picked over and rinsed

1

head of garlic, halved horizontally

1

onion, peeled, quartered

1

carrot, peeled, cut in large chunks

3

thyme sprigs, tied in cheesecloth

1

bay leaf

salt

1

tablespoon extra-virgin olive oil

freshly ground black pepper

2

tablespoons chopped Italian flat leaf parsley
Place the beans in a large pot. Add enough cold water to cover the beans by 2 inches. Bring to a boil; boil one minute. Turn off heat. Cover and let beans sit at room temperature for one hour. Drain and rinse.
Place drained beans, garlic, onion, carrot, thyme and bay leaf in a large pot. Add enough cold water to cover by 3 inches. Bring to a boil; reduce heat and simmer until beans are tender, 1-2 hours, depending on age of beans. Remove from heat. Stir in one teaspoon salt. Let beans cool in liquid. (Beans can be prepared one day in advance. Refrigerate in cooking liquid.)
To serve, drain beans, reserving liquid. Discard vegetables, thyme and bay leaf. Heat one tablespoon olive oil in skillet over medium heat. Add garlic and saute until fragrant, 30 seconds. Add beans and cook, stirring to coat until beans are heated through. Season with salt and pepper. Add 1/2 cup reserved liquid and heat over medium-low heat. Before serving, stir in chopped parsley.
Jump to

Comments

(

0

)