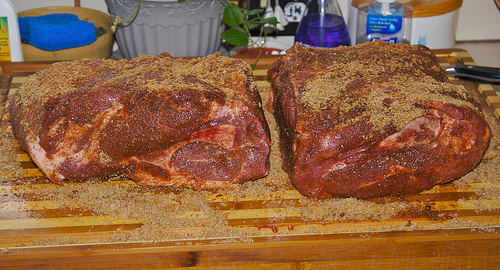 Author Notes: This is the canonical recipe for Memphis-centric barbecue, which is the best in the world. Every cook has his/her own dry rub; this is mine. It's best cooked on a pit over hardwood coals for 18 hours (for a whole shoulder; 12 for Boston butts), started at 180 degrees and gradually working up to 250. I adapted it for the oven several years ago when it was below freezing and I wanted barbecue and did NOT want to fire up the pit. It lacks the smoky flavor, but it still puts most barbecue to shame. - Kayb
Food52 Review: This recipe yields some of the best barbecued pork we've ever tasted. After a few low and slow hours in the oven, the roast comes out super moist, sweet-spicy, peppery and crispy. The rub is balanced and really penetrates the meat, leaving a nice, pink ring around the outside edge. The sauce has just the right amount of tomato-y tartness for balance. We found this to be an embarrassingly easy way to get barbecue flavor without having to go outside, or do much work at all. - Emily - A&M
Serves 8
3

tablespoons each of kosher salt, black pepper, cumin, chili powder, and coriander

1 1/2

tablespoon each of ground ginger, dry mustard, and celery seed

1

tablespoon allspice

2

teaspoons each ground thyme and dried oregano, crumbled

4

tablespoons brown sugar

1/2

cup cider vinegar

1/2

cup water

1/2

cup neutral vegetable oil

5-6

pounds Boston butt roast or half pork shoulder

4

tablespoons ketchup or tomato paste

1

tablespoon Worcestershire sauce

hot sauce to taste
Mix the spices, herbs and sugar in a small bowl until thoroughly blended. Set aside 6 tablespoons of the mixture, and use as much as needed to heavily coat the pork roast. You may have rub left over; it keeps well in an airtight container and does wonders for any kind of pork or chicken. Wrap the roast tightly in plastic wrap and refrigerate overnight.
The next day, remove roast from refrigerator and allow to come to room temperature. Place in a rack in roasting pan in 200 degree oven for an hour.
In a small saucepan, blend reserved 6 tbsp. dry rub mix, vinegar, water, tomato paste or ketchup, and worcestershire sauce. Add hot sauce to taste (a dash or two is good).
Once pork has cooked for an hour, baste with sauce every 30 minutes for 1 1/2 hours. After a total of 2 1/2 hours, increase heat to 250, and continue to baste every 30 minutes for another 1 1/2 hours. Raise heat to 300 and continue to baste every 30 minutes for another hour to hour and a half, or until the bone in the pork wiggles freely.
When bone wiggles freely and meat is pull-apart tender, remove from oven and tent with foil; allow to sit for at least 20 minutes. Serve by pulling chunks of meat from bone. Should, to be authentic, be served with vinegar cole slaw and baked beans; bread is optional, but roasted corn on the cob is nice. And gallons of iced tea and lots of cold beer.
If you want a sauce to serve on the side, take remaining basting sauce (or make more), add another 4 tbsp tomato paste, and simmer until it reaches the desired thickness.
Jump to

Comments

(

15

)