Rhubarb Strawberry Pie for a Potluck
62
Save
If you like it, save it!
Save and organize all of the stuff you love in one place.
Got it!
If you like something…
Click the heart, it's called favoriting. Favorite the stuff you like.
Got it!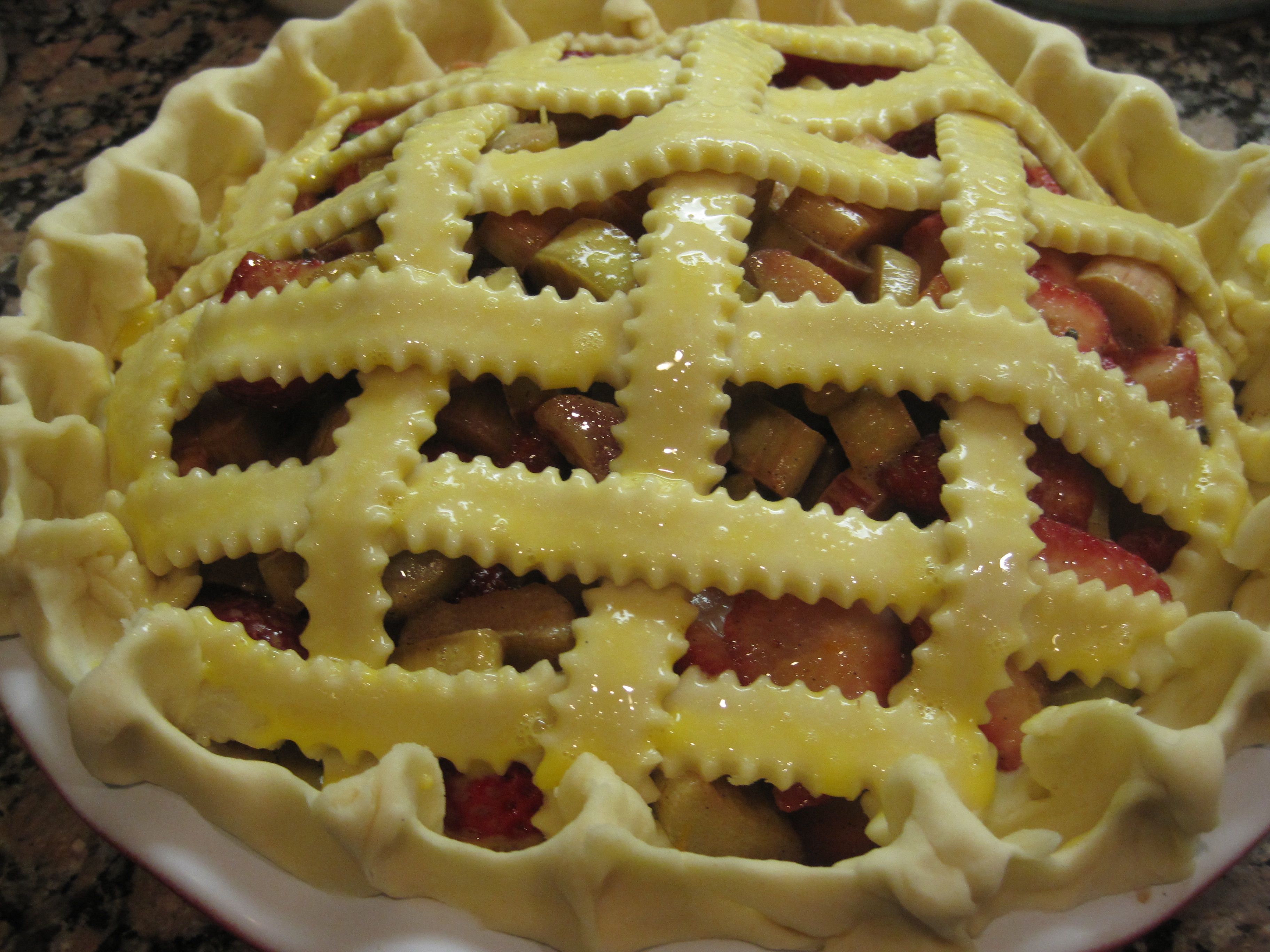 Author Notes: I'm a big fan of rhubarb. Mixed with strawberries, the tart rhubarb is perfectly offset by the sweetness of early spring berries and that rosy pink color is incredibly appealing. This is the first fresh pie of the season in our house and for that reason alone is a favorite. One technique I use for all fruit pies - learned from Christine Ferber's preserves book - is to let the fruit macerate and develop overnight before filling the pie crust. I think this makes a remarkable pie. - MrsWheelbarrow - MrsWheelbarrow
Food52 Review: I love this pie. It's a definitely a special occasion potluck pie because there's so much waiting! The dough was easy to work with, lovely to look at, and made a nice buttery crisp complement to the sharp flavors of the fruit and its gingery spice mixture, which I loved. Macerating the fruit gives you a pie that tastes jammy and rich while still maintaining its fresh fruity integrity; I was happy that the rhubarb also had good texture, which played nicely against the softer strawberries. It smelled great while it was baking, and when it was cool enough to eat we felt sufficiently tortured (two hours!). - ENunn
- A&M
Serves one 9" deep dish pie
My Family's Pie Crust - makes one crust. Double for this recipe.
1-1/3

cups AP Flour

4

ounces unsalted butter, cut in cubes and put in the freezer for an hour

1/4

cup ice water

Pinch of salt

Pinch of sugar
Using the food processor, add flour, salt & sugar, then butter. Pulse 12 times, cutting the butter into the flour. The mixture should resemble coarse meal.
With the plunger in place and the processor running, add the water through the plunger. (Did you know there's a tiny hole in the bottom that will drizzle water in? I just figured this out last year.)
Allow the processor to run until the dough comes together in a ball. Form into a disk and wrap in wax paper or plastic.
Repeat for second crust. Chill at least 2 hours or preferably overnight.
Pie Filling for Deep Dish Pie Pan
4

cups rhubarb, trimmed, peeled if necessary, and chopped into 1" pieces

4

cups strawberries, left whole if small, otherwise cut in half or quartered

1

cup brown sugar, packed

3/4

cup cornstarch

2

teaspoons ground ginger, make sure it's very fresh

2

teaspoons orange zest

1

vanilla bean, split and scraped

1

tablespoon Grand Marnier, Cointreau or Triple Sec

6

cardamom pods, seeds removed and slightly crushed

1

tablespoon butter, cut up

1

egg white, beaten

1

egg yolk, beaten w/ 1T water
In a glass or ceramic bowl, gently stir together everything except the butter and egg white and egg yolk. Include the vanilla bean itself. Cover with parchment paper and chill overnight.
Remove the vanilla bean. Stir well to make sure the cornstarch is completely incorporated.
Roll out the bottom crust and place in the pie pan. Brush the crust with egg white. This forms a nice barrier between crust and filling, and keeps the bottom crust from getting soggy. Place the pan in the fridge while you roll out the other crust.
Roll out the top crust. Lazy? Just use it as the topper. Feelin' fancy? Make a lattice. Many ways to do this - and I suggest YouTube for direction. Some cooks place the strips in one direction, then layer in the other direction. Some (like me!) actually weave the strips. How nutty are you?
Fill the bottom crust with the filling. REMOVE THE VANILLA BEAN! Add butter in tiny pieces all over. Top with crust or lattice. If you use full crust on the top, make some vents. Pop the entire pie in the freezer for an hour or more.
Preheat oven to 425°. Place the pie in the lower third of the oven on a cookie sheet lined with foil or parchment to capture spills. Brush the lattice or top crust, not the edges, with egg wash (egg yolk mixed w/1 T water.) Bake for 20 minutes.
Lower the oven temperature to 350 and bake an additional 55 minutes. If the crust starts to brown too quickly, tent with foil.
Allow the pie to cool completely - 3 to 4 hours minimum - before serving.
Jump to

Comments

(

15

)