Sesame Encrusted Salmon with Pinot Noir Reduction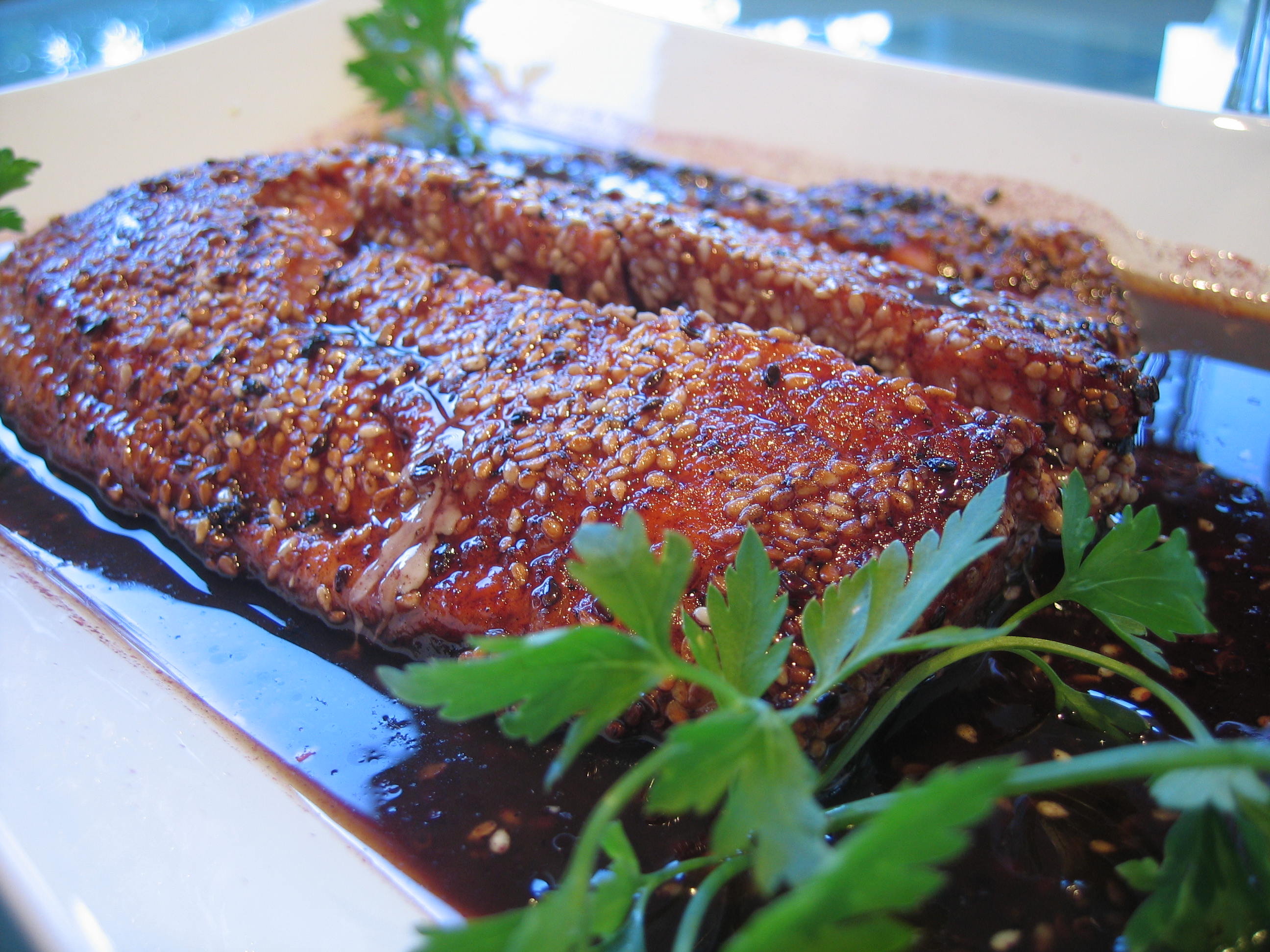 Author Notes: This salmon has few ingredients, but when they all come together -- heaven! My husband developed this dish a few years back and I was so happy to be able to make it together tonight so that I was able to actually get it down on paper so that I can repeat it. I hope that you enjoy it as well. A few notes: Make sure to gently flip (emphasis on gently) the salmon into the pan and then don't touch or move it while it is first cooking – you want the sesame seeds to sear into the flesh of the fish, if you move it while it is in the first stage of cooking – they will slide off. So don't get tempted! Another thing – this is best with a filet from a salmon that is about 8-12 pounds – with a filet about 1 ½ to 2 inches in thickness – so that it can cook nicely in the pan only, and does not have to be finished off in the oven. If you do have a thicker cut – just throw it in a 375 degree oven for a few minutes to finish off the cooking. Finally, this is great with the pinot noir – but if you don't have or don't like, any dry red wine will do. But I have to say – the Pinot Noir was amazing! Hope you enjoy! - coffeefoodwritergirl - coffeefoodwritergirl
Food52 Review: I made this for my husband's birthday dinner. It was a huge hit. It's really very cool the way the sesame sears into the flesh of the salmon. A couple of notes: you really have to season the fish well with salt and pepper before you put the sesame seeds on it, and I found it helpful to take the back of the measuring cup (after pouring the oil over) and press the seeds gently into the flesh of the fish before turning it into the pan. Because of all the fat in the pan, when you pour the red wine in, it splatters like crazy, so the cook should be prepared for that. The wine reduces with the olive oil and sesame seeds in the pan to a delicious sauce -- I opted to serve the sauce on the side rather than pour it over the fish for serving. By itself the fish was delicious -- moist, flavorful and crunchy with sesame seeds. The richness and grapiness of the sauce added to the flavor in an unexpected way. All in all, a wonderful way to cook salmon. - drbabs
- A&M
Serves 2-4
1

pound salmon filet – about 1 ½ - 2 inches thick (wild if possible)

1/8 to 1/4 cup sesame seeds

1 1/2 cups Pinot Noir or red wine

1/4 cup plus 1-2 tablespoons extra virgin olive oil

seasoning salt

fresh ground black pepper
Blot salmon with paper towel to remove all excess moisture.
Dust exposed flesh with a liberal dosing of seasoning salt and fresh ground black pepper.
Completely cover exposed flesh with sesame seeds – enough to form a nice layer over top. Drizzle liberally with 1/4 cup olive oil.
Heat large skillet over medium high heat. Add 1-2 tablespoons olive oil (just enough to barely cover the bottom of the pan – you don't want it swimming – only enough to just prevent sticking. When pan and oil are hot, flip and slip salmon in gently, skin side up so sesame seeds do not fly off. Sear for approximately 5-7 minutes until golden brown. Do not give in to the temptation to toss or move salmon filet. Let it sit there so sesame seeds get seared into flesh of salmon. Sprinkle more seasoning salt and fresh ground pepper over exposed skin.
When golden brown, flip filet over and cook for another two minutes or so.
Pour ¾ cup red wine over salmon, lower heat to medium or just above, and let cook another five minutes or so. Sauce should be boiling quite vigorously, but you don't want it to burn or smoke, so adjust the temperature as needed.
When cooked through, but still slightly pink in center. Remove to serving platter and place flesh side up.
Keep sauce boiling on medium heat and add additional ¾ cup red wine. Lower heat to medium low and let reduce for about another five minutes, stirring occasionally to release and loosen all those great cooked bits and flavor from the pan. Cook for about an additional five minutes, or till the sauce is reduced by half. Adjust for salt if necessary....
Pour sauce over filet. Garnish with parsley and serve. Enjoy!
Jump to

Comments

(

21

)