Blueberry Banana Buttermilk Breakfast Buffins-- er, Muffins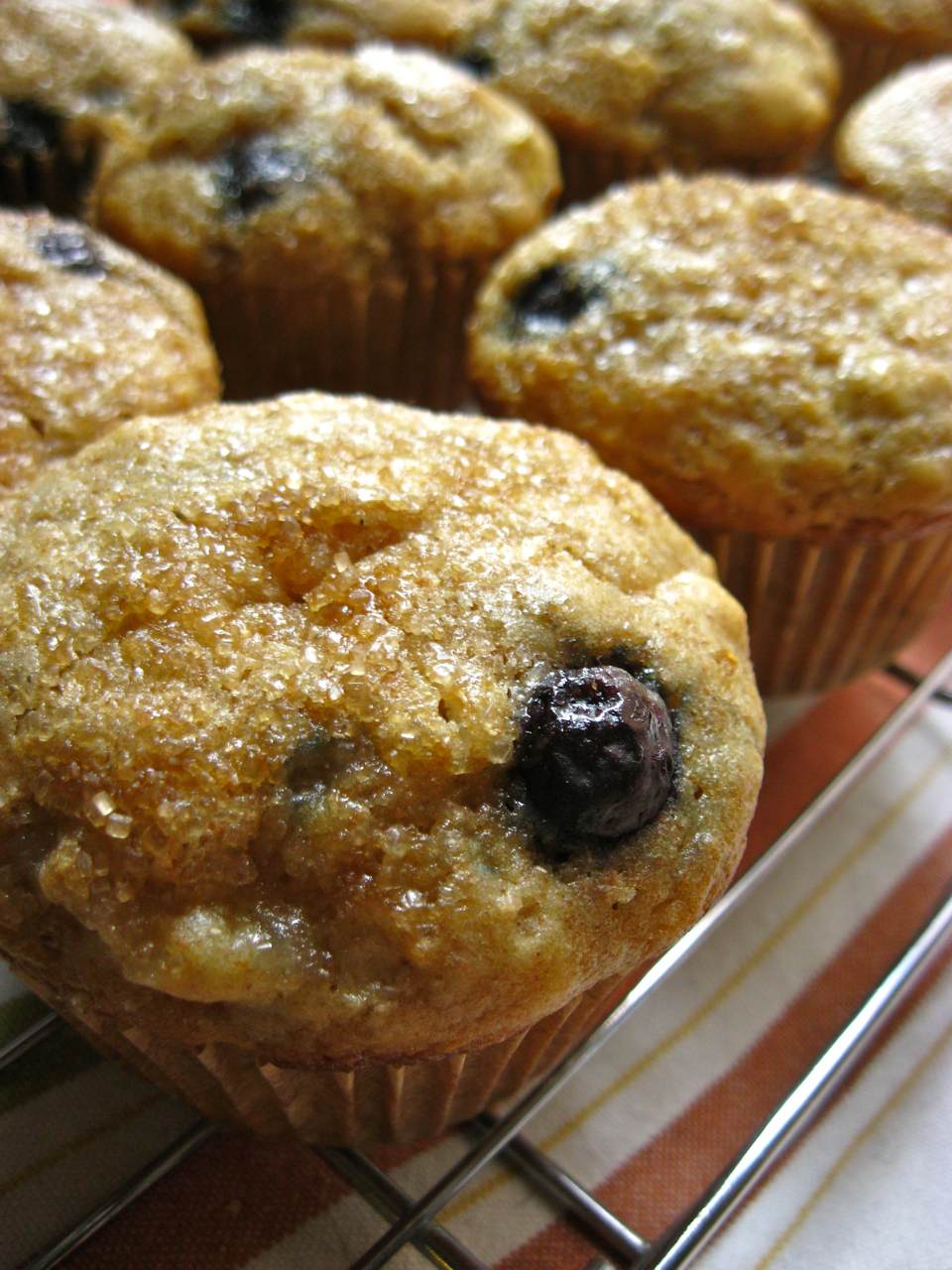 Author Notes: These (almost) alliterative muffins have everything I like in my breakfast bread: subtle sweetness, a sturdy but tender crumb, chunks of moist fruit, whole grains, a little bit of spice. This recipe makes 12 muffins in my standard muffin pan, which means there's leftover batter, so I just pour it into a greased mini-loaf pan and bake it alongside the tin. Sometimes I'll throw in some finely grated lemon or orange zest, a handful of toasted almonds or walnuts, or freshly grated ginger or nutmeg. Or, if I'm not getting enough butter in my diet, I'll use 1/4 cup melted, cooled, unsalted butter in place of the oil. Not getting enough butter in my diet? Ha! Not likely! But I might go ahead and make the substitution anyway. - vvvanessa
Serves 12-15
3

tablespoons unsalted butter at room temperature

3/4

cups sugar, preferably turbinado or other less-refined sugar

1/4

cup canola or light-bodied olive oil

1

cup buttermilk at room temperature

2

large eggs at room temperature

1/2

teaspoon vanilla extract

3/4

teaspoons sea salt

1

cup all-purpose flour

1

cup whole wheat flour

2

teaspoons baking powder

3/4

teaspoons baking soda

1/2

teaspoon ground cinnamon

1

cup blueberries, fresh or frozen (unthawed)

1

medium banana, ripe but not soft, cut into blueberry-sized chunks

1/4

cup turbinado sugar
Preheat oven to 350ºF. Generously butter the wells of a 12-cup muffin pan. Set aside.
In a large bowl, whisk together the sugar, oil, buttermilk, eggs, vanilla, and salt until well combined. Set aside.
In another bowl, whisk together the flours, baking powder, baking soda, and cinnamon.
Add the dry mixture to the wet mixture. Fold/mix gently until there are still some large patches of dry mix are still visible.
Scatter the blueberries and banana over the top of the batter. Continue to fold gently until ingredients are just combined, taking care not to overmix the batter.
Divide batter evenly among the muffin cups, filling them to the top. Sprinkle a single layer of turbinado sugar over the surface of each muffin.
Bake for 20-25 minutes, rotating the pan after 10 minutes. The muffins are ready when the tops are firm and golden and a cake tester tests clean. Do not overcook.
Remove from them from the oven and allow them to cool for a few minutes. Allow the muffins to finish cooling out of the pan on a cooling rack.
Eat them warm. With a little butter, of course.
Jump to

Comments

(

6

)
Tags: banana, blueberries, breakfast, buttermilk, muffins, whole grain