Springiest Potato Salad Ever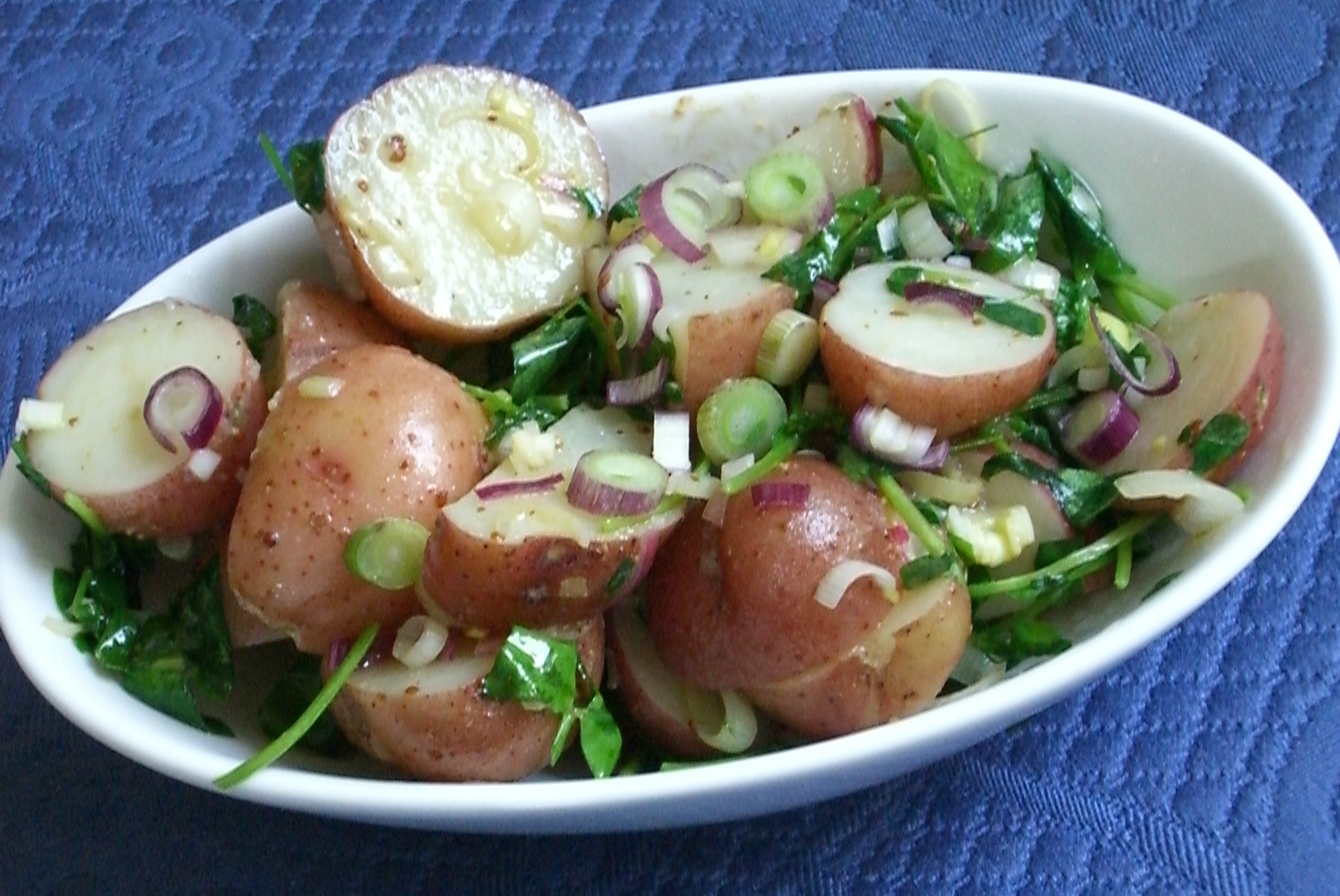 Author Notes: I love to make this particular potato salad precisely this time of year. I tend to buy pea shoots every week or so, and am always throwing them into dishes. I got really lucky with the sweetest new red potatoes last week, so made this salad for the first time this year. We love the contrast of the sweet-ish potato with the bite of garlic, mustard and green onion. Later in the summer, just use fresh garlic and some minced shallot. Best part? No mayo to worry about at outdoor parties swampy DC. This is delicious as a side dish with most simple, grilled meat, fish or chicken and is also terrific with a little smoked trout. - healthierkitchen - healthierkitchen
Food52 Review: This is the perfect potato salad when you have vegans crashing your barbeque (and everyone else will enjoy it too). The mellow mustard vinaigrette lets the spring aromatics and potatoes get the attention they deserve and healthierkitchen's technique of cutting the potatoes before boiling was the best method we tested for keeping the potato skins in tact. Note: We recommend letting the potatoes cool to room temperature in the dressing, then mixing in the pea shoots to help them stay bright. - Kristen - A&M
Serves 4 - 6 as a side dish
2

pounds washed new red potatoes, halved or quartered if larger. I like the small ones - about 1 inch diameter when whole. You could also use baby Yukon Golds or fingerlings

1

teaspoon Dijon mustard

1

teaspoon whole grain mustard

1

tablespoon red wine or champagne vinegar

1/4

cup best quality olive oil

couple

pinches salt, more to taste

few

grinds pepper, more to taste

scant 1/4

cups thinly sliced green garlic (the kind that look like fat scallions) or two cloves minced garlic if later in the season

1/4

cup thinly sliced spring onions or scallions, plus one extra tablespoon for garnish (or even two small shallots, finely minced)

1

cup pea shoots, roughly chopped - from a few large handfuls
Put cut potatoes in a large saucepan and cover with water by about 1/2 to 1 inch. Salt water lightly. Bring to a rolling boil and then lower to a low boil for approximately 8 - 10 minutes until fork-tender.
While the potatoes cook, in a large bowl, whisk the mustards and vinegar together. Add the olive oil in a stream, whisking as you add. Add salt and pepper. Add the green onions and green garlic to the vinaigrette and toss. Let stand while you wait for the potatoes to finish cooking.
When potatoes are fully cooked, drain in a colander and pat dry lightly if they are still wet. Immediately add potatoes into the bowl with the vinaigrette. Mix gently.
Add in the chopped pea shoots and toss gently but well. Taste for salt and pepper.
Garnish with reserved green onions or scallions.
Serve still warm or at room temperature. If you make this earlier in the day, refrigerate in the interim, but take out about 1/2 hour before you want to serve so that the salad can come back to room temperature.
Tags: can be made ahead, farmers market, seasonal, Spring, Summer