Speck and Mozzarella Baguette with Homemade Mayonnaise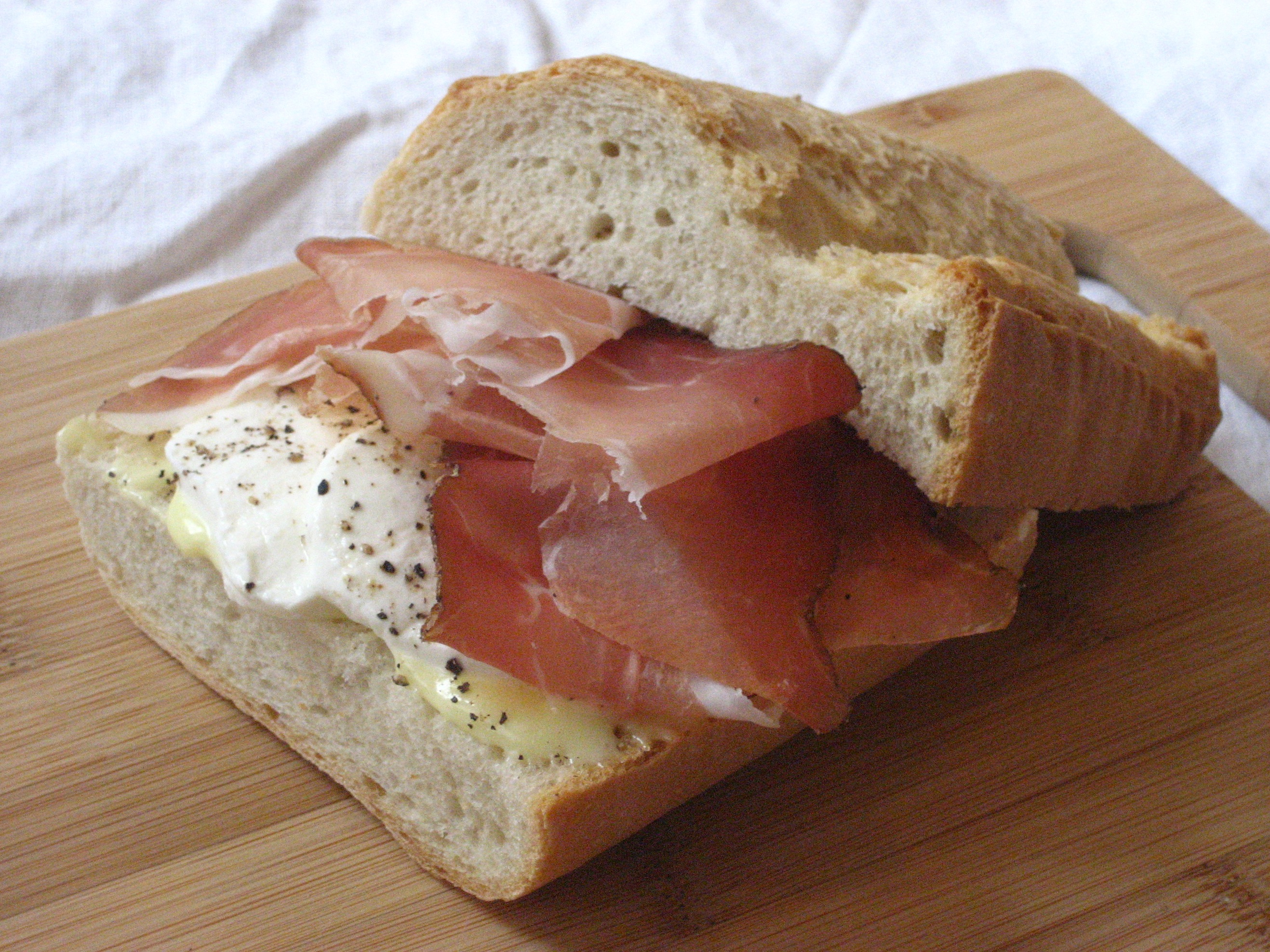 Author Notes: This is a homemade version of a sandwich that my boyfriend and I had on vacation...we loved it so much we decided to give it a go at home and this is what we came up with. The key to this sandwich, as with all good sandwiches, is first finding a quality source of bread. It's a relatively simple sandwich with quality, fresh ingredients that speak for themselves. The fresh black pepper is a major player and adds a little bit of heat that cuts through the richness of the mozzarella and mayo. We used speck as we like the delicate taste, but any cured meat that you like will do! - cakesy - cakesy
Food52 Review: Cakesy's sandwich is a wonderful adaptation of ham and cheese. The smokey, fatty speck pairs nicely with the creamy mozzarella. Making mayonnaise in a stand mixer is a great technique for those looking for a quick way to make mayo but without food processors. You'll feel very proud of your tangy, luxurious mayonnaise. Try toasting the sandwich for a warm, melty variation. - Stephanie - A&M
Serves 4
Homemade Mayonnaise
2

egg yolks, at room temperature

pinch

salt

1

cup canola oil

2

tablespoons lemon juice
Using a hand or stand mixer on medium speed, beat the egg yolks and salt until the yolks turn pale yellow and thick. With the mixer still running, very slowly add the canola oil a little at a time. Wait until the oil that you added in has been incorporated until adding more. Continue adding oil until the mixture becomes very thick. Add 1 teaspoon of lemon juice and continue beating. This will help to thin out the sauce a little. Add more oil, making sure to stop from time to time to make sure the sauce is absorbing the oil. When it becomes very thick again, add more lemon juice to thin out. Continue alternating between oil and lemon juice until all the oil has been incorporated and the mixture is at the desired consistency. Taste for salt...it will most likely need it!
Sandwich Assembly
1/4

pound Speck

1

pound fresh mozzarella

Homemade mayonnaise

1

Large Baguette

Freshly cracked black pepper
Split baguette down the middle. Spread homemade mayonnaise on each side of the bread. Slice mozzarella into rounds of desired thickness and layer on top of the baguette. Liberally pepper the surface of the mozzarella, then arrange the speck on top of that. Cut into four sandwiches and enjoy!
Jump to

Comments

(

1

)