Ira's Brooklyn Diner Roast Pork Sandwich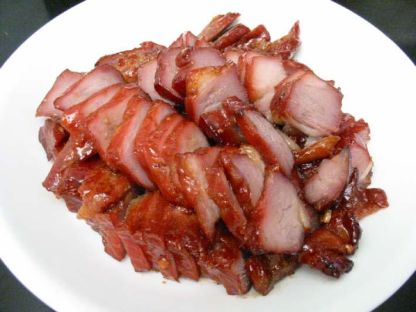 Author Notes: This is one of my Dad's midnight sandwiches, and there's no sandwich like a Daddy midnight sandwich. Legend has it that there was a diner in Sheepshead Bay that used to serve these in the 50's, I've never seen it anywhere or heard of anyone else ever eating them, but a girl has to trust her Daddy. These are some old school fusion...pre banh mi. Really simple, probably just as good with homemade pork and homemade sauce, but the way I remember them is like this... - Aliwaks
Serves 2
1

Small order Sliced Roast Pork from Chinese Restaurant

2

Small crusty French Bread loaves or one big one cut in half

2

cloves garlic

1

tablespoon soft butter

1

tablespoon olive oil

2

tablespoons (2 packets) or more, Duck Sauce, (can sub mango chutney)
Mix together garlic, butter & olive oil
Slice bread in half and schmear with garlic butter
Toast in toaster oven or broiler till butter melts and bread is toasty.
Spread duck sauce over garlic butter, layer on pork.
Close, sandwich, cut in half, eat.
My brother adds Mozzerella cheese (ugh), I add cilantro, pickled veggies, and Thai basil if I have them on hand, a spritz of hot sauce wouldn't be bad either.
Jump to

Comments

(

2

)