Farfalle with Lemon Scented Ricotta, Sugar Snap Peas and Oregano
41
Save
If you like it, save it!
Save and organize all of the stuff you love in one place.
Got it!
If you like something…
Click the heart, it's called favoriting. Favorite the stuff you like.
Got it!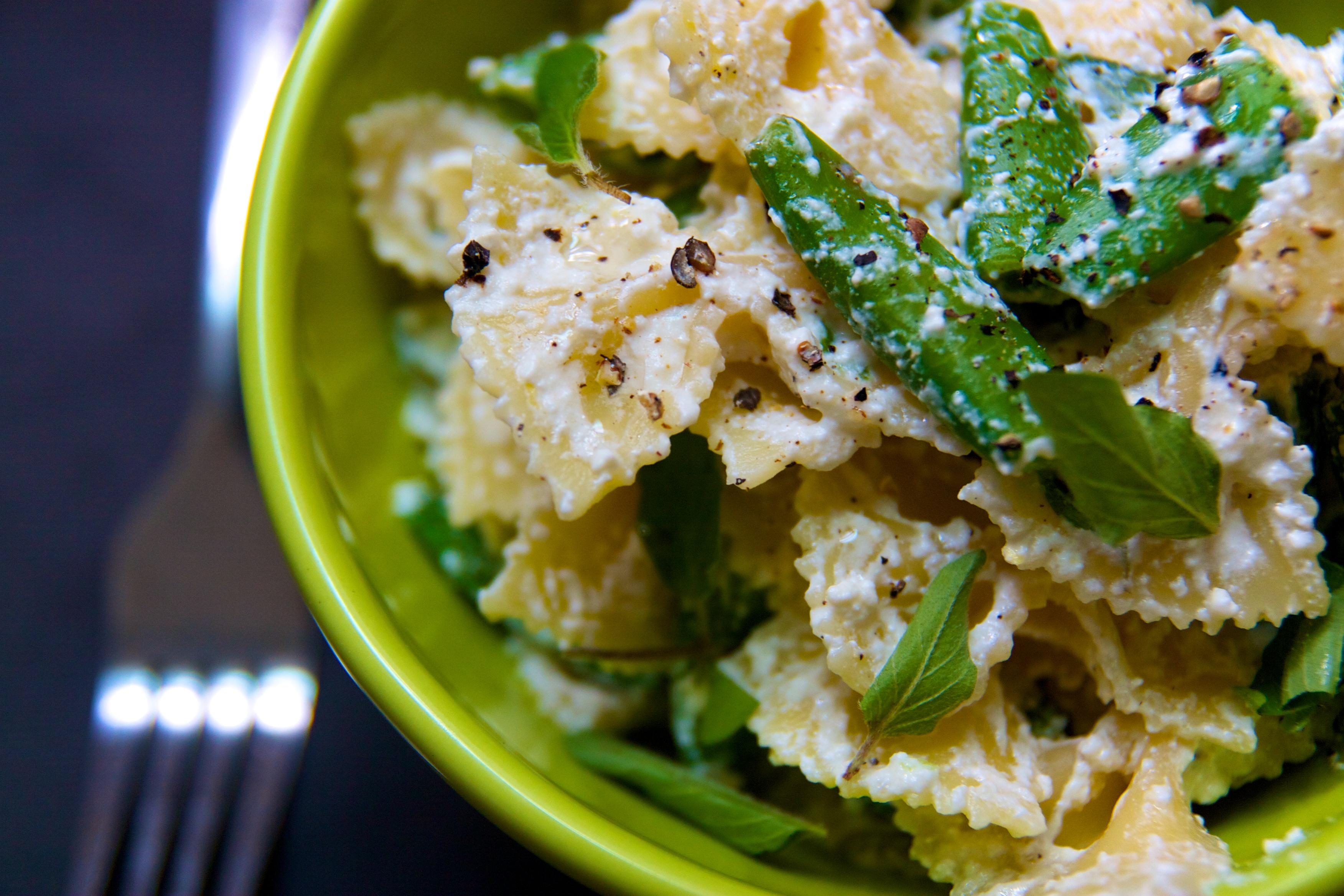 Author Notes: The Farmer's Market this week was full of exciting new vegetables. "Firstly, garlic scapes are here." I also had some lovely sugar snap peas that I bought from our trip to the country. I decided to make a pasta with lemon ricotta, sugar snap peas, fresh oregano, and the garlic scapes. It was truly delicious :D - Nicole Franzen
Serves 2
1

box farfalle (half for 2 people)

3

cups sugar snap peas

2

cups ricotta cheese

1

lemon

1

garlic scape

fresh oregano

S & P

chile flakes

olive oil
~First, blanch the sugar snap peas. Do this by heating a pan full of water to a simmer, and adding the sugar snap peas for just about a minute or two.
~Take your 2 cups of ricotta and place in a bowl. Add the zest and juice of one lemon. I used fresh oregano because I love the combination. Add a pinch of chile flake, fresh ground pepper and sea salt. Mix thoroughly.
~Cut the garlic scapes into thin slices. I put mine in my mortar and pestle, and added a touch of salt, and olive oil. I ground it into a paste. You could also use a blender, food processor, or feel free to just use thinly sliced pieces as well.
~Cook your farfalle or choice of pasta to directions and set aside to cool.
~I cut the sugar snap peas in half, and tossed them with the farfalle. I then added my ricotta, garlic scape paste, and mixed thoroughly. Season with salt and pepper according to your taste.
Jump to

Comments

(

2

)
Tags: farfalle, fresh, lemon, oregano, pasta, ricotta, snap peas, Summer