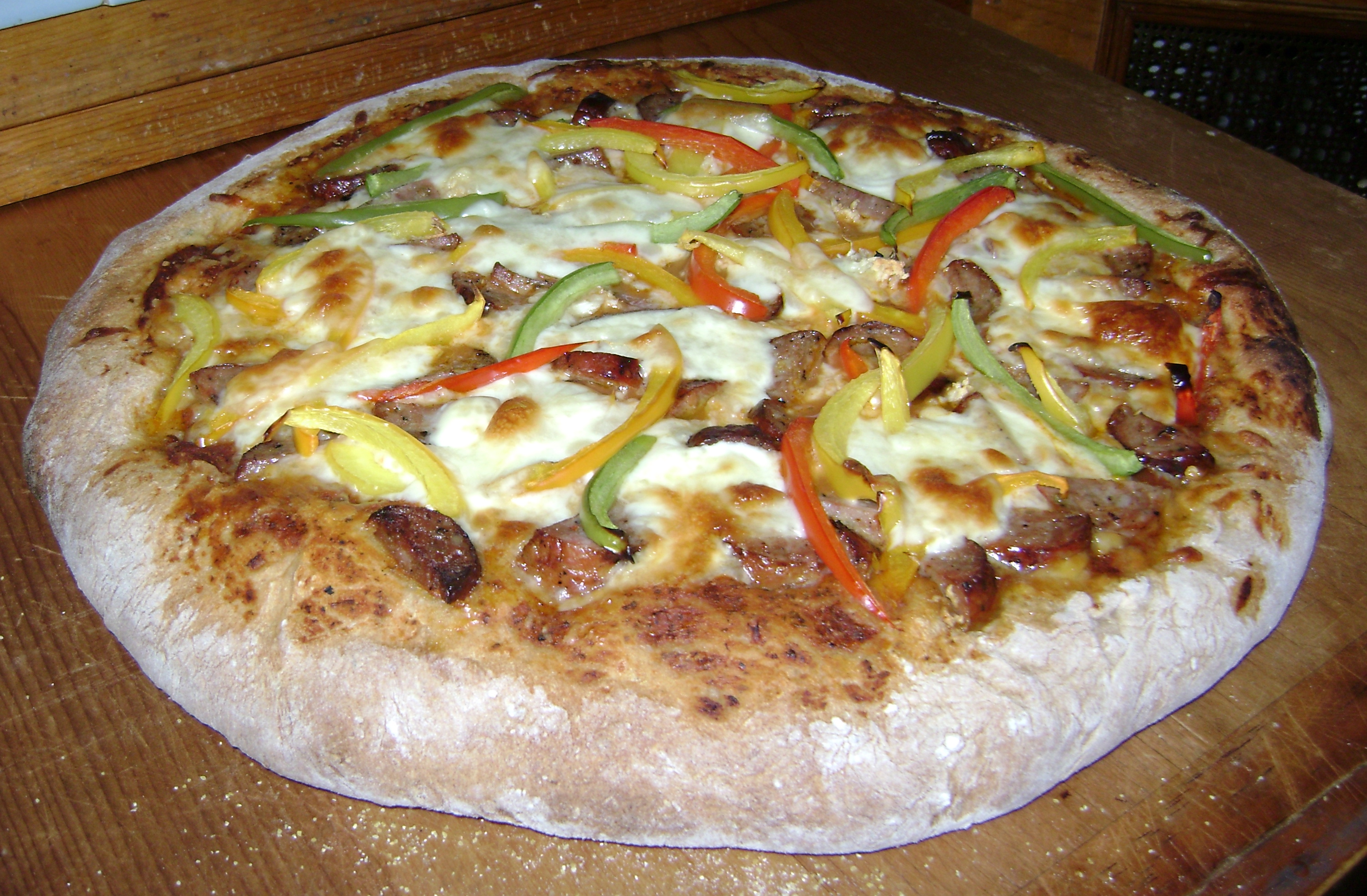 Author Notes: It took a few times to master the dough. I wanted a pizza dough that had lots of flavor and was made with beer. I have found the secret to my crust was to warm up the beer before adding it to the dry ingredients. I took my favorite pizza ingredients: assorted colorful bell peppers, fresh mozzarella, hot Italian sausage, garlic and fresh herbs and came up with a very delicious pizza! - gourmetpompey
Serves 4
3

cups all purpose flour

1

cup wheat flour

1

packet yeast

1

tablespoon fresh rosemary

1/4

cup brown sugar

1

teaspoon salt

1

teaspoon pepper

1

cup warm beer

1

cup warm water

1/2

cup sliced red bell pepper

1/2

cup sliced green bell pepper

1/2

cup sliced yelllow bell pepper

1/2

cup sliced orange bell pepper

2

cups Pizza sauce- I pick a good kind with maybe garlic or basil in it and low sodium.

2

cups shredded Mozzarella

1

pound Hot italian sausage cut up- cook sausage until slightly pink.

2

tablespoons fresh chopped garlic

1

cup fresh mozzarella- nice thick slices for the top of the pizza
In a large mixing bowl add the 1st 7 ingredients- mix well.
Warm up the beer and water together in a glass purex measuring cup about 1 minute in the microwave.
add the warm beer and water to the dry ingredients. Mix with a wooden spoon.
Place dough onto a floured surface and knead a few times just to shape into a nice round ball. Add about a tablespoon of olive oil to the bowl and coat the dough. Cover tight with plastic wrap and set in a warm place for 2 hours let rise until it fills the inside of the bowl.
Roll the dough out onto a flour surface roll the dough big enough to fit on your pizza stone, or pizza pan. I use a stone makes it nice and crispy. Spread the pizza sauce and then top it with shredded mozzarella, then the bell peppers, garlic, and Hot Italian Sausage- cook the sausage until slightly pink in a saute pan then add it to the pizza. Then the fresh mozzarella slices.
Place pizza in a preheated 350 degree oven for 20-25 minutes. slice and enjoy!
Jump to

Comments

(

1

)
Tags: beer, Italian, Italian, mozzarella, Pizza