Spinach Summer Cherry Salad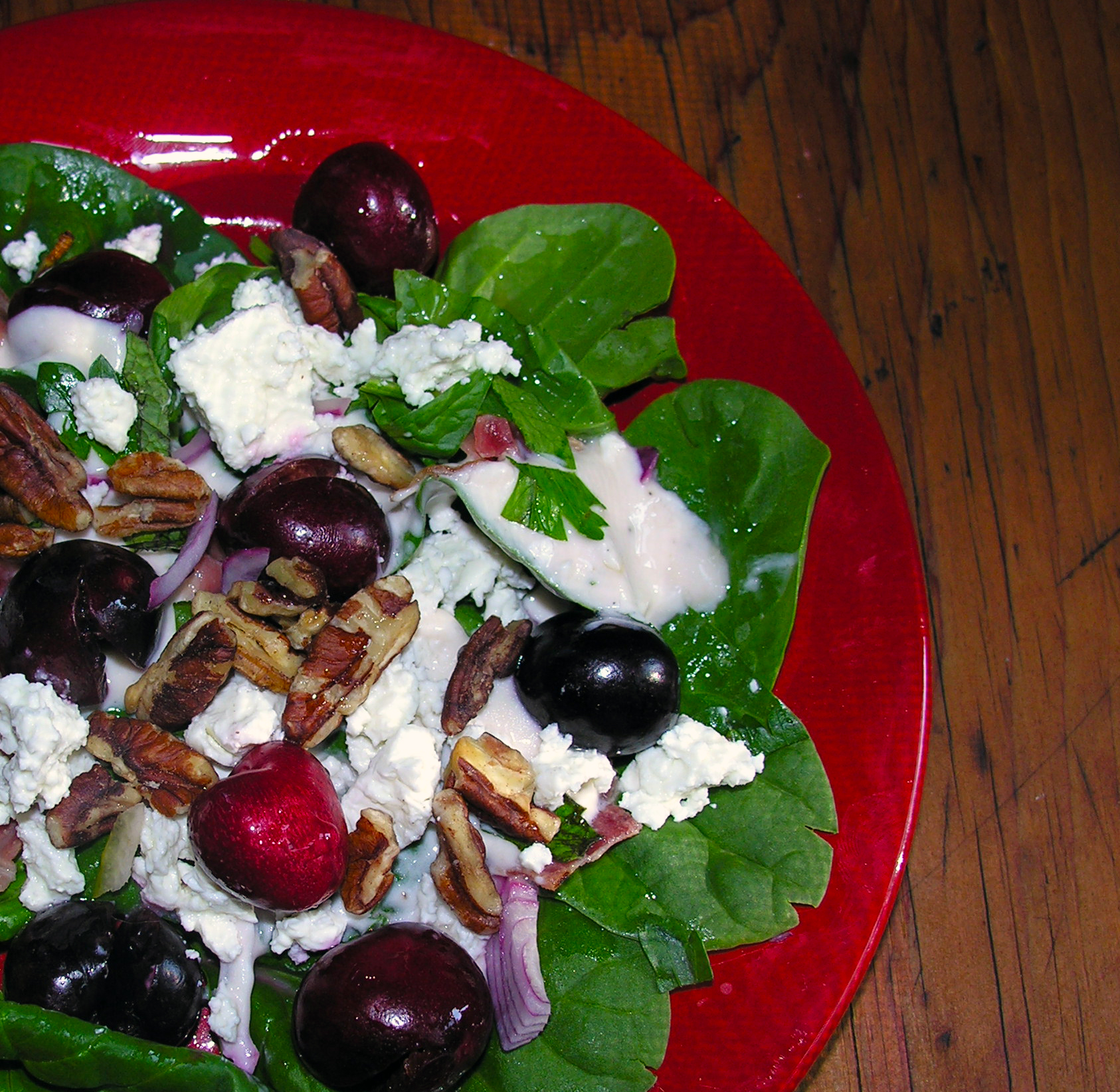 Author Notes: I first made salads for a dining commons when I was starting high school. We had to wash the lettuce in large troughs and then smash the heads, day in, day out, regardless of the season. Rather mechanically, I would assembly one boring salad after another in little monkey bowls. Now I never want to make the same salad twice. Here is my last take on a salad using fresh cherries. Among the bacon, the nuts, the syrup, and the cheese, this recipe may not be suited for many special diets...but you could adjust some of the ingredients as needed. - Sagegreen
Serves 1
Maplecream Dressing
2

tablespoons premium thick plain Greek yogurt (or sour cream)

1

tablespoon Extra virgin olive oil

1

tablespoon real maple syrup

1

tablespoon fresh lemon juice

reserve juice of pitted cherries

pinch of kosher salt and fresh ground pepper

1

teaspoon fresh lemon zest

1

teaspoon chopped fresh mint leaf
Whisk the yogurt with the olive oil.
Stir in the maple syrup.
Add the remaining ingredients.
The Cherry Salad
1

cup fresh spinach leaves arranged in a bed

12

pitted sweet red cherries, reserving any excess juice for the dressing

1/4

cup sliced and chopped red onion

1/2

green apple, sliced and chopped, store in orange juice until needed

1

ounce Bulgarian sheep's feta cheese, crumpled

1

slice cooked bacon, chopped

1

ounce chopped pecans

1

tablespoon flat leaf parsley, chopped

1

tablespoon fresh mint leaves, chopped chiffonade

juice of a lemon wedge
Prepare a bed of spinach on the serving plate and squeeze lemon juice onto it.
Arrange all the other salad ingredients on top.
Ladle on the dressing. Garnish with fresh chopped herbs.
Jump to

Comments

(

0

)
Tags: dinner for one, lunch, refreshing, serves a crowd