Summer Squash and Artichoke Caponata over Polenta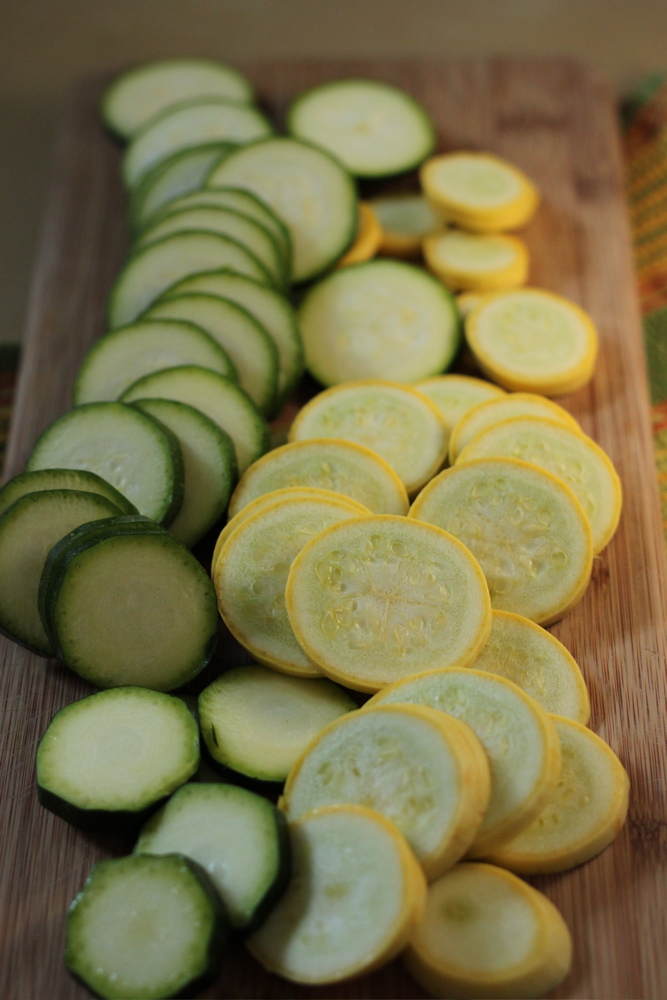 Author Notes: I became obsessed with eggplant caponata last year after a friend served it to me as an appetizer. However, when I first tried to make it myself, I didn't have any eggplant on hand. So I substituted summer squash and zucchini (and one random patty pan) along with some artichokes and created this wonderfully complex dish. It can be served over chicken or fish or on bread, but I prefer it over a creamy polenta for the contrast in textures. - fiveandspice
Serves 6
Summer Squash and Artichoke Caponata
2

pounds assorted summer squash, cut into 1/2 inch cubes

4

tablespoons olive oil, divided

1

large onion, chopped

3

cloves garlic, minced

2

tablespoons sugar

3

large tomatoes, seeded and chopped

1/4

cup white wine vinegar

1

can (14 oz) artichoke hearts, drained and quartered

2

tablespoons capers

1/4

cup whole olives, pitted and chopped

2

tablespoons dried currants

salt and pepper to taste

2

tablespoons fresh basil, minced
In a large frying pan, heat 2 tablespoons of olive oil and sauté the chopped summer squash until tender. Remove from heat.
In a separate sautee pan, heat the remaining olive oil over medium, stir in the onion and cook for about 5 minutes, until softened. Add the garlic and sugar and stir to coat the onions. Allow to cook for another couple of minutes.
Next add the tomatoes and allow to cook for about 5 minutes, then stir in the vinegar, artichokes, capers, olives, currants, and the cooked summer squash. Cook until everything is heated through, another 5 or so minutes.
Add salt and pepper to taste. Serve over the creamy polenta, topped with a little sprinkling of fresh basil.
Creamy polenta
6

cups water

1 1/2

teaspoon salt

1/2

cup heavy cream

1 1/2

cup polenta (cornmeal)

3

tablespoons butter

1/2

cup freshly grated Parmesan
In a large pot bring water and cream to a boil. Add the salt, then slowly pour in the polenta, stirring vigorously to prevent clumping.
Reduce the heat to simmer and cook for about 10 minutes until the polenta is thickened, stirring pretty much constantly.
Remove from the heat and gently stir in the butter and Parmesan and thoroughly blended in. Divide between serving dishes and top with caponata.
Jump to

Comments

(

5

)
Tags: farmers market, mediterranean, polenta, seasonal, Summer, wheat-free