Basil and Toasted Walnut Bread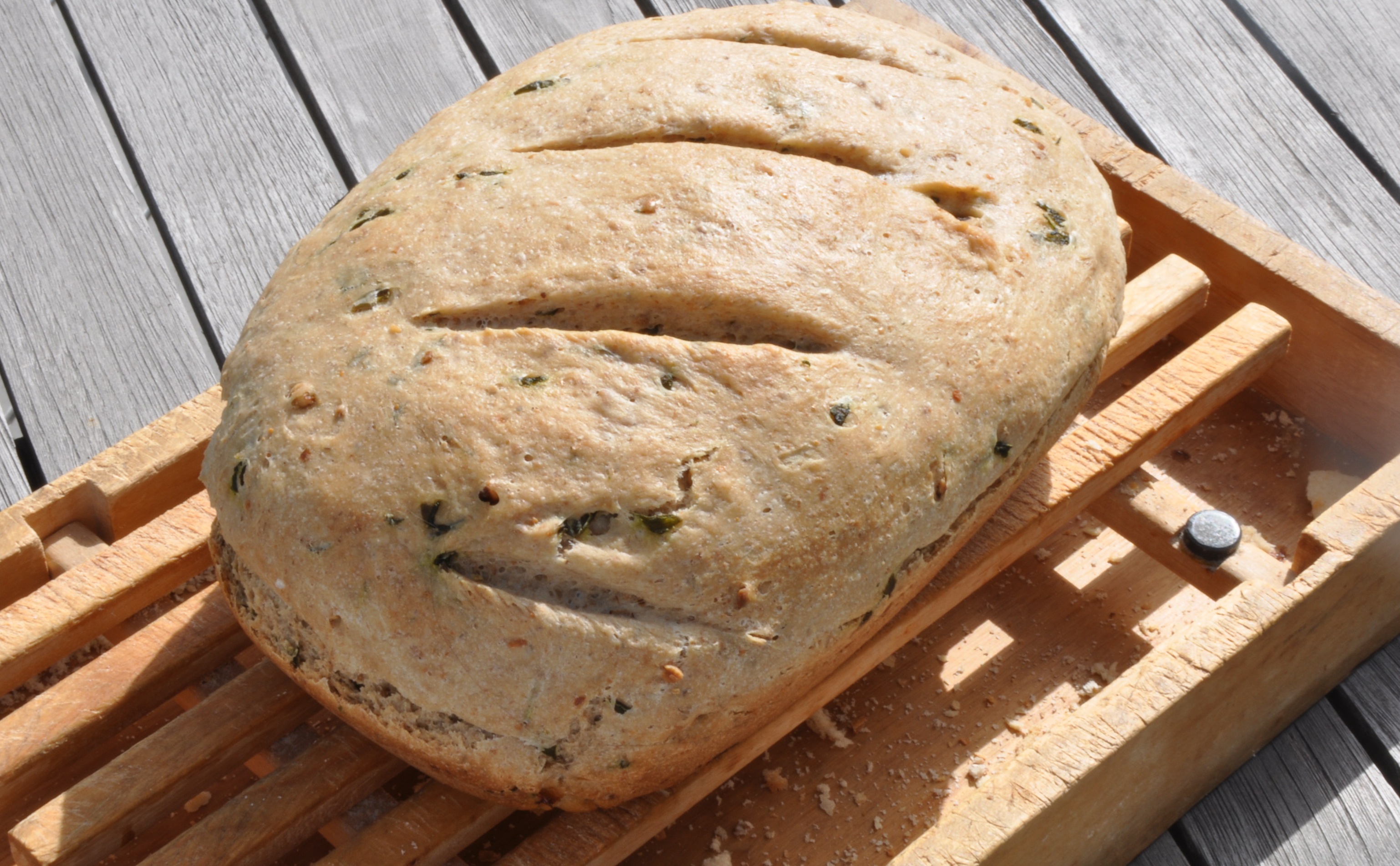 Author Notes: Here's a bread that's fragrant with wheat germ, pecorino romano and coarsely chopped fresh basil, and studded with toasted walnuts. Enjoy! - AntoniaJames - AntoniaJames
Food52 Review: Baking bread may seem like a daunting task, but this recipe produces a very light, flavorful loaf of bread. The carefully written, step-by-step instructions are easy to follow and do not require any equipment, the dough is mixed and kneaded by hand. I tried 2 variations, one with walnuts, and one with pine nuts. I also substituted ½ cup of ground golden flax for the wheat germ, resulting in a slightly darker appearance in the sliced bread. In both cases, I used just 3 cups of bread flour, as directed, being careful to maintain a soft, supple dough. After two 1-hour rises the bread baked within 50 minutes. The bread has a great fresh basil taste with the nuts providing a nice counter taste, and heartiness. It made for a great sandwich with thinly sliced, grilled chicken and roast asparagus. - ECmtl - A&M
Serves one good-sized loaf
3 tablespoons warm water (no warmer than 112 degrees Fahrenheit)

2 ½ teaspoons active dry yeast

2 tablespoons honey + several drops for proofing the yeast

2 tablespoons fruity olive oil, plus a bit more for brushing the loaf before baking

1 teaspoon salt

¾ cup toasted wheat germ (not the sweetened kind, please)

½ cup pecorino romano, finely grated

¾ cup coarsely chopped walnut pieces (Or 1/2 cup pine nuts, if you prefer.)

2 cups loosely packed basil leaves, coarsely chopped to make about 1 cup (See note below.)

3 cups bread flour plus more, if necessary, for kneading
Preheat your oven to 375 degrees Fahrenheit, for toasting the nuts.
Proof the yeast in the warm water and a few small drops of honey (or a pinch of sugar) for at least five minutes.
In a large bowl, mix together 1 cup of cold water, the olive oil, honey, salt, wheat germ, cheese and one cup of flour. Stir well, beating all in one direction.
Add a second cup of flour and the proofed yeast mixture and stir to combine.
Add more flour, a few tablespoons at a time, until it becomes too difficult to stir.
Dump the contents of the bowl on the counter, scraping all of the flour and other bits of dough from the bowl and add whatever flour is left of the remaining cup. Knead for a minute or two, just to bring it all together, then let the dough rest for about ten minutes.
Toast the walnut pieces on a baking pan on the top shelf of the hot oven for about three or four minutes, but watch carefully, lest they burn. Remove them from the pan immediately to allow them to cool. Turn off your oven.
Wash and dry your mixing bowl, and drizzle a half teaspoon or so of oil in it.
Knead the dough for about three or four minutes, adding additional flour as necessary, a few teaspoons at a time, to keep the dough from sticking hard to your hands, i.e., leaving bits of dough on your hand when you remove it. I put a few tablespoons of flour off to the side and pull in a teaspoon or two at a time with my bench scraper.
Let the dough rest for about five minutes.
Continue to knead the dough, adding the walnut pieces in thirds. Then knead in the chopped basil leaves, adding a few tablespoons at a time. Let the dough rest for two or three minutes, then knead it for a few more minutes, or until the dough is supple and elastic, and shape it into a ball.
Put the dough into the oiled bowl, turn it over to coat, loosely cover the bowl, and let the dough rise for about an hour.
After the first rise, gently punch it down, shape it into a loaf (and put it into an oiled pan, if you plan to bake it in one) or a boule, or baguettes, brush it well with olive oil, and let rise for another hour. At the end of the second rise, cut a few slashes with a sharp serrated knife or a grignette, and very lightly brush with olive oil once more.
Preheat the oven to 350 degrees Fahrenheit (adjusted, as necessary, if you are using a convection oven and the manufacturer recommends a lower temperature).
If using a loaf pan or a pizza stone, bake for 50 to 55 minutes. Cover loosely with foil after about 25 or 30 minutes if any exposed nuts are getting too brown. If you've shaped the dough into baguettes, bake for 15 to 25 minutes, depending on the diameter of the baguettes. (This bread makes great crostini!)
Allow it to cool for at least 30 minutes before cutting.
Enjoy!!
Note: To chop the basil, I roll together 6 or 8 at a time, as if cutting a chiffonade, but cut the roll once lengthwise, then crosswise into 1/8 inch wide strips.