Scallop Mousse with Fresh Basil
14
Save
If you like it, save it!
Save and organize all of the stuff you love in one place.
Got it!
If you like something…
Click the heart, it's called favoriting. Favorite the stuff you like.
Got it!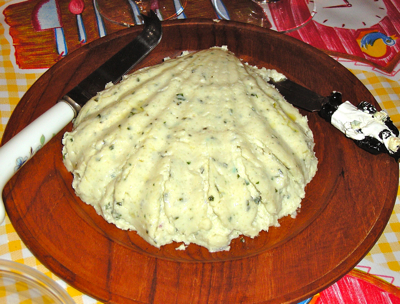 Author Notes: My best friend Dan Davis first sampled this mousse about the time of President Reagan's first meeting with Mikhail Gorbachev in Iceland. Dan commented that if the two ate some of this mousse before they talked, that would solve all their problems. You can use any type of scallop for this recipe. The tiny bay scallops are the most economical, but you will get the most intense scallop flavor if you use cape scallops (from Nantucket). Try this mousse for your next party, either as an hors d'oeuvre or a plated first course, when you want something just a little different, but really smooth and not too wild. - ChefJune
Makes 4 to 6 plated first course servings -- (or about 20 "baby" scallops for passed hors d'oeuvre, or fills one copper scallop shell for a stationary selection on a cocktail buffet)
1 1/4

pounds dry pack scallops (may be sea, bay or cape scallops), poached and cooled

1

tablespoon chopped fresh chives

1

large shallot, chopped

3

tablespoons chopped fresh basil

1

packet unflavored gelatin, dissolved in 1/4 cup dry French Vermouth

3/4

cup homemade mayonnaise made with fresh lime juice

2/3

cup crème fraîche (can sub sour cream)

1/4

teaspoon fine sea salf

a few grinds of fresh white pepper

6

drops hot pepper sauce (I use Louisiana Hot Sauce)
In the food processor fitted with the metal blade, chop the basil fine. Remove and set aside.
With the motor running, drop the chives and shallot through the feed tube, and process until very finely chopped. Add mayonnaise and pulse three times to mix. Now add all the ingredients except the basil and the gelatin mixture, and pulse five or six times to incorporate well, then process until smooth.
Add basil and gelatin mixture, and pulse several times, to blend thoroughly.
Pour or spoon mixture into the prepared mold(s) you have chosen. [I use standard Madeleine pans for plated first course, miniature Madeleine pans for the really tiny scallops that fit on crackers.]
Chill until firm, about 1 1/2 hours minimum for the large mold. (The "babies" take almost no time at all!)
Unmold onto appropriate serving dish, and garnish with fresh basil leaves or sprigs. (I like to serve the "babies" on a Bremner wafer, on top of a small basil leaf.)
Wine Tip: The wine that consistently compliments this mousse to perfection is Vision Cellars' California White – a juicy blend of Sauvignon Blanc and Pinot Gris. If you'd like a sparkler, I'd choose Iron Horse Wedding Cuvée, my favorite domestic bubbly.
Jump to

Comments

(

15

)
Tags: savory, serves a crowd, Versatile