Cherry Tomato Brown Bettys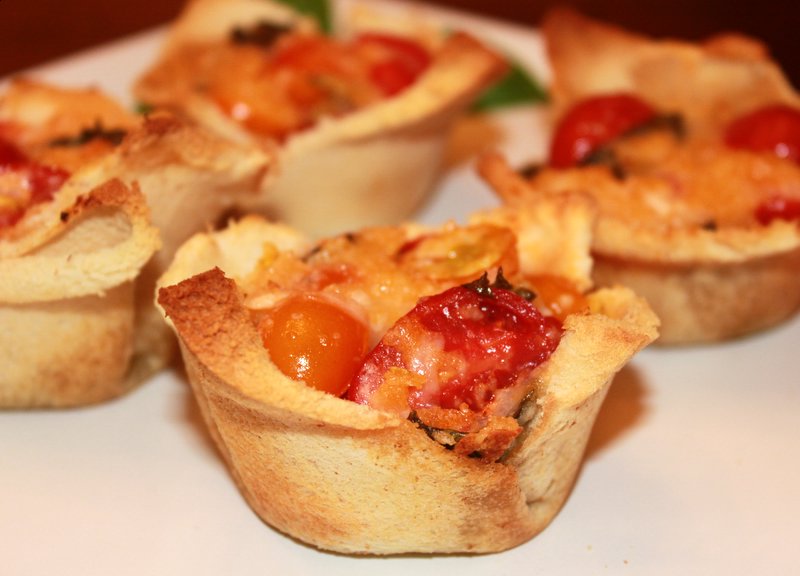 Author Notes: It all started with a recipe for Strawberry Brown Butter Bettys from Smitten Kitchen. I love individual servings -- they just feel so special -- and the sandwich bread crusts are simple and unexpected. From there, I got inspiration from tomato pie recipes that combine cheese and mayo to make a gooey filling. And I recently updated the recipe to include brown butter (in place of olive oil) since brown butter + tomatoes are a wonderful thing indeed (with credit to Amanda's post last summer for the idea: http://food52.com/recipes/18779-brown-butter-tomatoes). You could call these Cherry Tomato Tartlets if that suits you. But since Brown Betty is traditionally a dessert made with fruit and buttered bread crumbs, you can consider these a delicious, savory cousin. - EmilyC - EmilyC
Food52 Review: Cherry tomatoes are summer's perfect food, and these little brown bettys might be summer's perfect bite. Warm out of the oven, they're ooey gooey and cheesy, with crispy bread edges. The tomatoes get perfectly warm and the bread crumbs absorb the tomato juices. I made a couple of changes to the recipe; I sprinkled some panko on the top of each tartlet and broiled them a little bit at the end, it gave them a nice browned color. I also swapped out ricotta for part of the mozzarella (and the mayo) and it worked great. These will definitely be in my appetizer rotation every summer! - nomnivorous - nomnivorous
Serves 8
8

slices white sandwich bread, crusts removed

olive oil for brushing the muffin cups and both sides of each bread

2 T unsalted butter

2

cups cherry tomatoes, halved

1/4

cup mayonnaise

1

tablespoon lemon juice

1/4

cup basil, sliced, plus 1 to 2 T extra for serving

1

cup fresh, good quality mozzarella, shredded

kosher salt and pepper, to taste

1/2

cup panko

2 slices bacon, cooked and crumbled (optional)
Preheat oven to 350°F with rack in middle.
Lightly oil muffin cups. (I use a standard 12-cup muffin tin, and just leave four of the muffin cups empty.) Roll each of the 8 bread slices with a rolling pin to flatten. Brush both sides of each slice with olive oil, then gently fit the slices into the muffin cups.
In a small pan over medium heat, melt the butter completely; cook until it turns brown and smells nutty, about 4 to 6 minutes. Be sure to stir frequently, scraping up any bits from the bottom so they don't burn.
Combine tomatoes with the brown butter, mayo, lemon juice, basil, mozzarella, and salt and pepper. Fold in the panko until the mixture holds together -- you may not need the full 1/2 cup of panko, though I usually end up using the full amount.
Mound tomato mixture into muffin cups, pressing gently.
Bake for 20 to 25 minutes, until filling is bubbling and crusts are golden brown. Let stand for 5 minutes before removing from pan. Sprinkle the crumbled bacon on top, if using, and a little extra basil. Serve warm or at room temperature.
Jump to

Comments

(

25

)
Tags: basil, cherry tomatoes, entertaining, mozzarella