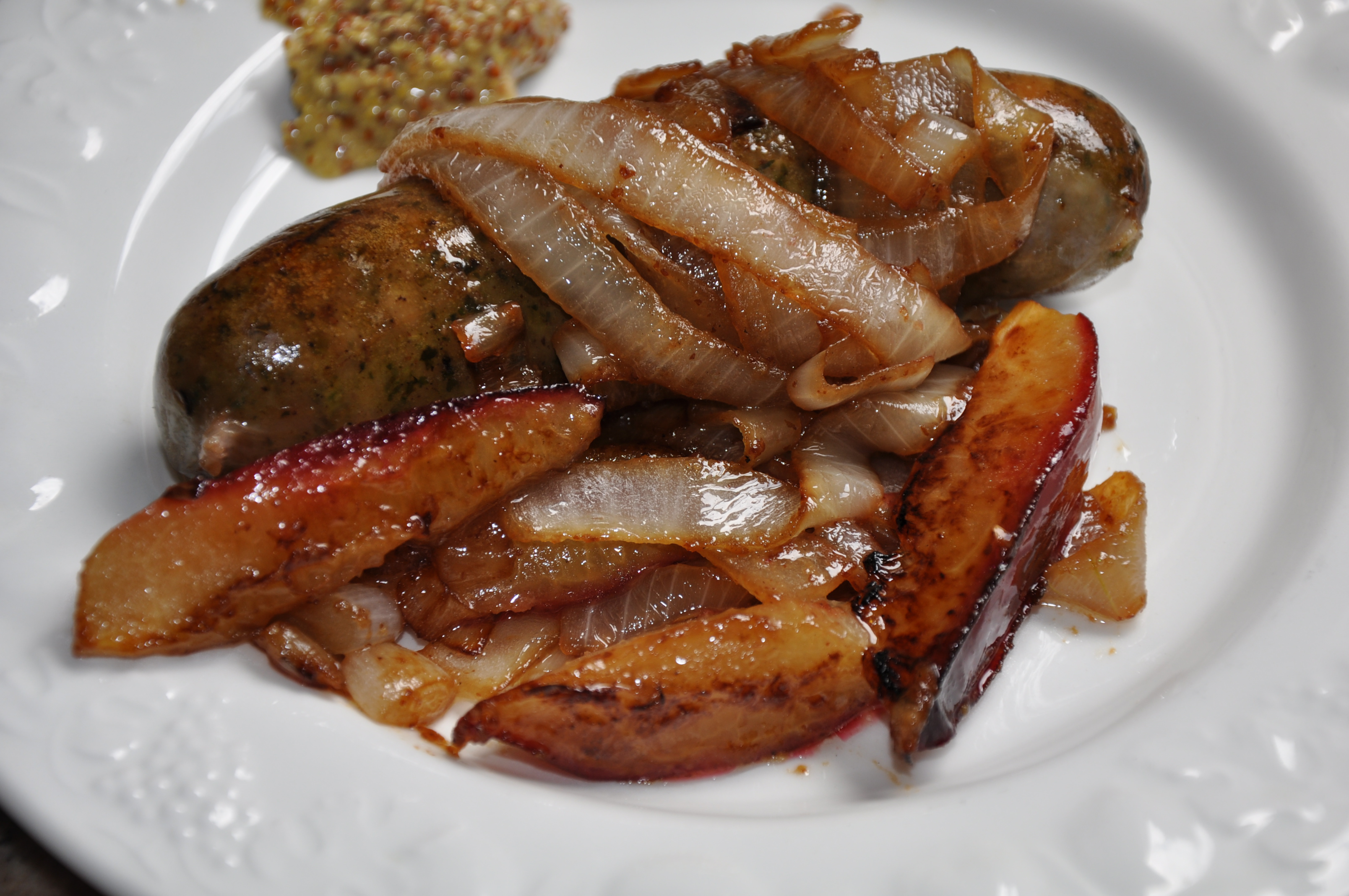 Author Notes: One of my favorite reference books for preserves of all kinds is the British author Hilaire Walden's "Sensational Preserves." She has a recipe for a lovely confit made of red plums, red onions, Szechuan peppercorns and a lot of vinegar and brown sugar, which I've put up a number of times over the years. (Ms. Walden's book is full of recipes for all manner of savory treats, by the way.) This recipe, which is much simpler, makes a quick, tasty topping, whose primary ingredients are also onions and plums. We enjoy it on the sausages we grill or pan fry in the summer. I like the long, narrow curve of prune plums for this, but if you can't get them, choose a firm-fleshed, just barely ripe large plum. You want the fruit to keep its shape, so very ripe plums of any kind just won't work. The key here is to get the oil hot, then flash sear the fruit to caramelize it quickly. You then remove the plums and cook the onions in the same pan. The onions caramelize quickly in the sweet juices released by the plums. Feel free to add whatever fresh herbs strike your fancy. With an herb-filled or garlic sausage, I find that simpler is better. Either way . . . . enjoy!! - AntoniaJames
Serves 2-4, depending on the size of your plums, onions and appetites
3 large prune plums

I large onion (or two small)

2 -3 tablespoons grape seed oil (See note below.)

2 tablespoons white wine vinegar or white balsamic or champagne vinegar (See note below.)

1 teaspoon brown mustard or more, to taste (I like to use a horseradish mustard.)

Salt and pepper to taste
Halve and pit the plums. Cut each half into three or four slices, lengthwise.
Cut the onions in half from top to bottom, then into ¼" slices, horizontally.
Heat the oil in a large skillet over medium high heat. Just as the oil begins to smoke, drop all of the fruit slices in and gently turn them after a few seconds. Add a tiny pinch of salt. As soon as the plum slices turn light brown, remove them to a bowl and set aside. Do not cover them. (You don't want the steam in a covered bowl to cook them any more at this point.)
With the heat still on medium high, sauté the onions with another pinch of salt, stirring constantly. After a few minutes, turn the heat down and let the onions cook on medium low heat for another five to ten minutes, stirring occasionally.
Push the onions aside. Turn the heat up and add the vinegar and mustard and stir well. Once they are somewhat combined, stir them into the onions and cook for another minute or so.
Add the plum slices and gently stir. Test for salt and pepper.
Enjoy!!
N.B. I prefer grapeseed oil because it has a higher smoking point than olive oil. You want to get the oil very hot, then get the fruit in and out in a hurry. This allows it to retain its shape, and for the peels to remain intact.
When short on time, I typically pan fry the sausages, remove them and set them aside (covered), the proceed with the recipe, using the same pan. I return the sausages to the pan at the very end to warm them just a bit before serving. Easy!!
About the vinegar: I like to use a strawberry-infused white wine vinegar for this. You can't taste the strawberries, of course, but there is a subtle fruitiness to it that goes well with the caramelized onions and plums.
Jump to

Comments

(

31

)
Tags: barbecue, caramelized onion, quick, sausage, savory, topping