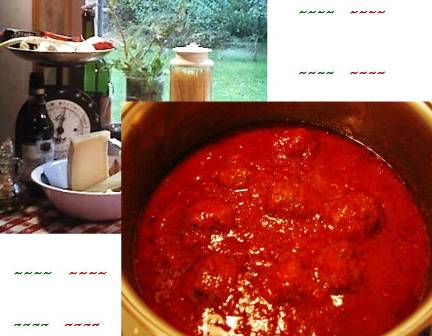 Author Notes: A recipe, now slightly modified to my taste, that was inspired by my Grandma Angelo; who came to this country after my Grandfather worked in America a few years and was finally able to send $ for the family to join him. To this day I can still smell the "meat-a-ball Sunday" aroma and hear the laughter of those who would join us; the rest of the story is meatball history.

When preparing this recipe fry to brown the balls, but, I do admit to a quick brown in the convection oven now and then. Use fresh bread crumbs gently tossed into the ground meat mixture and lightly pack when forming the balls, make sure to brown only the outsides of them, this allows the tender interior to cook in a simmering sauce while releasing its wonderful, to die for aroma throughout the kitchen; soon you will be on your way to tender, juicy mouth-watering meatball heaven!
- lapadia
Makes 10 large meatballs
PREPARING THE BALLS
STEP ONE = Add all sauce ingredients (below) to a 6 quart sauce pan and start simmering

1/2-lb ground sirloin and 1/2-lb ground pork

2-ounces fresh artisan bread-torn (homemade or from the bakery)

1/3 cup chopped fresh Italian parsley

2 smashed garlic cloves

1/2 cup micro-plane grated Pecorino Romano cheese

1 teaspoon toasted onion powder

5 grinds fresh pepper - to your taste

1/2 teaspoon oregano (I like using dried from Penzeys)

1 egg, lightly beaten

1/4 cup olive oil for browning
Add olive oil to a fry pan; set aside. Place the ground meat in a bowl; set aside.
In a food processor, add the torn bread, parsley, garlic, grated cheese, onion or onion powder, pepper, and oregano; then pulse until finely processed.
Add the bread mixture and the beaten egg to the ground meat; gently toss with your hands until all ingredients are incorporated. The mixture must feel moist, (slightly sticky) and be able to hold together; add 1 tablespoon of water at a time if you feel the mixture needs more moisture.
Gently form the meat into lightly packed balls.
Heat the fry pan – medium high heat; fry the balls, brown and crisp all sides. Brown only the outside of the meatball to seal them together. Note: I have also browned these in the oven @ 375 degrees for ½ hour, turning a few times.
Transfer the meatballs to an already simmering sauce and cover. The inside of meatball will cook in the sauce.
Simmer sauce for about 2-3 hours; until the sauce is sticking to the balls, they look juicy, and the aroma is filling the air with "Italian goodness".
THE SAUCE (start at least an hour before the meatballs are browned)
1-28 ounce can organic crushed plum tomatoes with basil. 1 tablespoon extra virgin olive oil (optional). 2 tablespoons Amore concentrated Sun-Dried Tomato Paste (a favorite addition of mine that adds an extra rich flavor). 6-8 cloves smashed and minced garlic. Salt/Pepper.
Keep a couple slices of fresh bread close by for "sauce testing", a bottle of your favorite red wine for adding a little moisture to the sauce, if needed...and for sipping too!
RE: the lingo "sauce" vs. "gravy"…awww, that's a family thing, but I have always loved the debate over it all!
Jump to

Comments

(

26

)