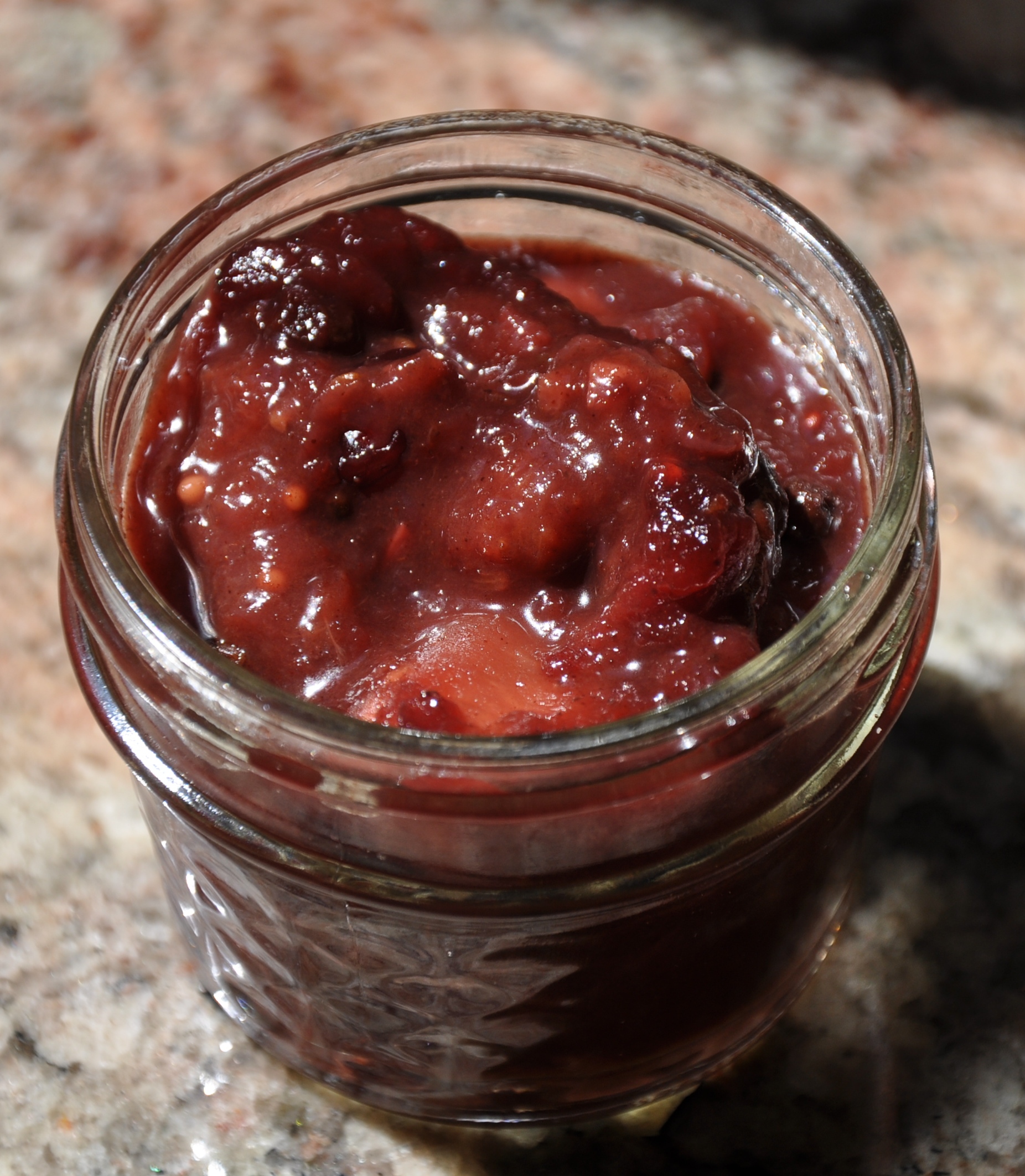 Author Notes: Here's one of my favorite chutneys. I use tart pluots and apples, but plums and sweeter apples also work. Like any chutney, this goes well with most sausages, fish, poultry and fish that you've grilled or broiled. Enjoy!! ;o) - AntoniaJames
Makes 4 pints
1 medium yellow onion, finely chopped

1 tablespoon olive oil

Pinch of salt

4 medium garlic cloves, minced

1 tablespoon finely grated ginger root

¼ cup ruby port

¾ cup Zante raisins (sometimes called "currants")

½ cup dried red currants

3 pounds of pluots and/or plums, any variety, pitted and quartered (or cut into eighths, if they're large)

1 lb. peeled, cored and sliced apples (weighed after trimming)

1 cup light brown sugar

1 teaspoon aniseed, lightly crushed

1/2 teaspoon yellow mustard seeds, lightly crushed

1/8 teaspoon ground coriander

1/8 teaspoon mace

1 teaspoon kosher salt

1 cup white wine vinegar

1/4 teaspoon freshly ground green or black pepper
In a heavy, non-reactive saucepan cook the onion in the oil with a pinch of salt until translucent. Add the ginger and cook for a minute more, then add the garlic and cook for another minute, stirring frequently and taking care not to burn it.
Deglaze the pan with the port. Add the currants, pluots, apples, sugar, spices (except the pepper) and salt, with about a quarter cup of vinegar.
Cook over medium heat, stirring constantly. After a few minutes, add another ¼ cup of vinegar and continue to stir. As the mixture reaches a boil, add the remaining ½ cup of vinegar, and stir well to combine.
Reduce to a simmer, stirring occasionally as the mixture thickens, for about 20 to 30 minutes.
Add the freshly ground pepper and stir well.
Transfer chutney to sterilized jars.
For stable shelf storage, seal according to the jar manufacturer's instructions, then process for ten minutes in a rolling boil water bath. See the canning tips below, too.
If not sealing, cover and refrigerate. It will last for 2 to 3 weeks.
Enjoy!! ;o)
CANNING TIP #1: Regardless of what other instructions you see in recipes posted in various places on the internet, make sure that you put your canning lids in simmering water (no hotter than 180 degrees) and that you keep them hot just until you use them. It's not enough simply to make sure they're clean. You put them in the hot water to soften the gasket (the rubber rim), which is essential to creating a good seal.
CANNING TIP #2: A procedure I discovered (and have wondered how on earth it's taken so long, after all these years of canning, to figure out) is to use a large, towel-lined rectangular baking pan for moving jars to and from the hot water bath, to and from my workspace, and from the stove to the shelf where I cool the jars. Just make sure it's a pan you don't need to use for other things during the twenty-four hours that the jars are cooling. It's a really safe way to move hot jars, and is so efficient, too!!
CANNING TIP #3: Here's a tip about making condiments for gift giving. All condiments taste better after a few weeks or in some instances, after a month. Every batch will vary, regardless of how many times you've used the recipe, because the fruit will be different from year to year. I usually do my initial vacuum seal of condiments in pints or quarts, and then, in the weeks before the December holidays, taste test the condiments again. If they are worthy of gift giving, I then reheat to boiling and re-seal and process the condiments in 4 or 8 ounce jars. You can also test and correct seasoning at this point.
Jump to

Comments

(

11

)
Tags: canning, canning, curry, curry, curry, gift, gift, indian, savory, sweet and savory, sweet and savory, Versatile