Nutty Professor's Apple Crumble with Chantilly Cream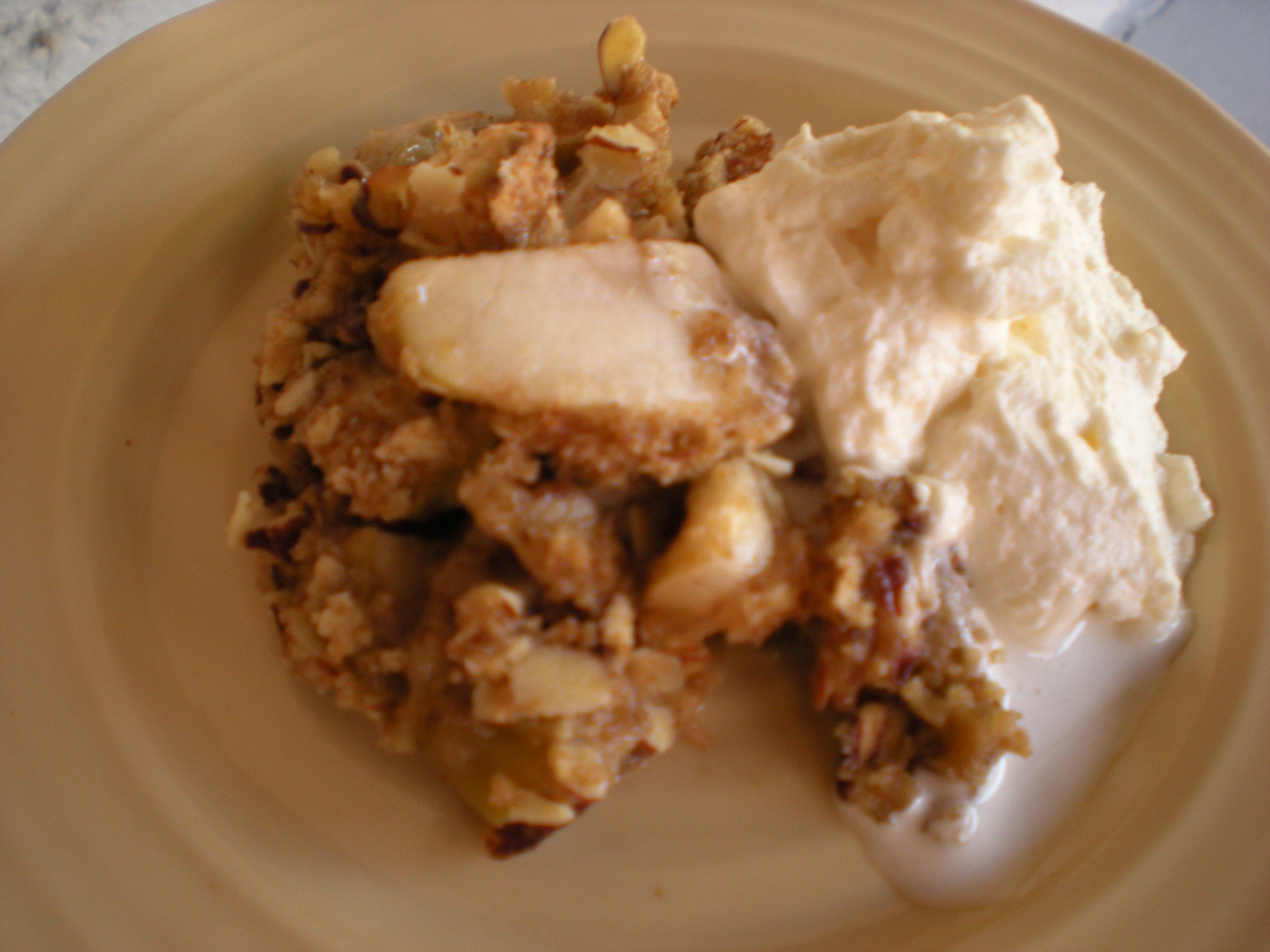 Author Notes: Apples looked gorgeous at our Farmer's Market this week, and at $1 a pound, I felt like I was committing highway robbery. So I bought 8 pounds! I have no clue as to what I will do with all these apples, but my husband wanted Apple Crumble with no frills. Just plain old apple crumble. He eschewed all of my suggestions- no candied ginger pieces, no caramel bottom. So I decided to go nutty. - Hilarybee
Serves 6
Apple Crumble
1 1/4

pound semi-tart apples (I used 4 medium McIntosh and 4 medium Northern Spy)

2

tablespoons flour

Juice and Zest of One Lemon

1/4

cup sugar

1/2

teaspoon Vietnamese Cinnamon (heaping!)

1/4

teaspoon ground allspice

1/4

teaspoon ground cardamom

1

cup chopped pecans

1

cup sliced almonds

3/4

cups All-Purpose Flour

1/2

cup Dark Brown Sugar, packed

1

stick of Butter, cubed
Heat oven to 350 F and lightly butter a 9x13 pan.
To Make the Filling: Peel and core the apples and slice them about 1/4 an inch thick. Add the lemon juice, then the sugar, flour, and spices. Make sure the apples are well coated. Pour the mixture into the prepared pan- make sure to make an even layer.
To Make the Topping: Pulse the flour, butter, and brown sugar in a food processor until the butter is a little larger than peas. Add the nuts and pulse again until well incorporated. Pour the topping on top of the apples.
Bake for 40-45 minutes, until golden and bubbly.
Chantilly Cream
1

cup Heavy Whipping Cream

2

tablespoons Extra Fine Sugar

1/2

teaspoon Vanilla Extract

1/2

teaspoon Almond Extract
Using a stand mixer with the whisk attachment, beat the cream on the highest setting. Slowly add the vanilla, almond, and sugar while the whipping cream thickens. Beat until soft peaks form.
Jump to

Comments

(

3

)
Tags: serves a crowd