Potage Aux Poivrons Rouges (French Red Pepper Soup)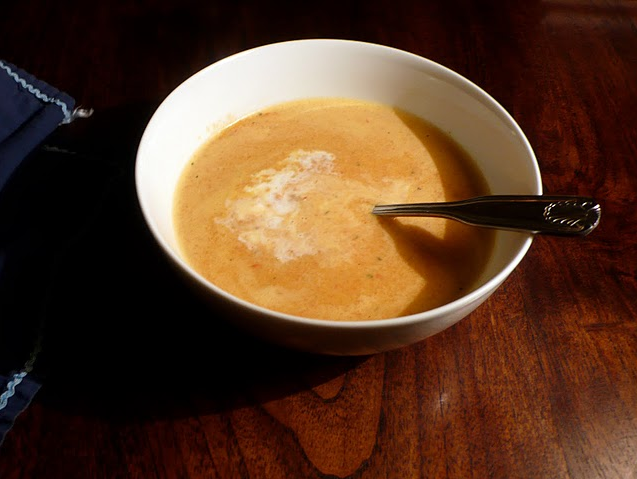 Author Notes: This soup was one of the culinary delights awaiting balloonists when they would touch down after drifting with the breezes over vineyards, churches and villages in Burgundy, near Beaune, a small city southeast of Paris.

This is truly a beguiling soup because its lovely light red color suggests tomato but its taste is all pepper. It's zingy but sweet. Both April and Chris had a second bowl.

I paired it with a burgundy and followed it with stuffed pork tenderloin medallions over rice. I imagine this soup would be equally delicious served cold with a glass of Sancerre and a salad. - F for Food - F for Food
Food52 Review: This smooth, velvety soup feels very extravagant. Watch the cooking times so your vegetables are tender without burning before giving them a final simmer to bring together all the components. A swirl of crème fraîche and a garnish of crab make it all the more lush. – Stephanie - A&M
Serves 2
2

tablespoons unsalted butter

1

medium onion, peeled and chopped coarsely

1

medium carrot, peeled and sliced

3

cups vegetable stock

2

roasted red peppers, peeled, seeded and chopped coarsely

3/4

cups milk

1/2

teaspoon fresh thyme

1

teaspoon kosher salt

1/2

teaspoon white pepper

1/4

cup + 2 tbsp créme fraiche

2

tablespoons lump crabmeat
Melt the butter in a medium saucepan; drop in the chopped onions and cook over medium-low heat until they are soft and translucent, about 15 minutes.
Add the carrots, cover and cook until tender, about 15-20 minutes.
Add the stock, leave uncovered and bring to a boil over medium-high heat for 20 minutes to reduce the stock base in volume and to strengthen its flavor. Skim occasionally.
Add the pepper chunks and cook for an additional 20 minutes or until they can be easily pierced with a fork or knife point. Remove from heat and add milk, salt, pepper and thyme.
When somewhat cool, puree the soup in a food processor or blender.
Reheat soup over low flame and add crème fraiche. Serve in heated bowls, topped with a dollop of crème fraiche and lump crab meat.
Jump to

Comments

(

3

)
Tags: hearty, red peppers, Soups