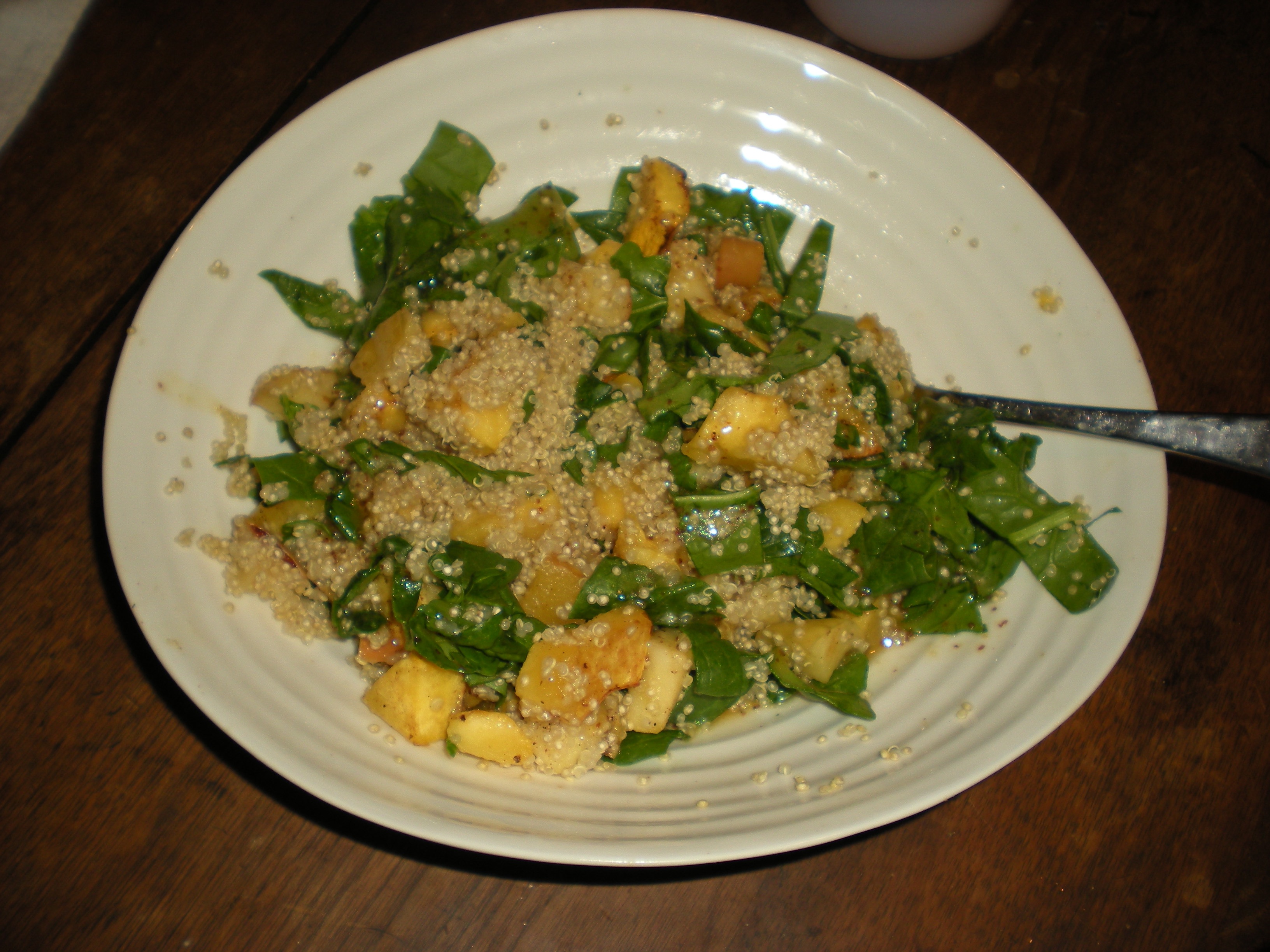 Author Notes: I created this recipe with Michael Pollan's "Food Rules" in mind. I don't always follow the rules- but this recipe is a favorite and one that I make often. One rule I took to heart is "Drink the Spinach Water." I cook the quinoa ahead, using saved spinach and chard water.
*I've added toasted pecans when serving this to guests. I'm unfortunately allergic, but my husband loves them in this salad. - Hilarybee
Makes 4 small servings; 2 main dish servings
For the Salad
2

cups cooked quinoa (white preferred)

1

acorn squash, cut into 1 inch slices

2

northern spy apples, diced

1

cup Arugula

1

small bunch of chard, about 5 leaves

2

tablespoons Olive Oil

1/4

teaspoon Cardamom

1/4

teaspoon vietnamese cinnamon

pinch of cayenne

salt and pepper to taste

handful of toasted pecans*
Simple Honey Dijon Vinaigrette
1

tablespoon honey

1

tablespoon dijon mustard

juice of half a lemon

1-2

tablespoon Olive Oil

Salt and Pepper to taste
First, roast the squash. Preheat the oven to 400. Use 1 tablespoon of olive oil to oil the pan- make sure it is evenly coated or the squash will stick. Sprinkle squash with remaining 1 tablespoon of olive oil. Combine the cinnamon, cardamom, cayenne, salt and pepper. Sprinkle the spice mixture on top of the squash. Use your hands to make sure the squash is even coated with oil and spices. Roast in the oven for about 15 minutes.
At the fifteen minute mark, add the apple pieces. Roast for another 5-7 minutes. Using a fork, test the acorn squash for doneness. It should be tender, but not mushy.
While the roasted squash and apples are cooling, blanch the chard. Cook the chard in boiling water as minimally as possible. I cook mine for only about 1 minute before plunging it in an ice bath. Strip the leaves from the stalks. Cut the leaves into ribbons. Save the stalks for another use.
Assemble the vinaigrette. Combine all ingredients in a mason jar or other container with a tight fitting lid. Shake vigorously until ingredients form an emulsion.
Remove the skin from the squash. Dice the squash into bite size pieces. Be careful not to cut them too small, though. Combine the squash, apples, quinoa, arugula and chard into a bowl. Add the vinaigrette before serving. You can assemble the salad the night before, but wait to add the dressing until the very last second.