Butternut Squash Ragu with Smoky Bacon & Green Onion Polenta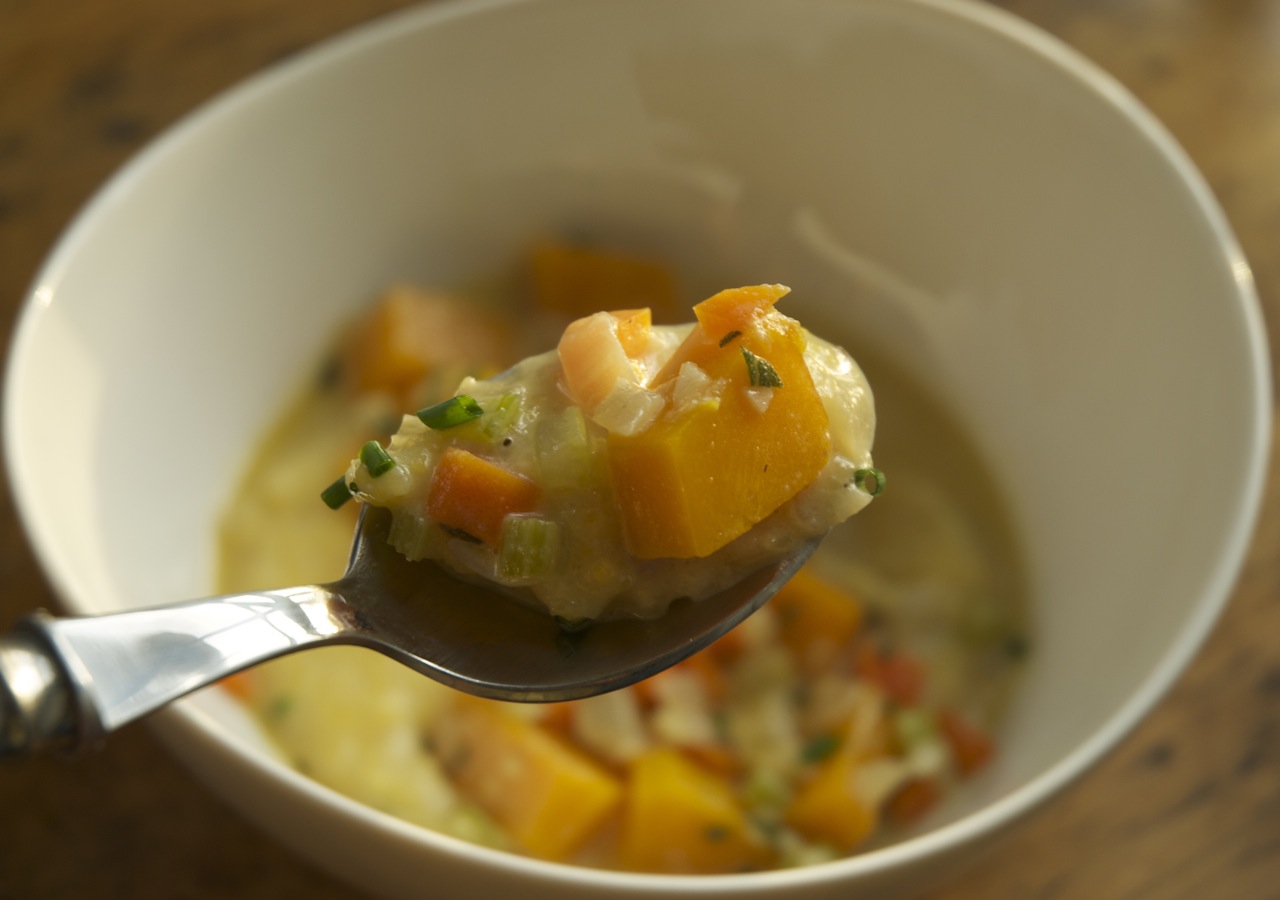 Author Notes: Just because. - thirschfeld
Serves 4
For the ragu:
1 1/2

tablespoon unsalted butter

1

large butternut squash, peeled and cut into 1/2 inch cubes, 2 1/2 to 3 cups

1

onion, peeled and minced, about a cup

1

carrot, peeled and cut into small dice, about a 1/2 cup

2

celery stalks, small dice about a 1/2 cup

1/2

cup leek, white parts only and cut into small dice

1

tablespoon fresh garlic, minced

6

sage leaves, minced

1/4

cup chicken stock

3/4

cups heavy cream

1/2

cup pecorino romano cheese, finely grated

kosher salt and fresh ground pepper

fresh ground nutmeg

slivered toasted almonds
For the polenta
2

cups stone ground organic cornmeal

1

tablespoon fresh garlic, minced

6

cups water

1 1/2

cup applewood smoked bacon, 1/4 inch dice

1/2

cup minced green onions

3

tablespoons unsalted butter

3/4

cups pecorino romano, finely grated

kosher salt and fresh ground white pepper
To make the polenta: Place a 3 1/2 quart enameled Dutch oven over medium heat. Add the bacon. Render the fat from the bacon and cook it until it begins to crisp. Add the garlic. Once it becomes fragrant add the water.
Bring the water to a boil and add the polenta while stirring. Make sure you stir. This prevents any lumps. Season it with a teaspoon of salt and a few grinds of pepper. Bring it to a boil. Move the polenta to a back burner turned to low heat.
For the ragu: Heat a 12 inch saute pan over medium high heat. Add the butter. Swirl it around to coat the bottom of the pan. Add the butternut squash.
Stir the polenta.
Once the squash begins to brown add the onion, celery, carrot and leek. Season with salt and white pepper.
Stir the polenta. Add a 1/4 cup of water if it seems to dry and is sticking. Then stir.
Once the vegetables begin to wilt add the garlic and sage. Once it is fragrant add the stock. Let it reduce au sec. Then add the cream and a grating or two of nutmeg.
Stir the polenta.
Reduce the cream to a half cup. Add the cheese to the ragu and taste. Adjust the seasoning as necessary. Cook until the squash is tender. Maybe another 5 to 10 minutes.
Remove a taste of the polenta. Blow on it before you taste it. Is it tender enough for you liking. Some like it al dente others want it creamy smooth. If you need to cook it longer do so but reduce the heat under the ragu to low.
When the polenta is ready add the butter, cheese and green onions. Stir until the butter and cheese are melted.
Taste the polenta and the ragu and adjust the seasoning. Correct it as necessary.
Place the polenta into bowls or onto a large platter and top with the ragu, then more cheese and the almonds.
Jump to

Comments

(

11

)
Tags: applewood smoked bacon, butternut squash, leek, nutmeg, polenta, sage