Butternut Squash "Rouille" with Swiss Chard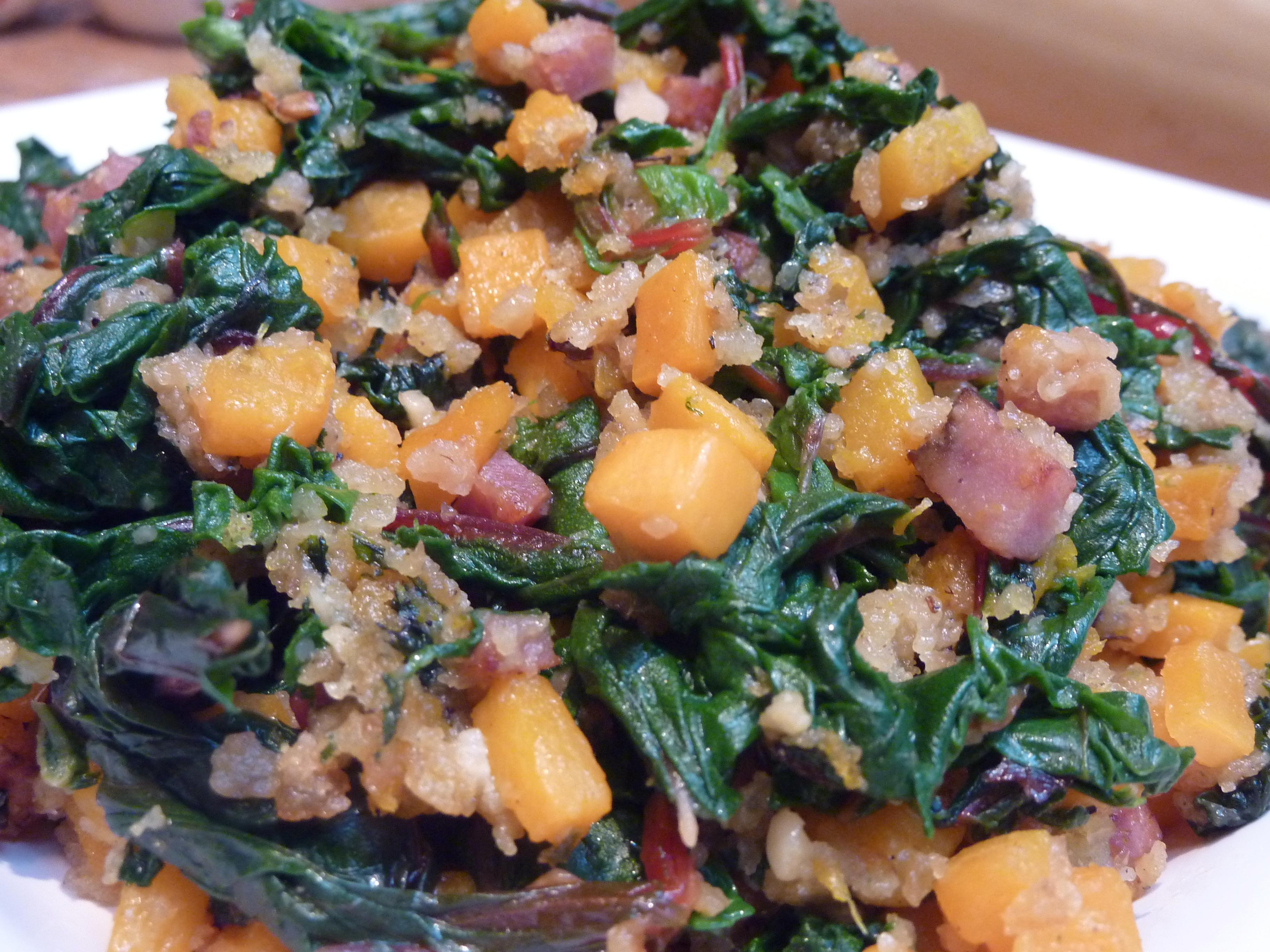 Author Notes: This is a recipe I created a couple years ago, but has become a favorite at our house. The "rouille" isn't really the traditional sauce you might make, but rather a saute of ham, garlic, serano pepper, breadcrumbs and a pinch of saffron. Roasted little cubes of butternut squash are then added to the mixture. I've combined this with pasta and stirred it into soups with great success. I used swiss chard in this version mostly because I just harvested a bunch of it from my garden yesterday. The spiciness can be easily managed by decreasing, or even eliminating, the serrano pepper and the dried red pepper. - TheWimpyVegetarian
Serves 6 side dishes
3 cups butternut squash, 1/4 or 1/2 inch dice

4-6 tablespoons extra virgin olive oil

1 cup ham, ¼ inch dice

1 serano pepper (or other small spicy pepper), minced

6 medium garlic cloves, minced (about 2 1/2 tablespoons)

pinch saffron

2 teaspoons dried red pepper flakes

2-3 tablespoons unsalted butter

1 cup fresh breadcrumbs

1 teaspoon salt, or to taste

1/2 teaspoon freshly ground pepper, or to taste

4 bunches swiss chard
Preheat the oven to 350F. Toss the butternut squash with a little olive oil and a sprinkling of salt and pepper. Spread on a baking sheet and roast for about 15 minutes, or until tender.
In a small saute pan over medium heat, saute the ham in 2 tablespoons olive oil for about 5 minutes. It should be just starting to brown. Add the serrano pepper and saute for another minutes. Add another tablespoon of olive oil. Add the garlic, saffron and dried red pepper flakes. Saute another 1-2 minutes or until the garlic just starts to turn golden.
Add the butter. Once melted, add the breadcrumbs and toss everything together. Cook about 5 minutes, stirring pretty regularly, until the breadcrumbs start to toast up and get a little crispy.
Add the roasted butternut squash and salt and pepper to taste.
Bring a pot of salted water to boil. Remove the swiss chard from the stems and tear into large pieces. Blanch in boiling water for 4 minutes, or until just tender.
Drain well by weighting the chard down with a plate in a strainer. Toss into the rouille and serve hot.
Jump to

Comments

(

8

)
Tags: fall, savory, spicy, Vegetarian, Versatile