Brown butter and butternut loaf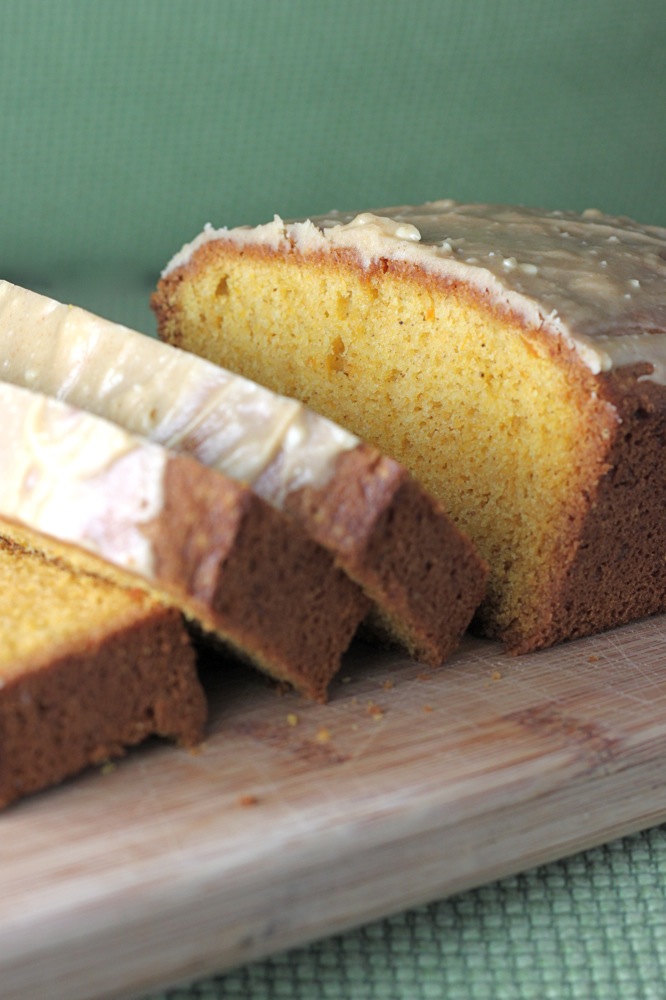 Author Notes: I adore pumpkin bread (especially in combination with brie cheese, hehe), but in all actuality, its flavor is even better and deeper when you use other winter squash, like butternut or kabocha. Now, I recently have been finding that I get a headache after eating cinnamon (very strange, I know), so I decided to make some butternut squash bread and play with other potential flavors. One of the first that sprang to mind was the wonderful nutty flavor of brown butter. With just a little nutmeg to add a spicy aroma and a brown butter glaze to add another punch of flavor, the friendly folks at my office gobbled this loaf up so fast I barely got a piece myself. (And that's saying something, considering I'm at a nutrition school! :) ) - fiveandspice - fiveandspice
Food52 Review: Somewhere pleasantly between pumpkin and butterscotch, fiveandspice's recipe is a very original take on a seasonal loaf cake. Your whole house will smell like rich, nutty brown butter since it's in both the cake and the icing. Added bonus: the recipe yields two loaves! – Natalie - A&M
Serves 2 loaves
Butternut loaf
2

cups pureed roasted butternut squash

1

cup unsalted butter

3

large eggs

1 1/2

cup sugar

1/2

cup packed light brown sugar

3

cups all purpose flour

2

teaspoons baking powder

2

teaspoons baking soda

1

teaspoon salt

1/2

teaspoon ground nutmeg (preferrably freshly ground)
Preheat your oven to 350F, and grease two (9 inch) loaf pans.
In a large frying pan, heat the butter over medium high heat. It will melt first, and then start to foam. Turn the heat down to medium. Stir the melted butter almost constantly, scraping any browning bits from the bottom of the pan. When the butter has turned a brown color and smells rich and nutty, remove it from the heat. (This should take about 7 minutes). Allow it to cool for about 10 minutes.
In the bowl of a standing mixer, beat together the eggs and sugars on high speed for several minutes, until the color has lightened (random side note: in Norwegian this is called an "eggedosis"). Scrape in the browned butter and beat for another couple of minutes, until the mixture is smooth.
Add the pureed squash to the wet ingredients and beat until smooth and uniformly mixed in.
In a small bowl, combine the flour, salt, baking powder, baking soda, and nutmeg. Add this to the wet ingredients, and mix on low until fully incorporated.
Divide the batter evenly into the 2 prepared loaf pans and bake for about 50 minutes, until a tester comes out clean. Take the bread out of the loaf pans and allow to cool completely before glazing.
Brown butter icing
5

tablespoons salted butter

1

teaspoon vanilla extract

1 1/2

cup or so of confectioner's sugar
Brown the butter in a pan, just as described in step 2 for the bread (it may take a little less time because there's less butter though) and allow to cool for about 10 minutes. Scrape the butter into a mixing bowl.
Sift the confectioner's sugar to remove lumps. Then whisk the vanilla into the butter. Next, whisk in confectioner's sugar until your reach a spreadable consistency.
Spread the icing onto the loaves, and allow to set for about 30 minutes before slicing.
Jump to

Comments

(

10

)
Tags: fall, quick bread, travels well