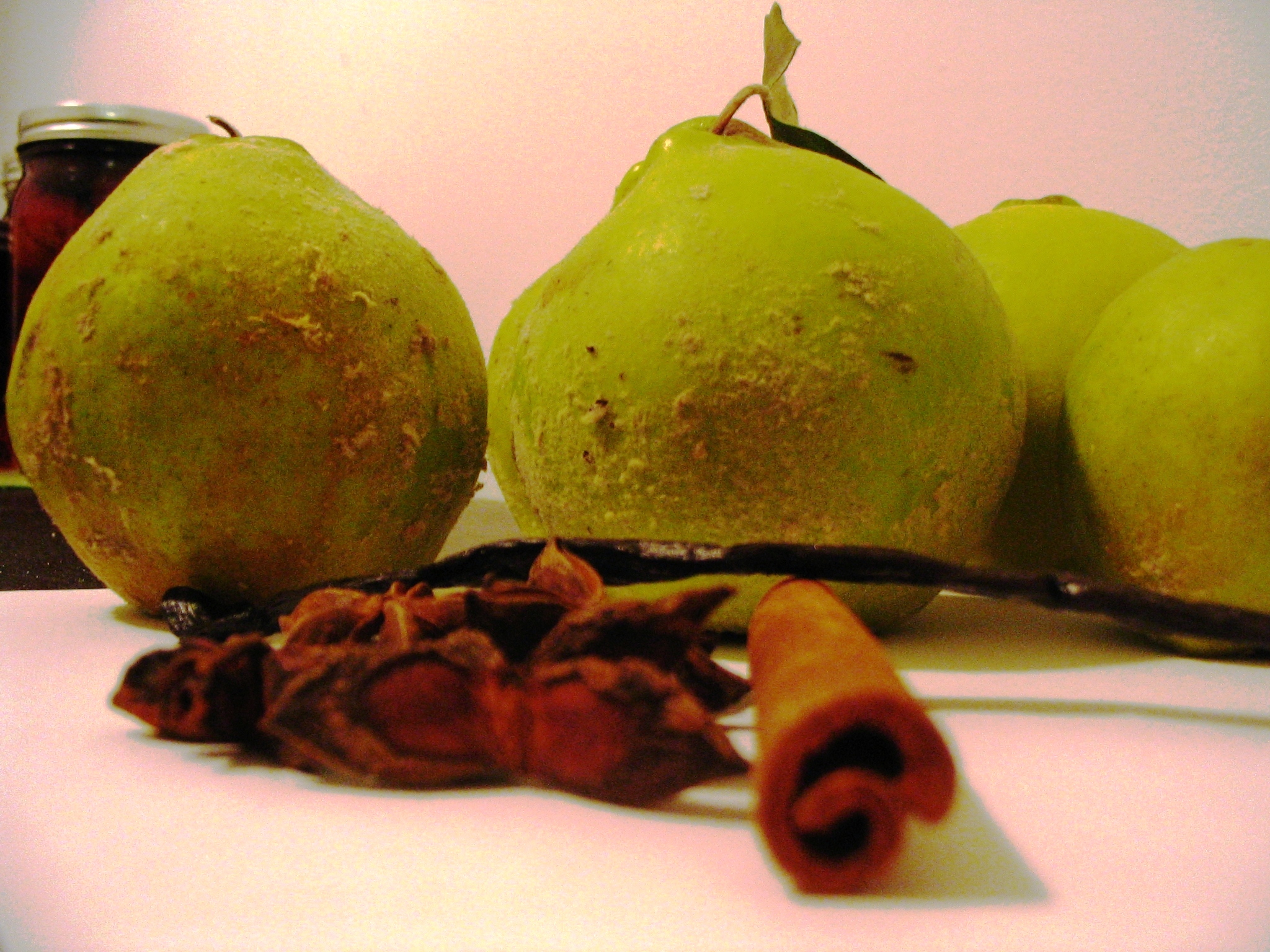 Author Notes: I've always loved quince - it smells amazing on your counter top, and once you cook it slowly, it transforms into something utterly different and beautiful. This quince sundae is simple, refreshing, and not exactly traditional Thanksgiving fare. However, it can be made well ahead of the big day, freeing up hands and time on Thanksgiving. It's not so heavy that you won't have room for pie and, as a bonus, the nuts are tasty on their own and there will be extras for snacking. - darabekah
Serves 6 or more, plus leftover
Cinnamon-Spiced Nuts
3

cups Raw walnuts or pecan pieces (or a mix)

5

tablespoons Sugar (substitute up to 2 tbs for brown or vanilla sugar)

A Pinch of salt

Heaping 1/8 tsp of cayenne pepper

1

teaspoon cinnamon

1

Egg white
Preheat the oven to 300 degrees (F). Prepare a baking sheet by lining it with parchment paper.
In a large bowl, whisk the egg white egg white until it is slightly frothy.
Add the cinnamon, sugar(s), salt and pepper to the egg white and mix well. Stir in the nuts, making sure all are well-coated.
Spread the nuts in a single layer onto the prepared baking sheet. Bake at 300 degrees for 25 -30 minutes, stirring halfway through. When done, the nuts should be completely dry and slightly shiny looking.
Cool the nuts to touch and break any large pieces up as necessary. Store in an airtight container for up to a week.
Spiced Quince Syrup (The syrup comes out well with any or all of the suggested spices – use according to your taste preferences and what you have on hand)
2

Pints of good quality vanilla ice cream

4-5

Quinces, about 2 pounds

Juice from half a lemon

1.5

cups sugar

1.75

cups water

3

Inch piece of lemon zest

2

Cinnamon sticks (optional)

1-2

Star anise pods (optional)

One half

Vanilla bean, split and seeds scraped (optional)
Prepare the quince by washing well, halving from top to bottom, and scooping the seeds/core out with a melon-baler. Slice once more to quarter each quince then place in a bowl of water with a the lemon juice (to prevent discoloration) until all the fruit is prepared.
Bring the 1.75 cups of water, sugar, lemon peel and any spices you are using to a boil in a medium, heavy saucepan over a medium high flame.
Add the prepared quince quarters and let the mixture come back to a gentle boil.
Reduce the heat to low. Cover the pot and barely simmer the quince until it's tender, about 1.5 hours. When it's done a knife should pierce without any resistance and the liquid should be a lovely pinkish-red color. The lower heat and longer cooking time helps bring out the color of the fruit, so be patient.
At this point you can continue making the sundaes or save the syrup and fruit for later use (see step 12). For immediate consumption, first turn off the heat for a few minutes, cooling the fruit slightly, and transfer the fruit, spices and about 1 cup of liquid to a covered container. Return the remaining liquid (about 3/4 cup) to the stove and boil gently over medium high heat for 3-4 minutes, until the syrup is reduced by slightly less than half. When thick looking and bubbily, turn off the heat and remove from the stove, and get ready to serve. If you allow the reduced syrup to cool completely, it will turn into quince jelly, which is lovely, but not what we're aiming for.
Assemble the sundaes by topping a scoop of good quality vanilla ice cream with some cinnamon-spiced nuts (chopped or crumbled if you like). Finish with a few tablespoons of hot quince syrup and a quince quarter. Serve immediately.
To prepare quince syrup for later use, turn the heat off and allow the fruit and syrup to cool completely. Place the quince and syrup in a clean, clear container and refrigerate, covered, for up to 2 weeks. When you are ready to make the sundaes, either use the cold, thinner quince syrup that the fruit and resting in, or heat and reduce some syrup as described in step 10. Proceed with your sundae-making!
Jump to

Comments

(

3

)
Tags: Easy, quince, seasonal, serves a crowd