Pressure Cooker (or not) Red, White & Green Brussles Sprouts!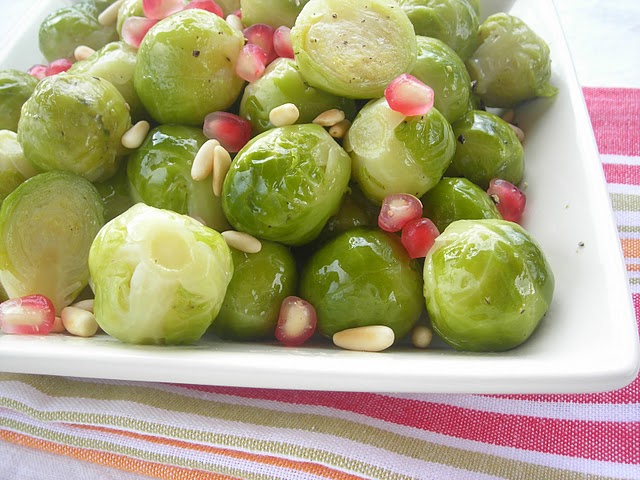 Author Notes: I was looking for a new way to serve Brussels Sprouts, since most recipes required lemon zest I decided to add the acidic note in a different way. Something delicious happened! The tart and slightly bitter flavor of the sprouts harmonized and they became buttery and delicious. Enjoy! - hip pressure cooking
Serves 4-6
1.5

pounds Brussel Sprouts

1/4

cup Pine Nuts, toasted

1

Pomegranate

Salt & Pepper

Olive Oil
Prepare your Pressure cooker (or steaming vessel) by adding one cup of water and the steamer basket, set aside.
Peel the outer layer of the Brussels Sprouts, and cut the stem to the base.
Place sprouts inside pressure cooker. Close and lock the lid and count 3-4 minutes cooking time under pressure. If you do not have a pressure cooker, you can steam your sprouts in your favorite steaming vessel (microwave, stove-top, ect.) for 7-11 minutes.
In the meantime, remove the pomegranate seeds from the fruit and toast the pine nuts.
When the cooking time is finished, take your pressure cooker to the sink and open it using the quick-water release method - run a stream of cold water on the top until the pressure comes down and the lock disengages.
Transfer the sprouts to a serving bowl, dress with salt, pepper and olive oil. Sprinkle with pine nuts and pomegranate seeds and serve warm or room temperature!
Tags: fast, Holidays, Slow Cooking