Spicy Cauliflower & Citrus Side Dish from your Pressure Cooker (or not)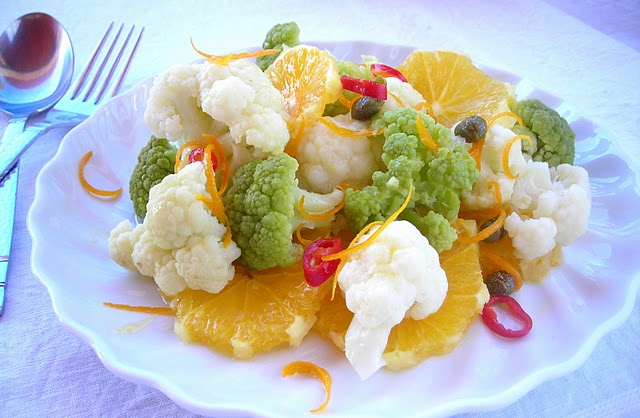 Author Notes: This side dish will brighten up your winter table. When my husband tasted it his eye-brows hit the ceiling. The spicy citrus vinaigrette gives this steamed vegetable side dish bim, bam and boom! And makes it the perfect accompaniment to any white meat, poultry or fish dish. - hip pressure cooking
Serves 6-8
Ingredients:
1

small Cauliflower, florets divided

1

small Romanesco (bright green) Cauliflower, florets divided

1

pound Broccoli Florets

2

Seedless Oranges, peeled and sliced
For the Vinagrette:
1

Orange, zested and squeezed

4

Anchovies

1

Fresh hot pepper chopped or sliced according to preference

1

tablespoon Salted Capers, unrinsed

4

tablespoons Extra Virgin Olive Oil

salt & pepper to taste
Begin by making the citrus vinaigrette so that all of the ingredients have time to macerate together in a little container you can then seal to shake. In the vinaigrette container add the orange zest and juice, anchovies, hot pepper, capers, olive oil and salt and pepper. You can either chop them finely or leave them all whole (except for the hot pepper) depending on the preferences at your dinner table. Give the container a good shake and set aside.
Peel the oranges either by hand or with a knife, removing all the little hanging white things off the sides. Then, slice it thinly cross-wise. If your oranges are not seedless, pick the seeds out of the slices and set aside.
Prepare your pressure cooker (or steaming vessel) by adding one cup of water to the bottom, and placing the steamer basket, inside. Add all of the florets into the steamer basket.
For the pressure cooker, close and lock the lid and turn the heat to high. When the pan reaches pressure, put the flame to low and count 2-3 minutes cooking time. If your pressure cooker has a "low" pressure setting you can count 4-6 minutes cooking time. When time is up, release all of the vapor and open the pan. If you do not have a pressure cooker, steam for 5-8 minutes with your steaming vessel.
Transfer the florets to a serving dish, interleave with orange slices, give the vinaigrette another good shake and pour on top.
Tags: fast, Italian, Slow Cooking, Vegetarian