10
Save
If you like it, save it!
Save and organize all of the stuff you love in one place.
Got it!
If you like something…
Click the heart, it's called favoriting. Favorite the stuff you like.
Got it!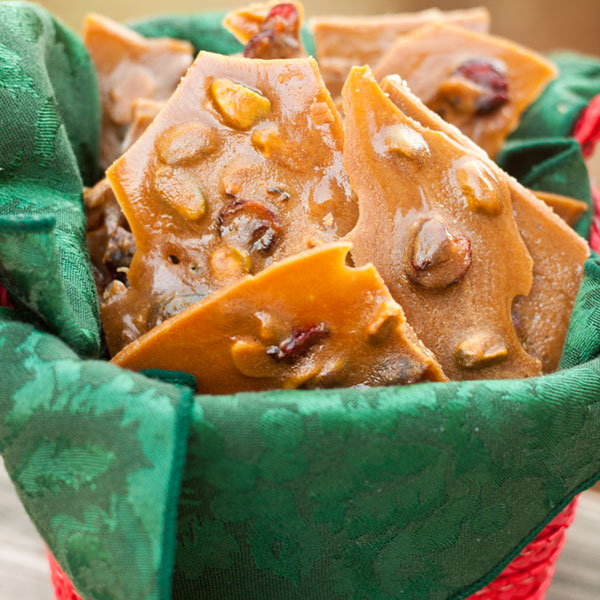 Author Notes: A delicious Christmas time treat! - mommiecooks
Serves 24
5

tablespoons Butter

1

cup Maple Syrup

1

cup Water

21/4

cups Brown sugar

1

cup Pistachios

1

cup Dried Cranberries

3/4

teaspoons Salt

3/4

teaspoons Vanilla

3/4

teaspoons Baking Soda

2/14

teaspoons Water
Take 2 tbsp of your butter and grease up a 12x18 inch pan generously.
Grab a small sauce pan and add to it your syrup, the 3 cups of water and the brown sugar. Attach a candy thermometer and start to boil the mixture.
When the mixture hits 275 degrees, add in the remaining 5 tbsp of butter and let it melt in.
Mix together the salt, vanilla, baking soda, and the 21/4 tsp of water. Once the brittle hits 300 degrees, turn the heat off and stir in the mixture quickly. Add in your pistachios and cranberries and stir them in.
Now you'll spread your mixture out across your pan and allow it to cool completely.
Once the brittle is completely cooled, break it into rough pieces and store in an airtight container.
Jump to

Comments

(

0

)