Brown Butter-Glazed Holiday Rolls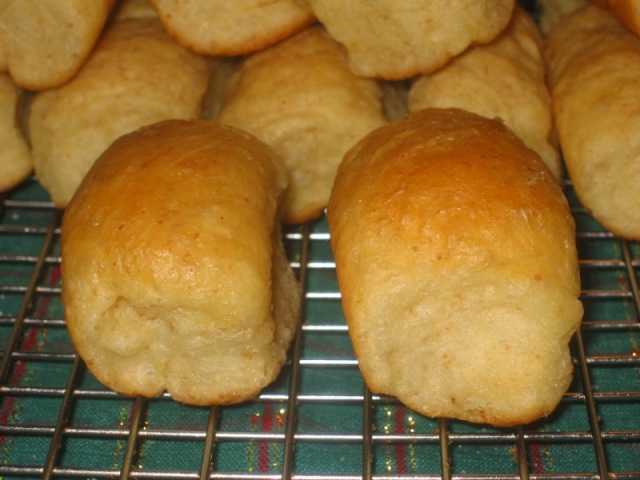 Author Notes: Growing up, we didn't have rolls at the dinner table...ever. But once a year my grandmother made rich Christmas Eve Fritters fried in olive oil called Zeppole di Vigilia di Natale, and even though they were dusted with sugar, she served them as an entree rather than a dessert. These were something we all looked forward to and I especially loved to help make them.
In my late teens I became the special occasion family cook, and because I am fascinated with yeast baking, yeast rolls became a family tradition. My browned butter rolls, created for a holiday or special occasion take me back to the old Christmas fritter days. However, I did not want to make something sweet - only rich. When these rolls are served, spreading butter on them will not be necessary, but it is up to you! - lapadia
- lapadia
Food52 Review: One of the things I like about testing these recipes is that it requires me to use new ingredients or try different techniques. I wasn't sure as to why use baking powder? Why use powdered milk + water just to mix it back together? Why solidify the brown butter to re-melt it, or why wait for the milk and butter mixture to cool instead of just using it right away? But these rolls created such an uproar at the dinner table, I don't think any of that matters—they are so darn good! - SallyCan
Makes 30 small rich, buttery rolls - 4 x 2 inches
DRY INGREDIENTS

3 cups bread flour – divided, plus extra for kneading

1 teaspoon salt

2 tablespoons wheat germ

1 teaspoon malt powder – I prefer but is optional

1/2 teaspoon baking powder (use if not using the malt powder)

1 package fast rising yeast

WET INGREDIENTS

1 cup water

1/3 cup dry powdered milk

2 tablespoons agave nectar (or honey)

2 fluid ounces melted brown butter (or 4 tablespoons solid brown butter)

1 egg

Additional brown butter, melted - for glazing

-----------------------------------------------------

PREP: One day ahead, brown 2 sticks of butter, refrigerate, until needed. Note: with this amount of butter you will have enough needed for the recipe and some leftover.
In a large bowl, mix together 1-3/4 cups flour, wheat germ, malt powder (or baking powder), salt and yeast. Set this flour mixture aside until needed - in step 3.
In a saucepan or microwave friendly bowl; add and stir together the water, dry powdered milk, agave nectar and browned butter, heat just enough to melt and incorporate all the ingredients. Cool - enough so as not to kill the yeast or cook the egg when combining the wet and dry ingredients.
Pour the wet ingredients into the reserved flour mixture. Add the egg and mix with a hand beater on low for 1 minute and on high for 3 minutes, or until smooth.
Add the remaining flour. Fold and mix with a spatula until a soft ball forms - may need a tablespoon of extra flour to help.
Grease a bowl, add the dough ball, cover and rise for 2 hours. Punch down after it has doubled. * Can be refrigerated overnight at this point – let dough come back to room temperature before working with it.
Melt the solidified brown butter (if needed); coat the bottom of a 15 x 10 x 2 inch baking pan with it.
Roll the dough ball into a 30-inch log and divide it into 30 pieces. With your fingers, flatten each piece into a disk and moisten with brown butter. Fold each disk in from both sides towards the middle a couple times to form a roll, tuck in the ends to smooth, if needed. Place into the baking pan.
Before rising, brush with brown butter, cover and place in a warm area for 1-1/2 hours.
Preheat oven 350°F. Before baking, brush with another layer of butter. Bake 15 minutes, turn baking pan, front to back, and continue to bake until golden brown - about 10-15 more minutes.
Remove from the oven, brush with one last layer of butter. Let sit about 15 minutes before serving.
*dough adapted from my Yeast Wreath recipe...the rest was floating in my head somewhere!
Jump to

Comments

(

13

)