Endive Salad with Roasted Garlic, Walnuts and Oil Cured Olives with Meyer Lemon Cream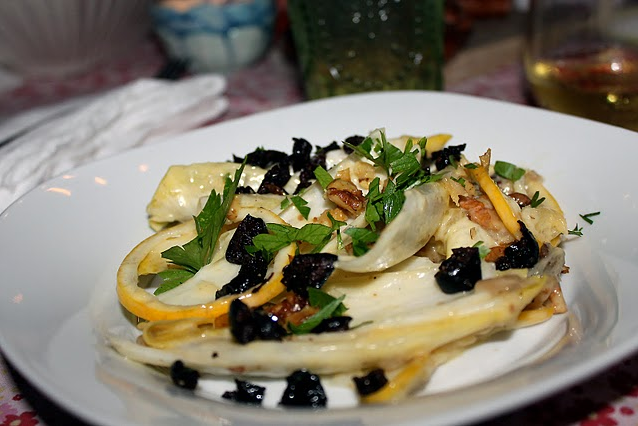 Author Notes: This is an interesting salad, I must admit. It is composed of endive, which is great fun to eat with one's hands. In the spirit of Alice Waters, who prefers to eat salad with her hands, I had Heather (our awesome server for the evening AND one of my oldest friends) instruct everyone to do just that. And to add a little more fun to the course, Heather had suggested we provide the guests with rolled, hot hand towels both before and after the course was served for clean hands. I'm guessing the delicious salad was even more so with a little process, a little story. - F for Food
Serves 6
Endive Salad with Roasted Garlic, Walnuts and Oil Cured Olives
1

Meyer lemon, very thinly sliced

5

Belgian endives, cores removed, separated into spears

Meyer lemon cream (recipe follows)

3/4

cups toasted walnuts, in small chunks

1/4

cup thinly sliced shallots

1

bulb roasted garlic (minus a couple of cloves for the Meyer lemon cream)

1/3

cup oil-cured black olives, pitted and chopped

2

tablespoons flat-leaf parsley leaves

1

tablespoon fresh chives, chopped

Sea salt & freshly ground black pepper
Place the endive in a large bowl and pour the Meyer lemon cream over them. Add the walnuts, lemon slices, and sliced shallots. Season with salt and pepper and toss gently to coat the endive with the dressing. Taste for seasoning, and arrange on plate. Scatter the olives and herbs over the salad.
Meyer Lemon Cream
2

tablespoons finely diced shallots

1/4

cup Meyer lemon juice

2

cloves of the roasted garlic

1/2

cup plus 2 tablespoons extra virgin olive oil

1/4

cup plus 1 tablespoon heavy cream

Sea salt and freshly ground black pepper
Place the shallot, roasted garlic, lemon juice, and 1/4 teaspoon salt in a bowl and let sit for 5 minutes. Whisk in the olive oil. Gently stir in cream, add a few grinds of pepper, and taste for balance and seasoning.
Jump to

Comments

(

1

)
Tags: citrus, endive, fun, Meyer lemon, olives, Summer, walnuts