Zesty Citrus and Olive Pork Roast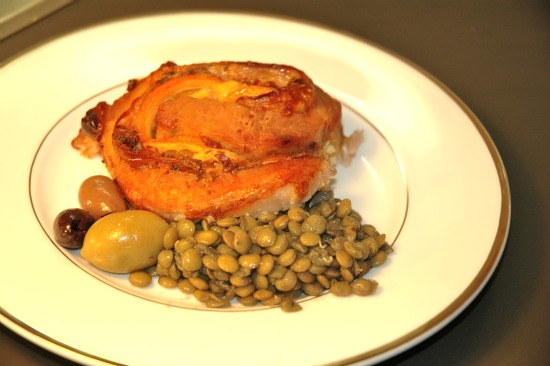 Author Notes: I made this using seasonal ingredients and this weeks grocery specials. My first recipe – Pork Roast. With this roast I did add prosciutto only because that is what Italians do! – adding prosciutto to flavour the meat. - groceryalerts
Serves 8
1/2

cup orange juice

5

ounces prociutto

1/2

cup olives

1

tablespoon olive oil

1

bunch orange zest

2

oranges

5

pounds Pork Loin
Preparing the pork loin involves gradually cutting and unrolling the roast like a carpet. Resulting in a large thin piece of meat. Start by placing the roast on a cutting board and with a sharp knife cut 1-1/2 inches above the underside of the roast and unroll the meant as you cut. Continue cutting until the roast is 1-1/2 inches thick and roast is opened flat.
Stuffing and Arranging the Roast: Make the stuffing paste with pitted green and kalamata olives. Chopping up the olives, orange zest with my emerging blender adding 2 tblsp of olive oil and one orange juice freshly squeezed. Then arranging the prosciutto evenly over the pork. Now the paste – spreading the olive paste over the prosciutto evenly and adding on the lemon and orange slices over the paste.
Rolling the Pork Loin: Now to roll the the pork loin – Turn the pork so that the side short side faces you. Begin at that end and roll up pork arrange seam side down on your work surface..Fat side will faces up. Using the kitchen string tied a 1 to 11/2 inch intervals. NOTE: may need assistance to hold the pork loin while you tie it up.
Cooking the Pork Loin: Preheat the oven 450 degrees, place the pork on the lower rack roast for 15 minutes. Reduce oven temperature to 325 degrees and roast pork for 45-60 minutes or longer depending on thickness of roast. Alternatively using a thermometer till roast is 145 degrees when inserted into pork.
Jump to

Comments

(

1

)
Tags: olives