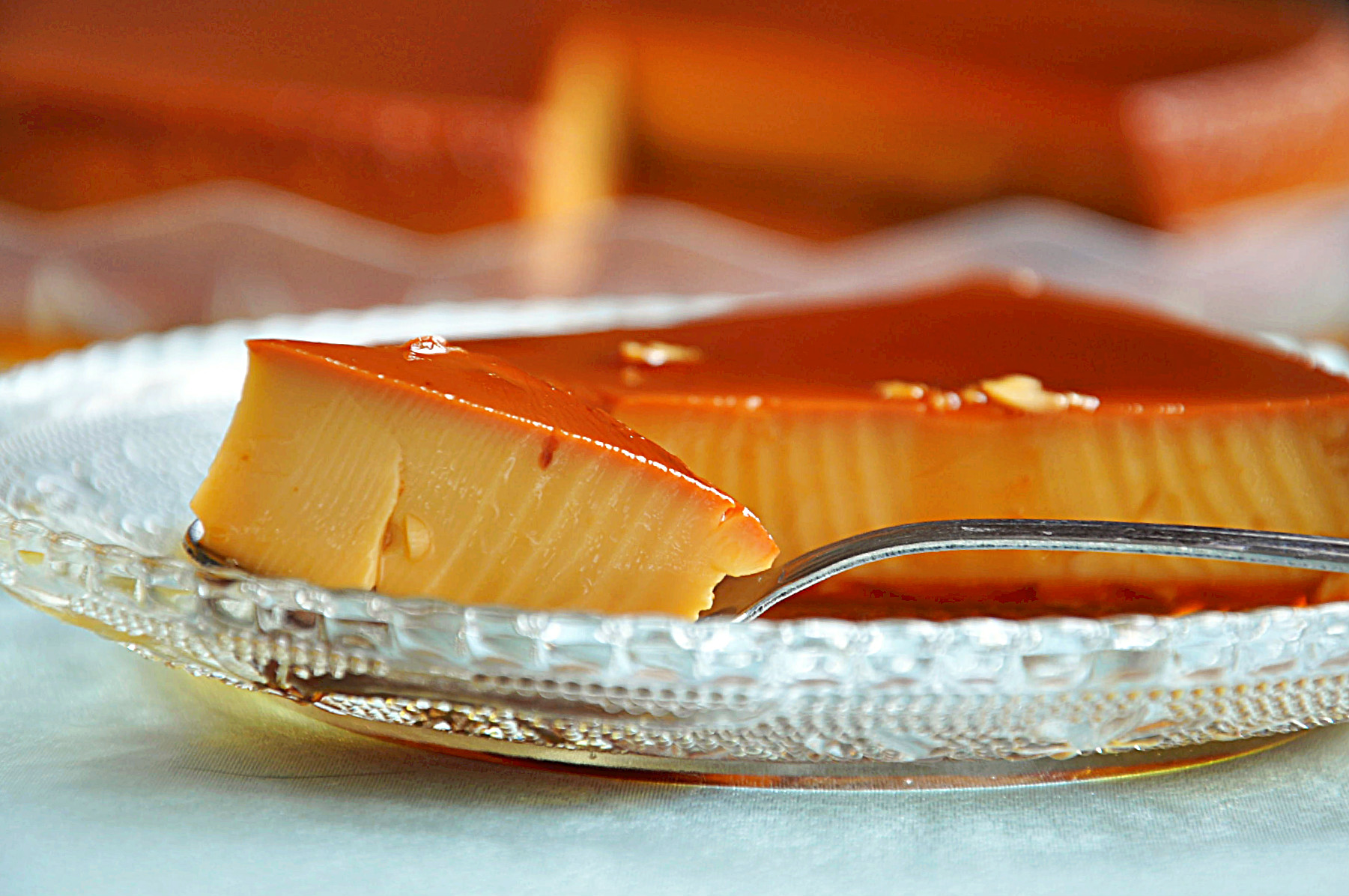 Author Notes:

Dulce de leche flan is a very decadent dessert - it looks like a simple caramel custard, but tastes way better than one! Its silky, rich and creamy texture and a complex toffee and caramel flavour will absolute drive you to raptures of delight! - Served With Love
Serves 6-8
for the caramel
9

tablespoons fine grained sugar

75

milliliters water
for the flan
1

tin of Dulce de Leche / condensed milk (mine is 392 ml)

500

milliliters milk

4

eggs

2

egg yolks

zest of half a lemon

1

teaspoon vanilla extract or 1 small vanilla pod
(Skip this step if you get Dulce de Leche in the grocery store) Pour the condensed milk into a deep microwave proof bowl. Microwave on medium power for 2 minutes. Stir. Continue to microwave and stir till the condensed milk becomes thick and caramel coloured.
Make the caramel: add the water and the sugar together in a pan and allow the sugar to melt whilst gently stirring. Then let it caramelise; turn off the gas when it reaches a deep amber colour. Pour the caramel into a flan pan and swirl it around to coat the base and the sides of the pan. I used a 9" round cake pan.
Split the vanilla pod length-wise and scrape the seeds. Scald the milk in a saucepan and add the vanilla seeds and pod to the milk. Slowly add the dulce de leche to the milk, stirring constantly till the dulce de leche is dissolved. Once the dulce de leche is dissolved, turn off the gas and allow the mixture to cool a bit. You will need to stir it a bit to avoid the skin from forming on top of the milk mixture.
Lightly beat together all the eggs and the lemon rind and add it to the cooled milk - dulce de leche mixture. Mix well. (If you are using vanilla extract instead of the vanilla pod, add the extract at this stage).
Discard the pod and pour the custard into the prepared flan pan. If there are too many bubbles in your mixture, then scoop these off with a spoon.
Pre-heat the oven at 160 deg C for 10 mins. You will need to bake the flan in a water bath, so while you are pre heating the oven, set some water to boil. Place your flan pan in a larger baking tray and pour the just boiled water into the larger baking tray; the water should come 2/3 up the side of the flan pan.
Bake for about 40 mins at 160 deg C or until a skewer inserted in the centre comes out clean. Else, keep baking in 5 min increments.
Cool your flan in a water bath till it comes to room temperature, then chill it for at least 3 hours. To serve, loosen the edges of the flan with a knife and then invert it on your serving dish. You could serve it right away, but I prefer to chill my flan overnight; it really allows all the flavours to infuse well.
Jump to

Comments

(

0

)
Tags: delicious, dinner party, serves a crowd