Roasted Vegetable Salad with Chimichurri Sauce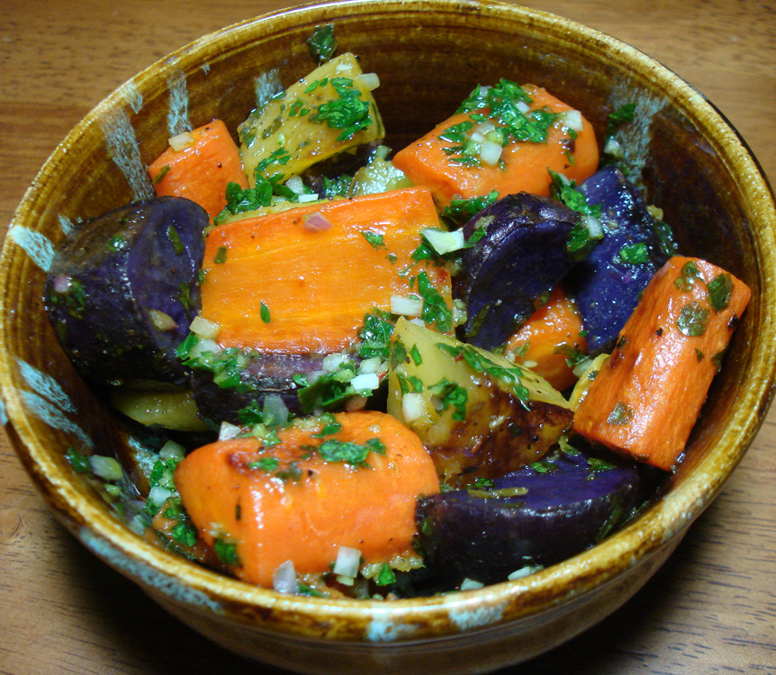 Author Notes: This is a play on French potato salad. It uses a Chimichurri variation in place of the herb vinaigrette, and a combination of roasted carrots, rutabagas, and purple potatoes. The bright flavors of the Chimichurri add a wonderful contrast to the sweet and slightly nutty flavors of the roasted vegetables. If you don't like rutabagas feel free to substitute parsnips. - hardlikearmour
Serves 6 to 8
Roasted Vegetables
6

large carrots (about 1 & 1/2 lbs)

3/4

pounds purple fiesta fingerling potatoes

2

medium rutabagas

3-4

tablespoons olive or vegetable oil

1/2

teaspoon salt (plus additional to taste)

1/2

teaspoon freshly ground black pepper (plus additional to taste)
Preheat oven to 400º F with rack near center of oven. Line large baking sheet with foil.
Peel carrots, and cut into bite-sized chunks. Transfer to medium bowl. Scrub potatoes, and cut into bite-sized chunks. Add to bowl. Peel rutabagas and cut into bite-sized chunks. Add to bowl.
Add salt, pepper, and oil to bowl. Toss to coat vegetables thoroughly. Pour vegetables in a single layer onto baking sheet. Roast for 25 to 30 minutes, stirring once, until potatoes can be easily pierced with a fork.
Transfer vegetables back to medium bowl. (I like to use the foil as a sling to do this.) Toss with about 3/4 of the chimichurri. Taste and add salt and pepper if needed. Allow mixture to cool for 5 to 10 minutes, then transfer to serving bowl. Drizzle with remaining chimichurri. Serve warm.
Chimichurri sauce
1/2

cup flat leaf parsley leaves, packed in fairly tightly

2

medium cloves garlic, peeled and crushed

1/4

cup extra virgin olive oil

2

tablespoons freshly squeezed lemon juice

2

tablespoons minced red onion

1/2

teaspoon table salt

1/4

teaspoon aleppo pepper
Combine parsley leaves and garlic cloves in bowl of food processor. Pulse to combine, until no large pieces of garlic remain. This will take about 15 to 20 pulses, and you will need to scrape down the sides of the bowl once or twice.
Transfer parsley and garlic to small bowl. Whisk in remaining ingredients. Allow to rest at room temperature at least 20 minutes to let flavors meld.
Jump to

Comments

(

23

)