Roasted Carrot and Apple Slaw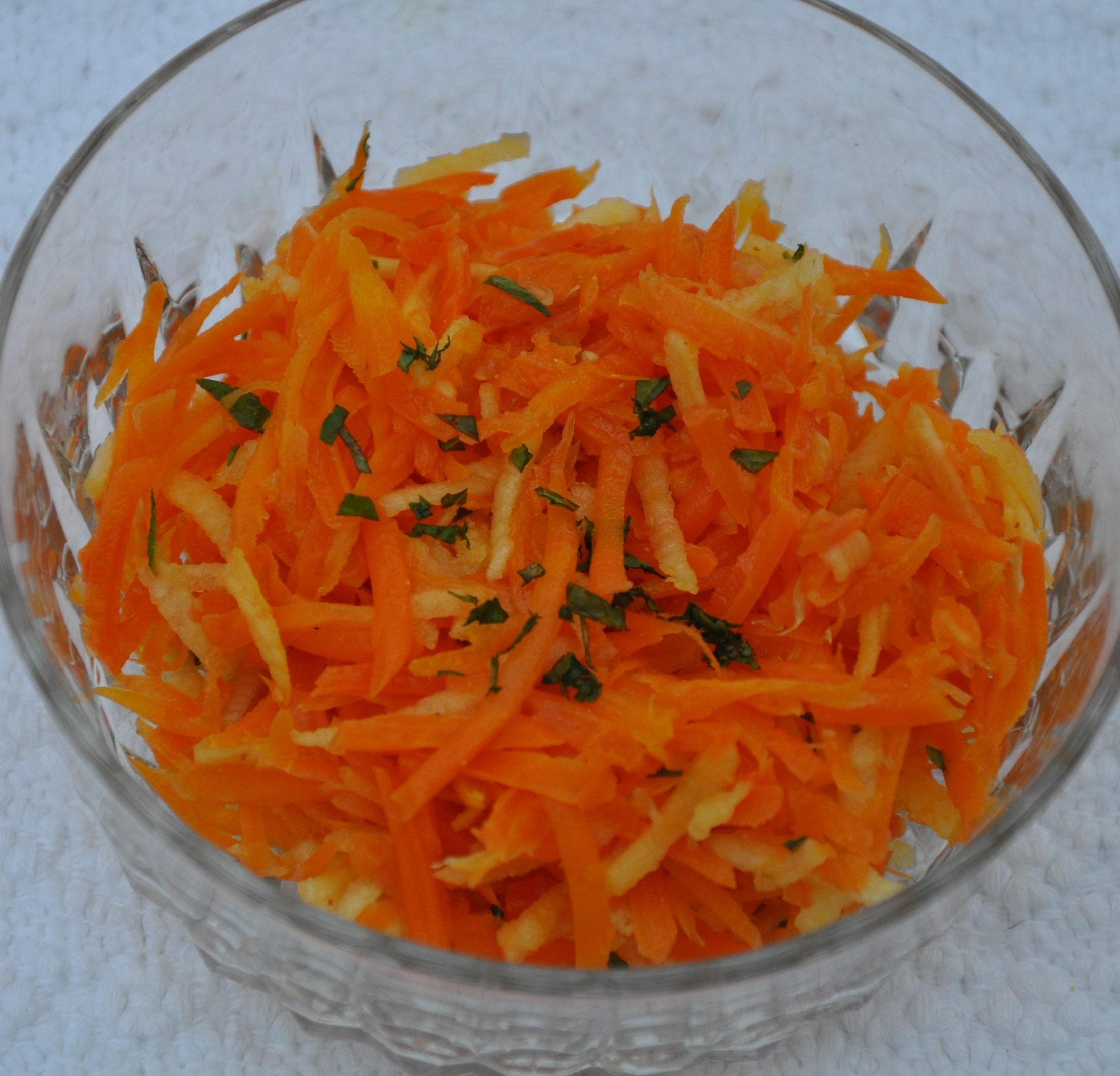 Author Notes: This is similar to the "Brilliant Autumn Salad" I created last fall, but without the beets. It's important to use a food processor with a grating blade when making this, as the roasted carrots are difficult to grate manually when in a soft, roasted state. It may seem a bit messy, grating roasted carrots, but the deeper flavor from roasting is worth it. Enjoy!!! - AntoniaJames
Serves 6 - 8
1 pound carrots, peeled

2 tablespoons fresh lime juice

1 tablespoon champagne vinegar

1 teaspoon Dijon mustard

Pinch of salt

2 -3 tablespoons fruity olive oil

1 tart apple, peeled and grated (Grate it immediately before tossing with the dressing.)

Freshly ground pepper
Preheat the oven to 350 degrees Fahrenheit.
Scrub and peel the carrots. Roast them whole in a baking pan with a couple tablespoons of water, turning them every 15 minutes or so, at 350 degrees, for 30 to 45 minutes, depending on size. When a knife goes easily into the carrots' thick ends, but they are still a bit firm, remove from the oven and let them cool.
While the carrots are cooling, whisk together the lime juice, mustard, vinegar and salt, in the bowl in which you plan to serve the slaw. Then whisk in the olive oil.
When the carrots are cool enough to handle, grate them, using a food processor. Then grate the apple. Toss both with the dressing and let it sit for a few minutes. Test for and correct salt if necessary. Sprinkle on the chopped mint and freshly grated pepper and toss again.
This can be made well in advance. Make sure that it comes to room temperature though before serving.
Enjoy!!
Jump to

Comments

(

3

)