Back to School: Pan Bagnat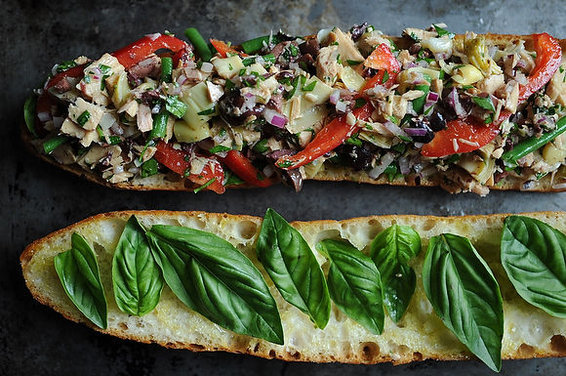 It's time to think about school lunch again (and -- as always -- the quest for a civilized office lunch marches on). Lucky for us, our friends at Food Network have asked the minds behind our favorite food sites to pool their best ideas for lunches that will stand up to a trek in a brown bag (or one of these).
We're bringing to the table the best tuna sandwich we know: Pan Bagnat: Le French Tuna Salad Sandwich by Waverly. This recipe won our contest for Your Best Brown Bag Lunch and it was well-deserved -- it's a colorful, crunchy Nicoise salad packed between oil-bathed slabs of French bread.
See a slideshow and the full recipe (and save and print it) here.
Get more lunch ideas below from our food friends on the internet and follow the virtual brown bag lunch party on Twitter:#pullupachair
Food.com: Peanut Butter and Jelly Sushi Rolls
FoxNews.com: Sunflower Seed Butter and Apple Butter Pancake Sandwich
Eatocracy: Broke College Student Buffet
The Daily Meal: Bacon Cheesy Whole-Wheat Pita Pockets
FN Dish: Double-Duty Dinners Turned Lunches
Adult options:
YumSugar: Fully-Loaded Turkey Club Sandwich
Liquor.com: Back to (Cocktail) School
Food52: Pan Bagnat: Le French Tuna Salad Sandwich
Yahoo! Shine: Avocado Quinoa Salad
Big Girls Small Kitchen: Swiss Chard Turnovers With Parmesan and Pistachios
Healthy Eats: Mini Quinoa Rice Stuffed Mushrooms
Cooking Channel: Lunch Recipes Your Coworkers Will Try to Steal
Feed Me Phoebe: Deviled Egg Salad Sandwiches
Provisions
, our new kitchen and home shop, is here!
Get $10 off your first purchase of $50 or more.
Visit Provisions.
Tags: pull up a chair, back to school, reciprocity, sandwich, brown bag lunch