There are so many great conversations on the Hotline -- it's hard to choose a favorite. But we'll be doing it every day leading up to Thanksgiving, to spread the wealth of our community's knowledge -- and to help you host the least stressful Thanksgiving yet. No promises on the crazy relatives.
Today: Sometimes to-do lists aren't enough; we'll help you get your frozen bird to room temperature in no time.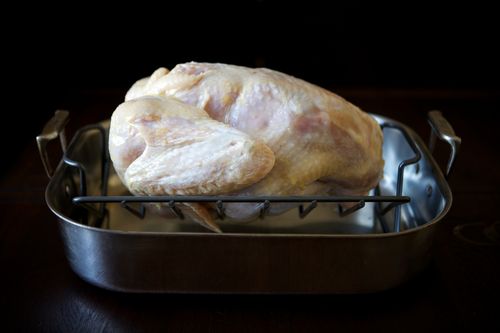 "Help! It's Thursday, 18 people are about to enter the flood gates (a.k.a. the front door) and my turkey is frozen solid."
You can't predict it, but if this happens to be you on Thanksgiving, we have ways for you to deal with it. There's a lot of lead up and anticipation before Thanksgiving: You started menu planning and grocery shopping a month ago, even ordered your bird way ahead of time. But your nightmares have come true -- you realize your refrigerator is remarkably spacious. No, you didn't forget to make cranberry sauce in a can, but you did forget to take your 20-pound bird out of the freezer. Sadly, you've missed your shot at brining (both wet and dry), but that doesn't mean you can't still have a beautiful juicy bird sitting on the table by sundown.
When all goes as planned, we recommend allowing 1 day of thawing in the refrigerator for every 4 pounds -- so ideally, that 20-pounder should have come out of the freezer on Saturday.
When all doesn't go as as planned, our community has a few creative ways for last-minute thawing.
Just Add (Cold!) Water
Kristen's never-fail turkey advice: Soak the bird in cold (never hot!) water, changing the water every 30 minutes. It should take about 30 minutes per pound. Then, cook it immediately.
Alternate Thawing Methods
If you don't have a big enough container to soak the turkey in, you can always put the frozen bird in a bath tub, or the sink with a steady slow stream of cold water, says Chefbaltz and vvvannessa.
Shorten Cooking Time
Once you've successfully defrosted (well done!), you may have a shorter cooking window. Lbowie suggests spatchcocking to cut your cooking time in half.
Have you ever forgotten to thaw your turkey? Continue the conversation in the comments below!
Have you missed any of our Thanksgiving round-up of Burning Questions? Catch up now:
Photo by James Ransom