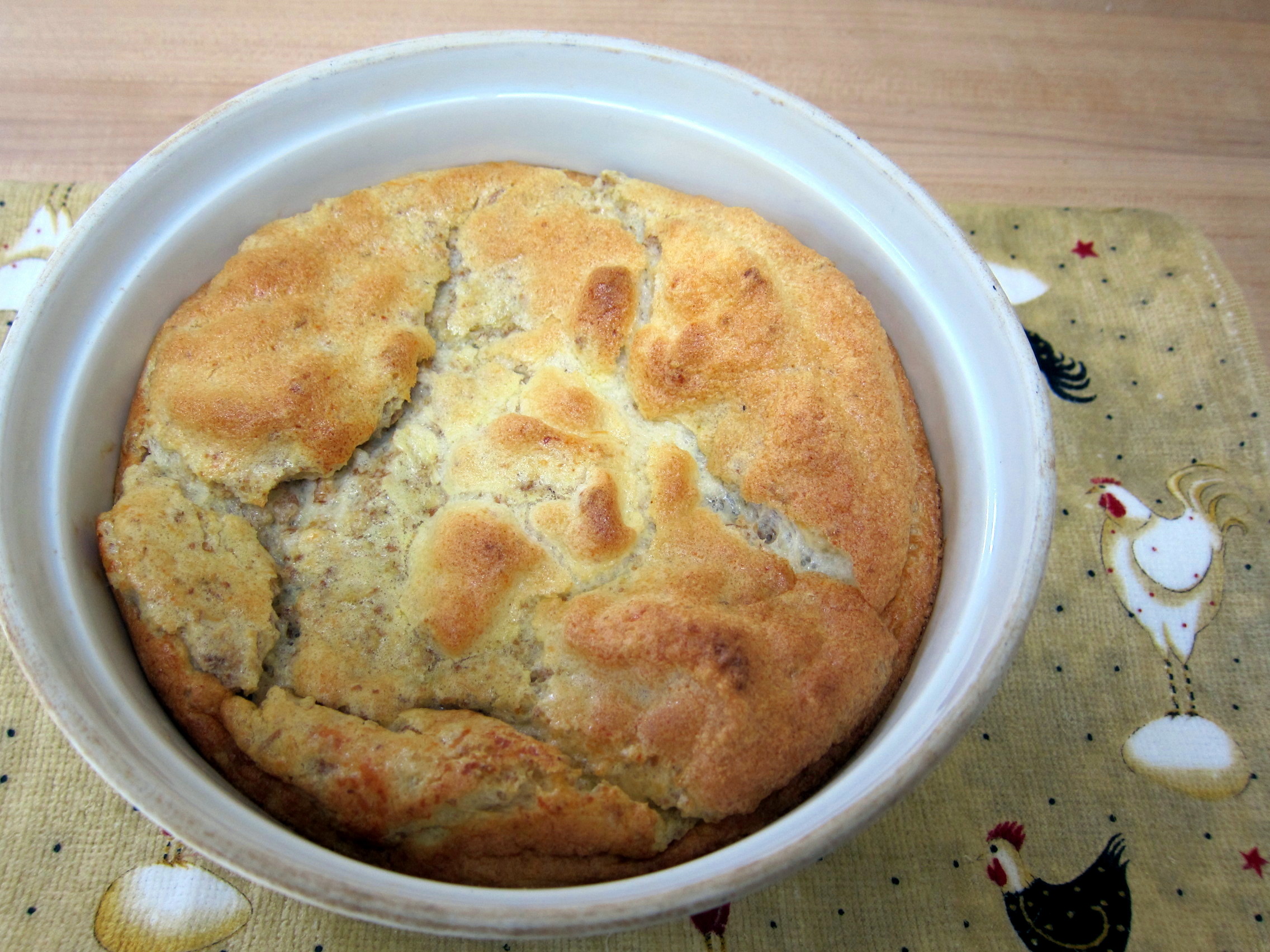 Author Notes: When I was young, my mother kept her "house money" in a small teapot that sat on a kitchen shelf next to the sink. She planned her food budget from a portion of this, stretching to plan a week's worth of meals to feed the three of us. We were far from poor, but my folks had grown up during the Depression and were "careful". As a little girl, I remember steak as a Saturday night treat, although I liked Sunday suppers of waffles just as much.

My mother used to make her recipe for a cheese soufflé that was easy to prepare and a non-fragile version of the French style. Although it lacks the high crown of a French soufflé, it was a family favorite then as it is now. In those days, one soufflé fed the three of us. These days, portions have grown larger and my husband and I share one between us. - Lizthechef - Lizthechef
Food52 Review: What I love about this recipe is its simplicity, plus the fact that, on any given day, I always have the main ingredients in my fridge: eggs, cheese, milk, bread. Served with a handful of baby greens tossed lightly in a lemon vinaigrette, you have an elegant lunch or dinner in a matter of minutes. I think what makes this soufflé so delicious though is the choice of Gruyère cheese, which adds an extra layer of nutty flavor ... so good. I was a bit terrified by soufflés before trying this recipe, but now I know how easy they can be! - saltandpeppersf - saltandpeppersf
Serves 2
2

slices whole wheat bread

1

cup milk

1

cup grated Gruyére cheese

1

tablespoon unsalted butter

1

pinch kosher salt

1

pinch ground black pepper

pinches cayenne

2

egg yolks

3

egg whites
Preheat oven to 350 degrees.
Using a food processor, pulse the bread into crumbs.
In a medium-sized saucepan, scald the milk.
Add the bread crumbs, grated cheese, butter, salt, pepper and cayenne to the milk.
Cook, stirring, over low heat until the cheese melts.
Remove pan from heat and stir in the egg yolks.
Beat the egg whites until stiff. Fold into soufflé mixture.
Pour into a buttered soufflé dish.
Bake for 30 minutes.
Jump to

Comments

(

23

)
Tags: cheese, dinner for two, savory, winter