Herbed Chicken Burgers with Spicy Aioli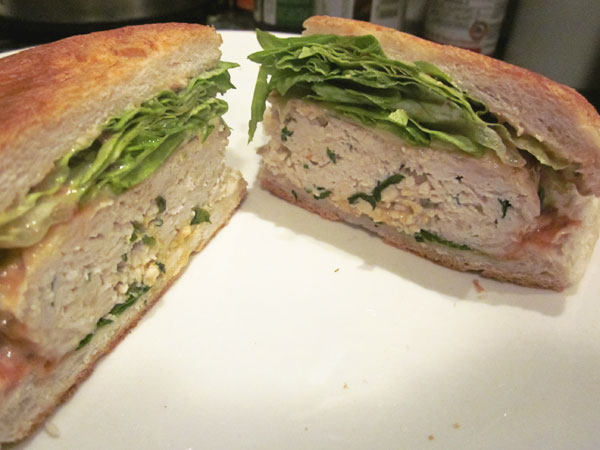 Author Notes: This recipe was inspired by my abundance of herbs, and my love of any type of burger. I hope you like it. - DailyMeals - DailyMeals
Food52 Review: The chicken burgers were excellent -- full of flavor and moist as could be. I did throw in a small handful of bread crumbs, but I'm not sure they were needed. The aioli had lots of bright flavors from the lemon, vinegar and mustard. I think there might be other ways to add heat rather than the cayenne, ways that would also add more flavor. Bravo to DailyMeals for a burger done well. - annalea - annalea
Makes approx 5
Chicken Burger
500

grams ground organic chicken

1

clove garlic, finely diced

1

teaspoon worcestershire sauce

2

tablespoons flat leaf parsley, chopped

5

basil leaves, chopped

1

farm fresh egg

1

teaspoon sea salt

1

teaspoon pepper

butter lettuce

brioche buns, toasted

5

slices gruyere cheese
Spice Aioli
2

egg yolks

2

teaspoons lemon juice

1

teaspoon apple cider vinegar

1

tablespoon grainy mustard

3/4

cups light olive oil

1

teaspoon salt

1 1/2

teaspoon cayenne pepper

1

garlic clove, chopped
Mix the first 8 ingredients together and form burgers(it will be pretty moist, but there is nothing worse than dry chicken). If the mix is too wet add some breadcrumbs. Gently cook in a skillet for about 5 minutes on each side.
While the burgers cook, make your aioli. Add the egg yolks and half the lemon juice and cider vinegar into blender or bowl. Add a few drops of oil and blend or whisk until you create an emulsion. Add garlic, remaining lemon and vinegar and start to drizzle in oil very slowly.
Once you have a nice mayo like consistency, add the mustard, cayenne, and salt.
Add cheese to your burgers and cover for a couple of minutes to melt the cheese. At the same time, toast the buns in the oven.
Slather your aioli onto buns, add lettuce and then your burger. Enjoy!
Tags: burgers