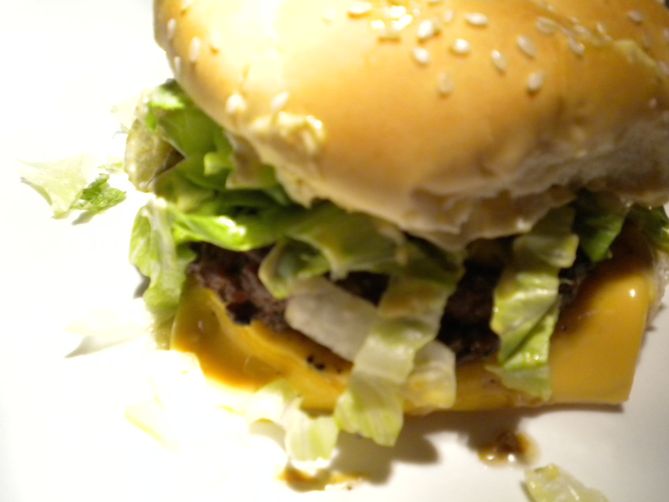 Author Notes: I grew up near Woodward Avenue in Royal Oak, Mi...now famous for the Woodward Dream Cruise. During the 1960s, Woodward was the place to cruise and be seen at any of the drive-in restaurants - Big Boy, Mavericks, Big Town, Hobo's, Ted's including The Totem Pole which served a double decker burger called "The Big Chief" and a single called "The Little Chief". This one was different than other doubles because of its unusual sauce and that it included sweet pickles.I give my take on "The Little Chief" here: - inpatskitchen
Makes 4 burgers
For the sauce
1

cup mayo

1/2

teaspoon curry powder

1/2

teaspoon granulated garlic or garlic powder

1

teaspoon worcestershire sauce

1

tablespoon ketchup

1

teaspoon prepared horseradish

1/2

teaspoon onion powder
Combine all ingredients and refrigerate for at least 2 hours for the flavors to blend.
For the burgers
1 1/2

pound pounds ground beef chuck

2

teaspoons salt

1

teaspoon black pepper

4

slices American cheese

Sliced sweet pickles ( the small gherkin kind)

Shredded iceberg lettuce

The sauce

4 seeded hamburger buns
Season the ground beef with the salt and pepper and form 4 patties out of the mixture. Grill to your desired "doneness" ( we like medium for ground meats).
On the bottom of each burger bun layer a slice of cheese, a burger, a few slices of sweet pickle and a little shredded lettuce.
Slather the cut side of the top of the bun with the sauce. Place on top of the burger and enjoy!
NOTE: To make a "Big Chief", divide the meat to form 8 thinner patties, use 2 pieces of cheese for each burger and use the bottom halves of spare buns to "divide". Sauce all 3 buns.
Jump to

Comments

(

0

)