Savory Lokshen Kugel (Noodle Pudding)
7
Save
If you like it, save it!
Save and organize all of the stuff you love in one place.
Got it!
If you like something…
Click the heart, it's called favoriting. Favorite the stuff you like.
Got it!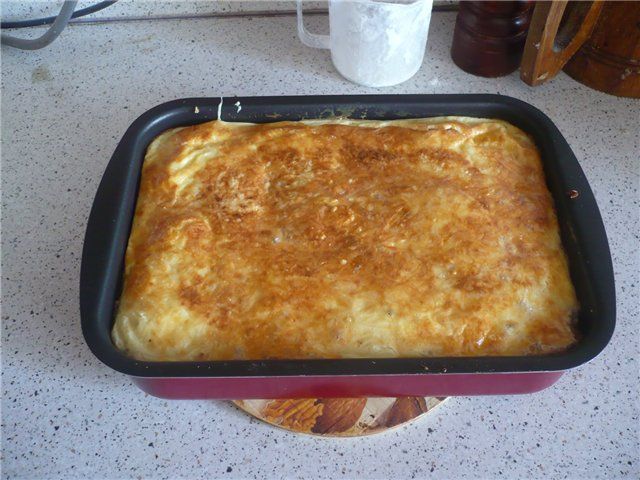 Author Notes: There's no need to wait until Rosh Hashanah to enjoy this wonderful traditional
Jewish dish.
Variations of it are endless. I use some times deferent cheeses (cream cheese or Mascarpone) and also mix in Creamed Mushrooms or bite size pieces of leftover pot roast for a simple mane dish.
We cook noodles until tender to achieve pudding consistency and some times beat egg whites separately.
- Kukla
Serves 12
• 1 pound wide egg noodles

• 6 tablespoons unsalted butter, softened

• 4 large eggs

• 2 cups whole milk smooth Farmers' or Ricotta cheese

• 1 cup sour cream

• 2 teaspoons kosher salt

• 1/2 teaspoon white pepper

• 1/4 teaspoon nutmeg

• 1/2 teaspoon cinnamon

• 1 tablespoon flat leave parsley or basil, coarsely chopped (optional)

• Zest of 1 large lemon
Preheat oven to 350 degrees F. Cook noodles in a large pan of boiling salted water until tender but not mushy. Drain well in a colander and toss with butter in a bowl.
While noodles are cooking beat eggs, salt, pepper, nutmeg and cinnamon until light and foamy with a mixer in a large mixing bowl.
Add sour cream, cheese and lemon zest, while continuing beating until the mixture is homogeneous. Fold in noodles and herb, if using.
Transfer to a buttered deep 2-quarts baking dish and bake in middle of oven until firm, slightly browned and puffed, 50 minutes to 1 hour.
Serve hot or room temperature with sour cream, if desired.
Jump to

Comments

(

6

)
Tags: delicious, traditional, travels well, Versatile